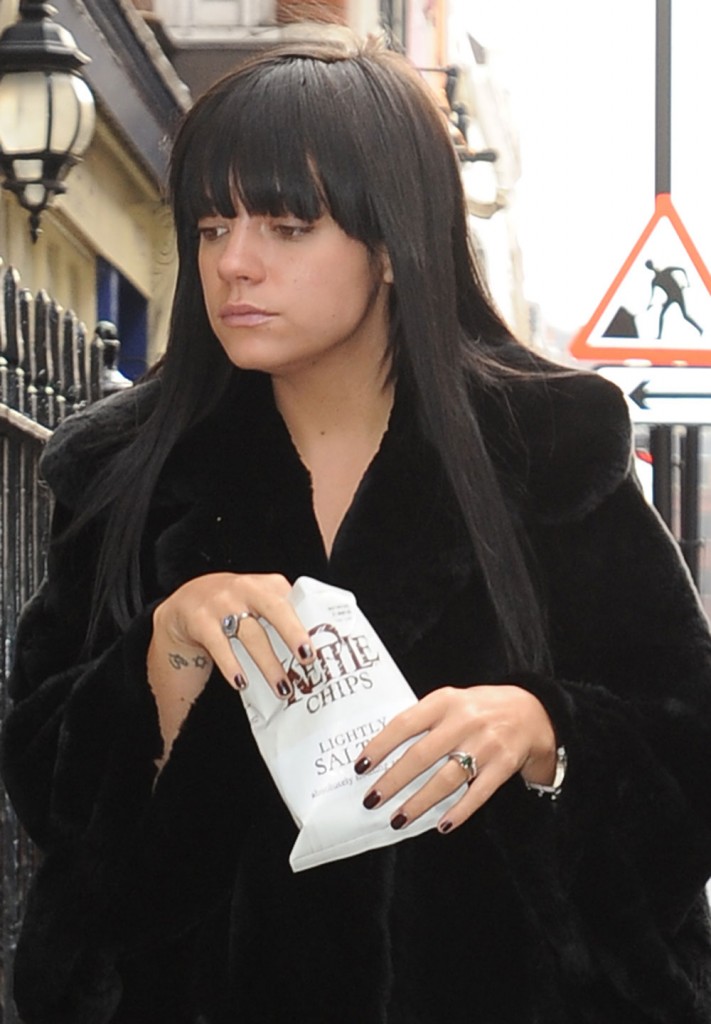 Lily Allen is drinking again, fighting again, and generally just going back to her old ways. I don't know what to do with her. I used to like her a lot, I used to think she was really funny and cool. Now I'm not so sure. After the Winehouse-esque drunken fights, the repeated public nudity, and the Britney-esque pink wig… I want to believe in her.
Lily Allen was performing for the first time in a while, and she needed some liquid courage to sing her songs. Interesting sidenote: for her encore, Lily performed a cover of Britney's "Womanizer". Britain's The Sun had details, and an exclusive interview with Lily:
Raising a pint of wine to the crowd, Lily Allen giggles: "I've not had a drink for a while but if you expect me to get on stage and be funny, then I'll need this," and takes a gulp. The swarm of fans at the O2 Academy in Oxford explode into cheers and screams.

Lily has been off the booze for a while but she feels now is the right time to slip off the wagon. And why not? Tonight is the second of Lily's warm-up shows to perform tracks from her new album.

She says: "Yep, I am drinking again. Last night I had my first drink. There's no way I can get on stage without a drink. I think I'm funnier when I've had a few. I didn't find it difficult to stop drinking, I didn't even think about it. I haven't really needed a drink but now I'm on tour, it's fun drinking sometimes. But some things have changed. I'm not drinking any cheap stuff now – only expensive wine will do this time. I've gone upmarket."
From The Sun
Oh, and the fights. Lily Allen's longest, most protracted battle has been with Perez Hilton. I don't read Perez, but I've read some of the coverage of the spat. Perez sounds like a nasty piece of work who deserves everything Lily dishes out.
…Blunt and honest, she has had public spats with Cheryl Cole, Katy Perry and celebrity blogger Perez Hilton.

For her second album, Lily wants to be taken seriously. And she is. Her first single, "The Fear", is ahead of Lady GaGa in the midweek charts and is heading for No1. She says: "All those rows, it's just me sticking up for myself. With the internet you can fight back. If someone has written something unjust, wrong or has offended me, or offended a friend, then that's it."

"The other day Perez Hilton wrote that I was a lazy ar*e and I should give up on my record. Today, my single is No1 in the midweeks and I am on tour, working really, really hard. And his job is sitting at a computer all day. How can he call me lazy?!"

"I am working so hard because this album is all I care about. I'm so happy with how it's worked out and that's why I took my time with it. At first I was a bit scared of what people might think. Because of how famous I have become, I feel very judged. But it's been great so far. I've even been in tears about some of the nice things written about this album. Crying like a baby!"

"But I write my music for me and I like it and if other people like it then great."
From The Sun
The Sun piece is really long. If you like Lily Allen, it's an interesting read and I would recommend it. She talks a lot more about her new album and her latest musical influences, a new producer, all of that stuff. She does seem to have grown up quite a bit the last few years, though I still expect her to act crazy when it suits her. Even the part of the interview where she talks about Perez isn't really bad – she's just defending herself. See? I do like her after all.
Picture note by Celebitchy: Lily "talk about meeee" Allen is shown wearing what looks like an engagement ring today while out in London. Credit: WENN