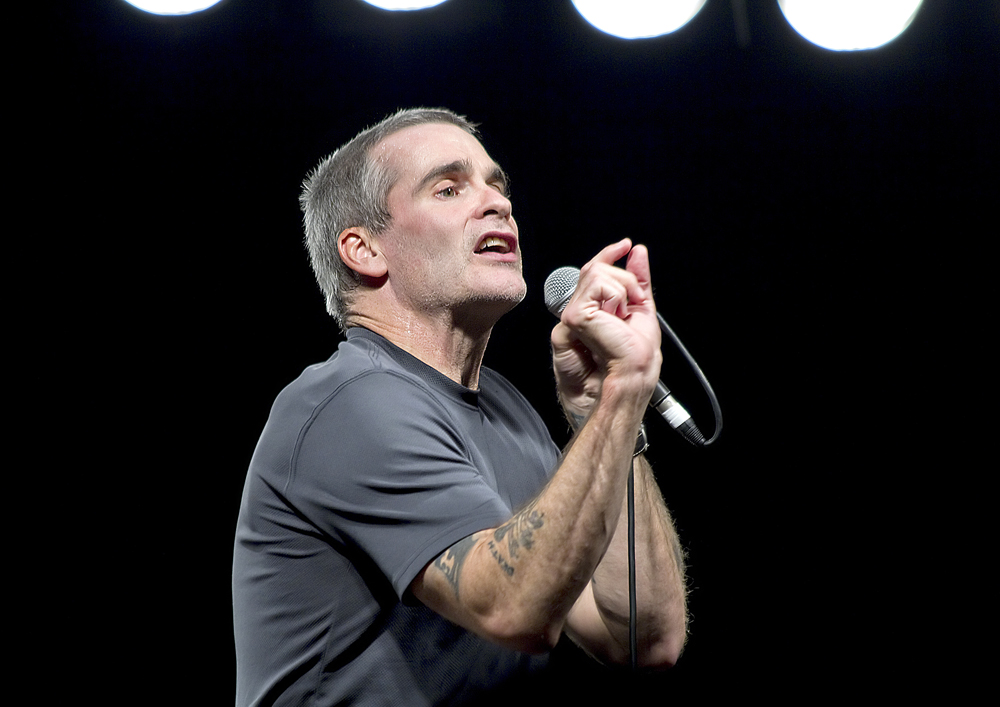 I love Henry Rollins. Can you believe I'm writing about Henry Rollins in a gossip context? This post could go over like a lead-filled balloon, but it's Christmas Eve, and I think the world needs a little Henry. He's so silver-foxy (he's 52!) and intelligent. I might not always agree with everything he says, but I like the way he says it. Henry Rollins would probably cringe if he took the time to google himself and saw me gushing over his brash yet eloquent ways. I was one of many girls in Tulsa who swooned during his spoken word tour in 2008. We all waited by his tour bus after the show, but he never materialized. I don't blame him. Groupies are crazy.
Henry's a busy guy. He's been hosting a radio show on KCRW and doing some stuff for the History Channel. Plus he just wrapped a movie where he plays a sad cannibal. The movie sounds awful, but you know, it's Henry. He recently sat down with Rolling Stone to talk about how much music sucks these days. By extension, he tells Rolling Stone they suck too. The journo takes it pretty well:
Does he pay attention to new music? "Absolutely. I can't keep up with all the records I buy. I get letters, like, 'Dude, music sucks now.' Not on my show, not on my stereo. I finally, forensically listened to the new David Bowie record. I put in a pair of good earphones and really sat down with that record on a day off. It's way better than I thought it was the first time around. I don't know why he uses those heavy-handed studio drummers for everything, but the songs are pretty amazing lyrically and there's a lot of great backing vocals and some really smart overdubs. It took me a long time to get into modern David Bowie. I was such a fan. I got up really early this morning and listened to Station to Station and just went aw. Those records, those Bowie records to me are just about as good as a record can get."

What does Henry think of Daft Punk or "Blurred Lines"? "I've never heard Daft Punk; I've never heard a track of theirs in my life. They're the two guys with motorcycle helmets on? You know what, you will take this any way you will. That to me is like Rolling Stone music. It's the sh-t that's in your magazine. And it's like, that world … I'm so glad that you all have found your people, but that world is so alienating to me. Anything that gets on the Grammys or the American Music Awards … like, was Miley Cyrus on the cover of your magazine? Yeah, see, I like real music. John Coltrane's my favorite musician, what am I doing reading Rolling Stone? You know what I mean?"

Henry doesn't "give a sh-t" about Miley: "I don't. She's part of that bigger world of music I was just talking about. All of it to me is like, long may it wave, I don't have anything against anyone doing their thing, but it's just not for me. And Robin Thicke, is that the guy? I have no idea what he sounds like. I've never heard Kelly Clarkson, I just, I live in a different musical world."

On the 2013 Black Flag drama: "I know what I read. The Flag guys, they're doing their thing I guess. Kids were writing me, 'Hey, I can't wait to see you next week in Brisbane.' I wrote them back like, 'I'm not gonna be there, I'm in Toronto.' And they went, 'Oh, you're not in the band?' I'm like 'absolutely not.' [They were] saying, 'Wow, the place was kinda half full and 30 minutes of the set, it was a quarter full, people were running out angry that they're never gonna get that 30 bucks back.' And so I've seen neither entity, Black Flag or Flag. I'm not interested in the past unless it's the rerelease of a record; I'm not interested in my own past that much. But I've heard that the Flag thing is pretty powerful. I've never seen it, but I know some people whose opinions I respect who went. And they said it was solid. It is what it is: men in their 50s playing 30-year-old music. But as far as the politic of all of it, what's going on with all of those people, I stayed well away from it. I'm looking forward to 2014 and what will come."
[From Rolling Stone]
Is Henry totally rude in this interview, or is this kind of funny? I'm laughing because of course he's right about Miley. Her interview for Rolling Stone might have delivered many outrageous gems, but the cover was cringeworthy. Daft Punk is very well liked, but maybe Henry bristles at the "punk" part of their name. He's never heard them, and he assumes they're bland. Oh well. Henry's not missing anything. I haven't been able to get into Daft Punk at all. They seem like cool guys. I should like them. It just hasn't happened.
As for Henry telling the magazine they suck, well … he's correct. Rolling Stone used to be a serious journalistic endeavor, and now they're printing whatever the mainstream dictates. Henry is being kind of rude by calling out an RS journo in an RS interview, but it's Henry freaking Rollins. The dude has earned a few allowances in the music business. Plus he's got an abrasive reputation (as a softie) to maintain.
About that Black Flag drama: There was a big mess this year where various Black Flag members were fighting over the band's trademark, and one of them (Greg Ginn) tried to carry off a "reunion tour" all by his lonesome. Ginn unsuccessfully sued Henry and other former members of the band. I get the impression that Henry is very grateful for his humble punk beginnings, but he's got so much other stuff going on now, so why dwell on it.
Meanwhile, Hank just keeps getting better and better with age.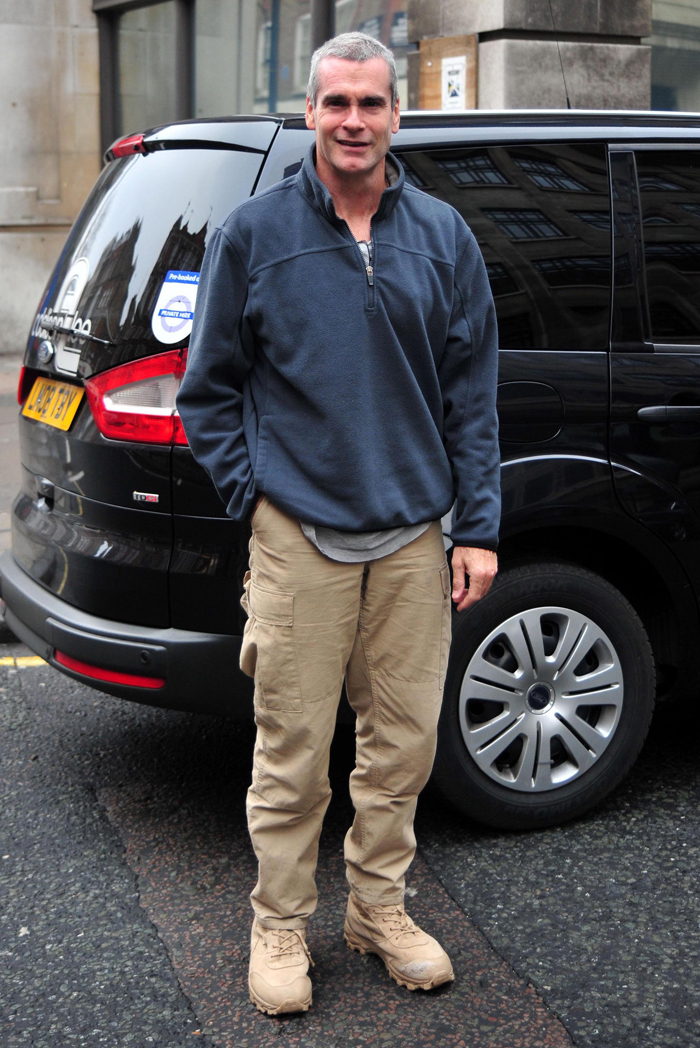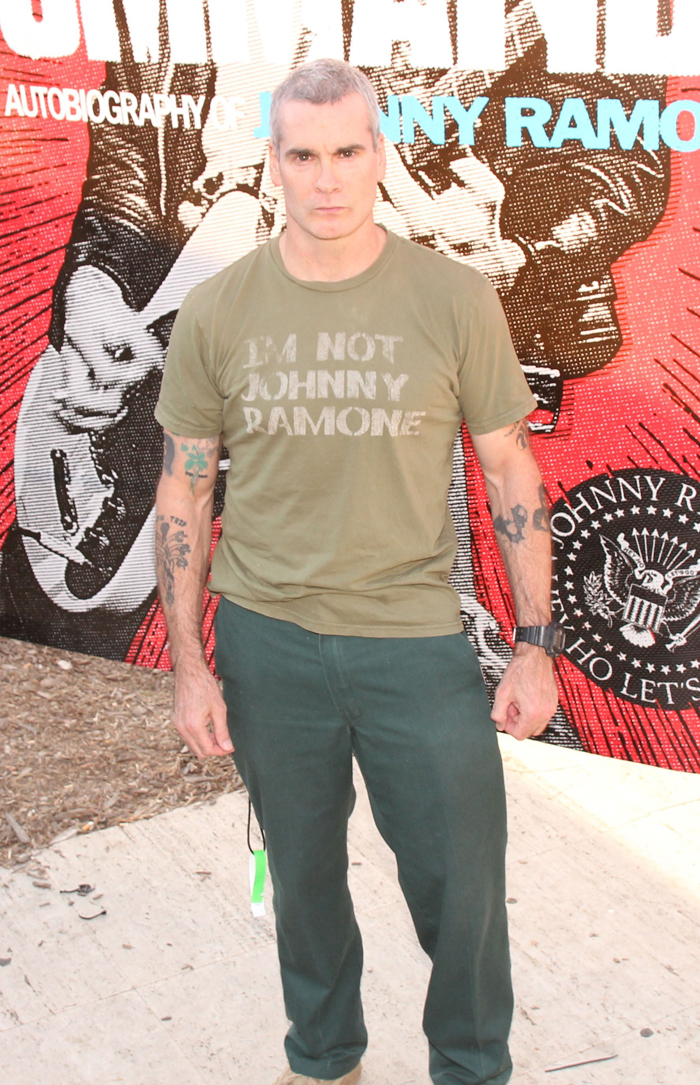 Photos courtesy of Fame/Flynet & WENN