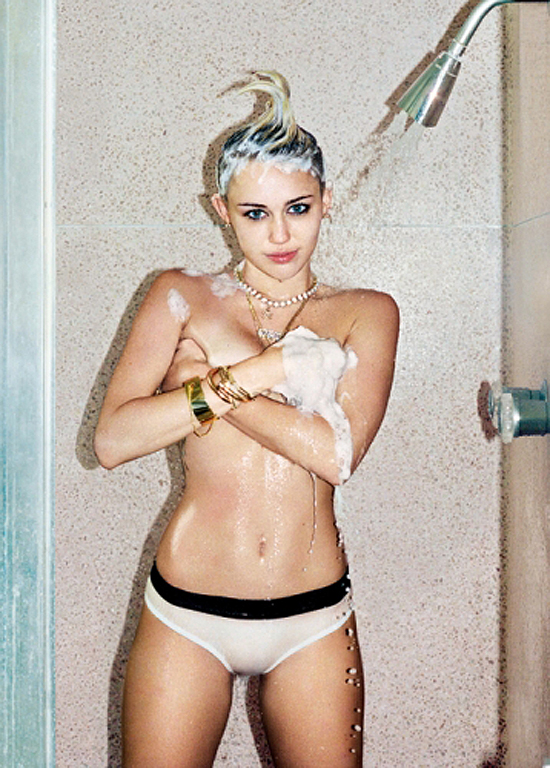 I should've known Larry Rudolph was going to milk Miley Cyrus' Rolling Stone cover for longer than a few days. We already covered the photo shoot and Miley's interview about dancing badly on purpose and not trying to be sexy at the VMAs. She then Instagrammed the foot tattoo she got during the interview.
Now Rolling Stone has released a ton of additional quotes that never made it into the interview. Miley confesses to really, really loving drugs. We already knew about her weed fixation, but she admits to loving Molly and (I think) trying coke. She also owns up to something I've found really gross about her — intentionally sexualizing childhood motifs — like it's a good thing. Miley talks about licking that sledgehammer and how her "iconic" video is as good as Sinead O'Connor's truly iconic work. Miley sets herself apart from Beyonce as a true "homey." She admits being addicted to paparazzi attention. It's so cray. These quotes are epic:
She's a sexy baby: "I know what I'm doing. I know I'm shocking you. When I'm dressed in that teddy bear thing, I think that's funny. I was saying yesterday, I had this obsession about this character that's like an adult baby. Like if you see a baby do something like that it's so warped and weird, but there's something creepily hot about it. So when I'm in that teddy bear suit, I'm like a creepy, sexy baby. But I forget that it's, like, people in Kansas watching the show. That people that sit their kid in front of the TV and are like, 'Oh, an awards show! Let's watch.'"

On drugs: "I think weed is the best drug on earth. One time I smoked a joint with peyote in it, and I saw a wolf howling at the moon. Hollywood is a coke town, but weed is so much better. And molly, too. Those are happy drugs – social drugs. They make you want to be with friends. You're out in the open. You're not in a bathroom. I really don't like coke. It's so gross and so dark. It's like what are you, from the '90s? Ew."

On the "Wrecking Ball" video: "It's the opposite of the VMAs. It's like the Sinead O'Connor video [for "Nothing Compares 2 U"], but, like, the most modern version. I wanted it to be tough but really pretty – that's what Sinead did with her hair and everything. The trick is getting the camera up above you, so it almost looks like you're looking up at someone and crying. I think people are going to hate it, they're going to see my ass and be like, 'Oh my God, I can't believe she did that" — and then when we get to the bridge, they're gonna have a little tear and be like, "F— you!' I think it will be one of those iconic videos too. I think it's something that people are not gonna forget. Hopefully an artist 30 years from now will be like 'Yo you remember that Miley Cyrus video? We gotta do something like that.' That sledgehammer was heavy as sh-t, though. My arms were so sore the next day. And they didn't tell me it was painted, so I was licking it, and they were like, 'Don't lick that!'"

She loves LA: "The thing about L.A. is it's pretty much always nice out here. Even when it was 100 the other day, I loved it. It felt good. I worked on my album in Philly, and I would take the train to New York on the weekends, and I'd get off the train and immediately want to die. I would just hate my life. And I'm from Nashville, which is kind of similar — when it's hot, it's f—ing miserable. But Nashville at least it kind of rains in the summer. I don't even remember the last time it rained out here. I always wondered how those big-ass fires start in L.A., and then I'll throw my cigarette out the window or something, and I'm like 'There it is.'"

She admits she craves attention: "I said I was going to take a year off before I made this record. But it's hard to take a break. It's almost depressing when you're not working. You're so used to people calling your name, and that energy, and when you don't have it anymore … That's why I never complain about people wanting autographs or pictures. Because if there were a few days where no one asked, I'd probably be like 'What the f–'s going on? Do people not like me?' I hate the paparazzi – but when they're not sitting there waiting for you, you're like 'Who's bigger news? Who are you trying to get a picture of?'"

She's the "homey": "I want to be the cool chick that everyone wants to be friends with. I want the people who watch my shows or watch my videos to be like, "She looks like the most fun person to hang out with ever. I want to be that girl's best friend. I want to party with her." It's like, if you're hanging out with Beyonce, it's almost like you're hanging out with a goddess. She's like a real queen. It's a different realm. Where my thing is kind of the opposite. My shtick is I'm the homey."

On the press: "My parents have never allowed tabloids in the house. When my mom used to have assistants or whatever and they would bring tabloids over, she would be like, "Can't work with us. I don't want my kids reading that." So my dad doesn't really know what they're saying about me or our family – which is better. It's good that he doesn't know how to Google and all that sh-t. My dad barely knows how to use the computer. It literally takes him 45 minutes to send a tweet."

Her amazing work ethic: "I'm just around music all the time. Even today, I woke up this morning, went in to my jam room, and I just jammed. I'll sit in there and jam all day. My chef loves it, 'cause every morning I'm down there playing the piano. I'm writing pretty much all the time. Sometimes I think other people don't get it — to them, it seems like all I do is work. But you can't shut off from this."
[From Rolling Stone]
There is so much stuff here that I cannot even begin to parse, so I'll let it stand on its own merits. The last part about Miley always writing is hilarious because she doesn't write most of her songs. She can't even keep her own delusional stories straight.
The Miley and Liam Hemsworth breakup has taken an interesting turn in the tabloids. Usually when a couple splits, the tabs break all kinds of revelations (both true and false). Here Miley's team leaked so many details through strategically planned magazine interviews. The very day the news broke, Miley's Bazaar interview surfaced as a harbinger of doom. This week's Fashion interview put it right out there about Miley wanting out in February. For Liam's part, he wasted no time making out with a new piece in public.
Now the tabs are scrambling to play catch up on a story that's already run its course. Basically they're making sh-t up at this point. Let's do bullet points: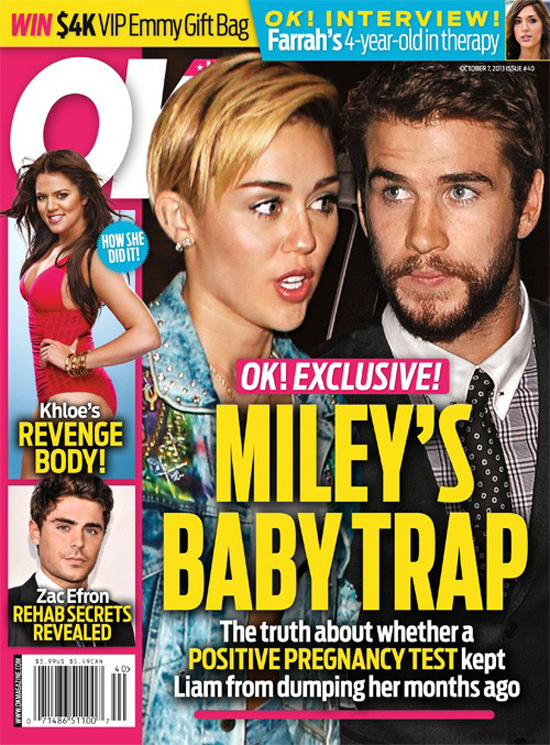 * OK! magazine ran a really awful story this week about "Miley's baby trap." The tale says Liam was "ready to break up" in early spring until "a positive home pregnancy test changed everything." Of course Miley had "trapped Liam in the relationship, telling him that if he left her alone, she'd tell the world that he had abandoned her at such a delicate time." I don't believe this story at all, and Gossip Cop has posted a denial. Miley was looking forward to twerking onstage while wearing nothing. She wouldn't jeopardize her exploding career with a bandaid baby.
* The Enquirer says Liam picked a real prize in Eiza Gonzalez, who is the "Mexican Miley." Eiza starred in a Hannah Montana-esque show where she played a teen rock star living a double life. She has also been hospitalized several times for bulimia so severe it has "left her unconscious."
* In Touch says Miley lost it after her performance at iHeartRadio last weekend: "She locked herself in her cressing room, and everyone could hear her screaming, crying and smashing things like she was having a complete breakdown." I think Miley may have freaked out and could be headed for a breakdown, but it probably has little to do with Liam.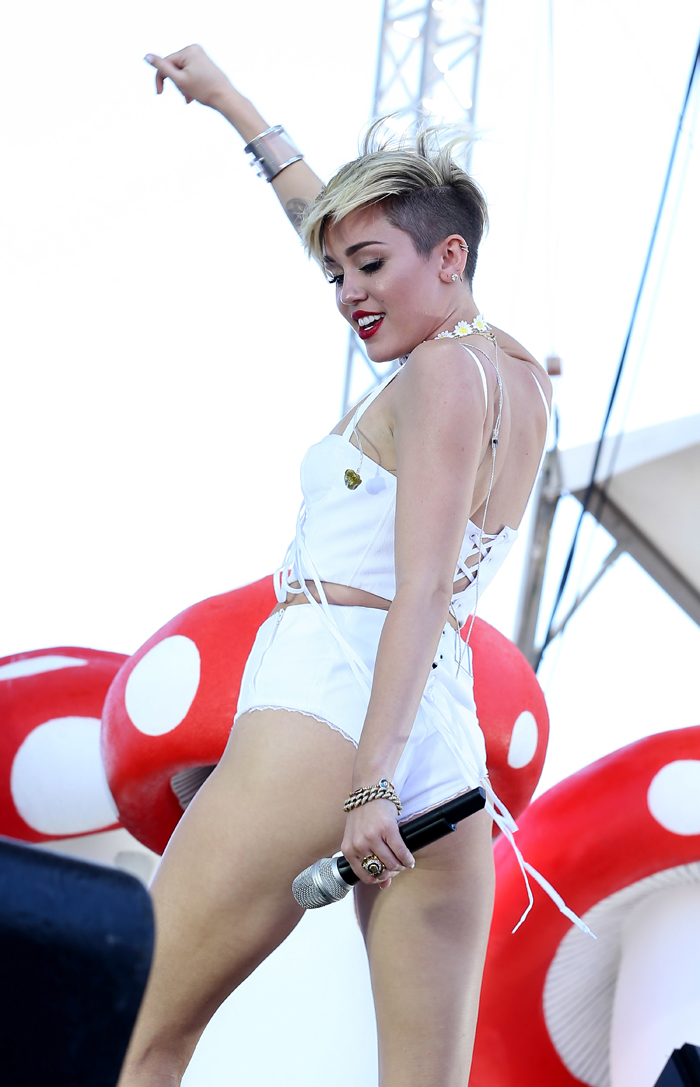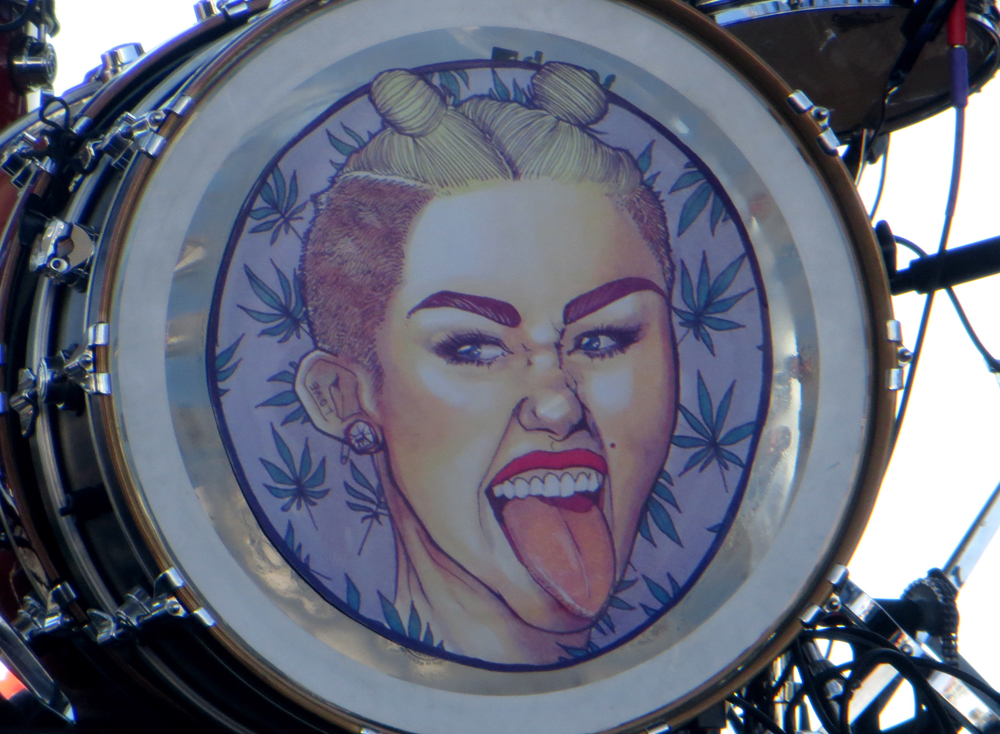 Photos courtesy of Rolling Stone, OK! magazine & WENN