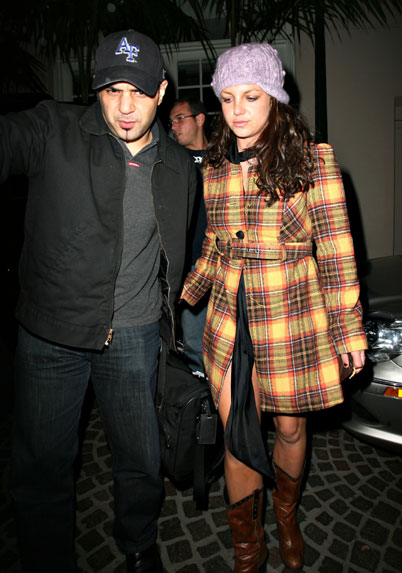 Britney with Sam Lutfi in December of 2008.
Apparently Sam Lutfi and Adnan Ghalib aren't done with Britney Spears. This week the singer had to get restraining orders against them. Why? After an entire year of being out of her life and out of the spotlight, the two are still conspiring to undermine her conservatorship. That's legal speak for "they're trying to get back in Britney's life and take advantage of her again."
According to TMZ, the pair have been conspiring with lawyer Jon Eardley to act on Brit's behalf legally. Eardley once tried to claim he was Britney's lawyer (even though she already had one) in an attempt to challenge the conservatorship – at Lutfi's behest.
Both Sam and Adnan have been communicating with Britney. Sam is obviously the bigger problem, being the more evil one. He's been threatening Britney's dad Jamie as well, and has sent out text and instant messages with false accusations. This guy sure is persistent.
TMZ has just obtained declarations from Jamie Spears and others in the latest Britney Spears case — Britney's lawyer says Sam Lutfi had inserted himself and tried peddling false and hurtful info about Jamie, Britney and others in her family. Sam allegedly was calling lawyers saying that Britney wanted to hire her own lawyer, presumably to fight the conservatorship. Sources tell TMZ that is definitely not what Britney wanted.

As we first reported, the conservators for Britney Spears obtained a restraining order today against Sam Lutfi, Adnan Ghalib and attorney Jon Eardley. We're told Brit herself is furious at Lutfi and Ghalib and would like to see them jailed.

Here's the most interesting part….According to the legal papers, late last month Lutfi sent text messages to Brit's hairdresser, saying he wasn't responsible for the conservatorship. A week or so later, Britney received "instant messages from a person with the screen name ____….The person — who posed as the mother of a daughter with autism — made a number of utterly false and hurtful assertions concerning Mr. Spears and his family, threatening to go public with such purported 'information' unless Mr. Spears spoke with that person." Almost immediately after Brit got those messages, Lutfi began calling Jamie.
[From TMZ]
Sam Lutfi has also been communicating with Britney and Jamie's lawyers. And this guy isn't trying to go under the radar when he threatens and blackmail the Spears. He actually thinks he's so entitled to have a say in Britney's life that he's not afraid to go to lawyers with claims that he knows secrets about Brit and her dad.
One of the lawyers in the case filed a declaration saying over the past month she received "multiple telephone calls and text messages from Lutfi." She says Lutfi wanted to set up an urgent meeting to "speak with Mr. Spears and me with regard to what he claimed was 'information he had received about Mr. Spears and his daughter, Britney Spears as well as others.'" The attorney also says Lutfi claimed "he had been talking with Adnan Ghalib about the conservatorship and Ms. Spears' status as a conservatee."

In another document, one of the conservatorship lawyers claims "Mr. Lutfi has sent text messages and instant messages that contain false and hurtful allegations concerning Mr. Spears, Ms. Spears, and the Spears family." The lawyer continues, "Mr. Lutfi, Adnan Ghalib, and Jon Eardley sought unsuccessfully to induce an attorney to file" false statements with the court.

The papers make it clear…."Over the past month, Ms. Spears has had numerous telephone conversations with both Mr. Lutfi and Mr. Ghalib and has exchanged numerous text messages with both of them." But we're told now Brit is so mad at them she wants them locked up.

Under the TRO, Lutfi, Ghalib and Eardley must stay 250 yards away from Britney, her parents and her kids. The TRO also prohibits the trio from "acting on Ms. Spears' behalf…inducing or assisting another person to file legal pleadings" on her behalf.
[From TMZ]
This guy just doesn't quit. Lutfi is both a master manipulator and a control freak – the perfect Svengali. It's hard to believe that after all this time he's still trying to insert himself into Britney's life, and thinks he should have some say in it. He's just some random, evil guy that passed through her life. He's not family, he's not a business associate. He's nothing, and he knows his only claim to fame is as the guy who messed up Britney Spears' life for a while. How pathetic is it that after a whole year, he's still got nothing else going on in his life but to obsess over Britney?
I think Sam Lutfi could truly be dangerous. He's clearly infatuated with Britney and can't let her go. He insists on having a say in her life and can't handle being told otherwise. He's a control freak who's gone so far as to threaten her family members. He seems like the kind of extreme person who won't take no for an answer. Britney has a lot of security, but I hope she beefs it up. Better yet, I hope someone can find a crime to charge Lutfi with in order to lock him away.
Here's Britney and Adnan out to dinner on January 16, 2008. Image thanks to WENN.