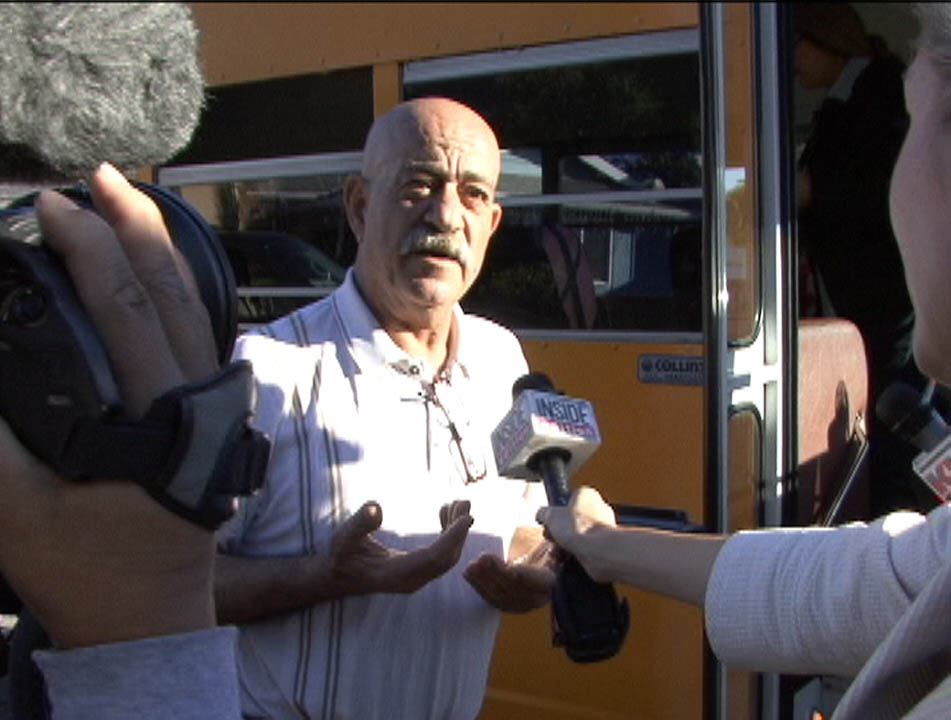 The grandfather of the octuplets arriving home with 3 of his other grandchildren yesterday.
This past week Nadya Suleman gave birth to octuplets, who are all doing well – seven of the eight are breathing on their own. Negative information has come out about her family. Nadya is single, and already has six young children. She lives with her parents, who appear to be supporting her financially. According to CBS, her parents ended up having to file for bankruptcy and lost their home, and as a result moved into the house they'd bought for her.
A neighbor of the Sulemans is speaking out – and she claims the father of the octuplets is a sperm donor, and is also the same man who donated for Nadya's first six kids. She also believes he's unaware that his sperm is still being used and doesn't know about the octuplets. The neighbor says Nadya is a "professional student," and even hints that she may have used her student loans to finance the fertility treatments.
In an effort to try and find out more about the woman who gave birth to octuplets earlier this week, we went to the home she shares with her parents and six other children in Whittier, California. What we learned is that her whole neighborhood is buzzing about the possibility that the 33-year-old mother used the same sperm donor to conceive the octuplets AND her other six children.

In an exclusive interview with momlogic, one neighbor, who asked to remain anonymous, revealed that the very pregnant young mom was THE hot topic of conversation at the neighborhood Christmas party. He says, "From what I heard, she likes kids, she wants a jillion kids. She even lied to the doctors who impregnated her." The grandmother of the octuplets told the LA Times she never expected fertility treatments would lead her to conceive her eight babies. Neither doctors nor family members have commented on whether or not she used donor sperm.

When asked if he knew who the father of the baby is, the neighbor said, "She is single. She used a sperm donor, someone she knew, who donated sperm a long time ago. He donated the sperm for the first six kids and she used his frozen sperm for these ones. I don't think the sperm donor knows about these eight kids. He was not involved."

According to the neighbor, the parents are very supportive of their daughter and even lost their own home in an effort to support her. "The parents lost their house supporting their daughter," the neighbor went on. "They actually bought this house for her, but then they lost their house supporting her and her kids and they had to move in with her. And now her father has to go back to Iraq to earn more money to support her. Her father either works as a truck driver or an interpreter [in Iraq]."

As to whether the mother herself works, the neighbor says: "She's a professional student and I want to know where the money's coming from to do this. Maybe she's using her student loans to do it." The family is very private: "They stick to themselves and you can always hear the grandma yelling at the kids because they are so rambunctious."
[From Mom Logic]
Angela Suleman, Nadya's mother (and the octuplets' grandmother) admits her daughter has been obsessed with having babies since she was a teenager. Angela also sounds like she's utterly exhausted and fed up.
Angela Suleman told The Associated Press she was not supportive when her daughter, Nadya Suleman, decided to have more embryos implanted last year. "It can't go on any longer," she said in a phone interview Friday. "She's got six children and no husband. I was brought up the traditional way. I firmly believe in marriage. But she didn't want to get married." …

While her daughter recovers, Angela Suleman is taking care of Nadya's other six children, ages 2 through 7, at the family home. She said she warned her daughter that when she gets home from the hospital, "I'm going to be gone." Nadya Suleman wanted to have children since she was a teenager, "but luckily she couldn't," her mother said. "Instead of becoming a kindergarten teacher or something, she started having them, but not the normal way," he mother said.

Yolanda Garcia, 49, of Whittier, said she helped care for Nadya Suleman's autistic son three years ago. "From what I could tell back then, she was pretty happy with herself, saying she liked having kids and she wanted 12 kids in all," Garcia told the Long Beach Press-Telegram. "She told me that all of her kids were through in vitro, and I said 'Gosh, how can you afford that and go to school at the same time?'" she added. "And she said it's because she got paid for it."

Garcia said she did not ask for details.
[From CBS News]
Nadya's father – whose name hasn't been stated – claimed she wasn't trying to have eight more children, just one. CBS also noted that she has a degree from California State University Fullerton in child and adolescent development. As of last spring she was studying for a master's degree in counseling. Angela Suleman says all the babies have the same dad, and according to The Associated Press, the birth certificates of the first four children all list a David Solomon as the father.
This story is obviously a minefield, and there are so many complex ethical, moral, and practical questions involved that it's not even possible to go into all of them here. On a day-to-day level, I'm wondering how Nadya is going to cope with 14 children. Angela Suleman says she's not going to be around once Nadya gets back from the hospital. From all the articles I've read, it's clear she was not supportive of her daughter's most recent pregnancy, and has made that clear to her all along. Nadya's father is going back to Iraq to get work to support his daughter's enormous family – as well as his wife and himself.
Clearly Nadya's parents have made huge sacrifices while supporting her "obsession," as Angela Suleman puts it. The father is not in the picture at all, and it's reasonable to assume he didn't know his sperm would be used so many times. Obviously Nadya is going to need help – and I'm eager to hear what her plan is.
Here's the grandfather of the octuplets arriving home with 3 of his other grandchildren yesterday. Images thanks to Splash.