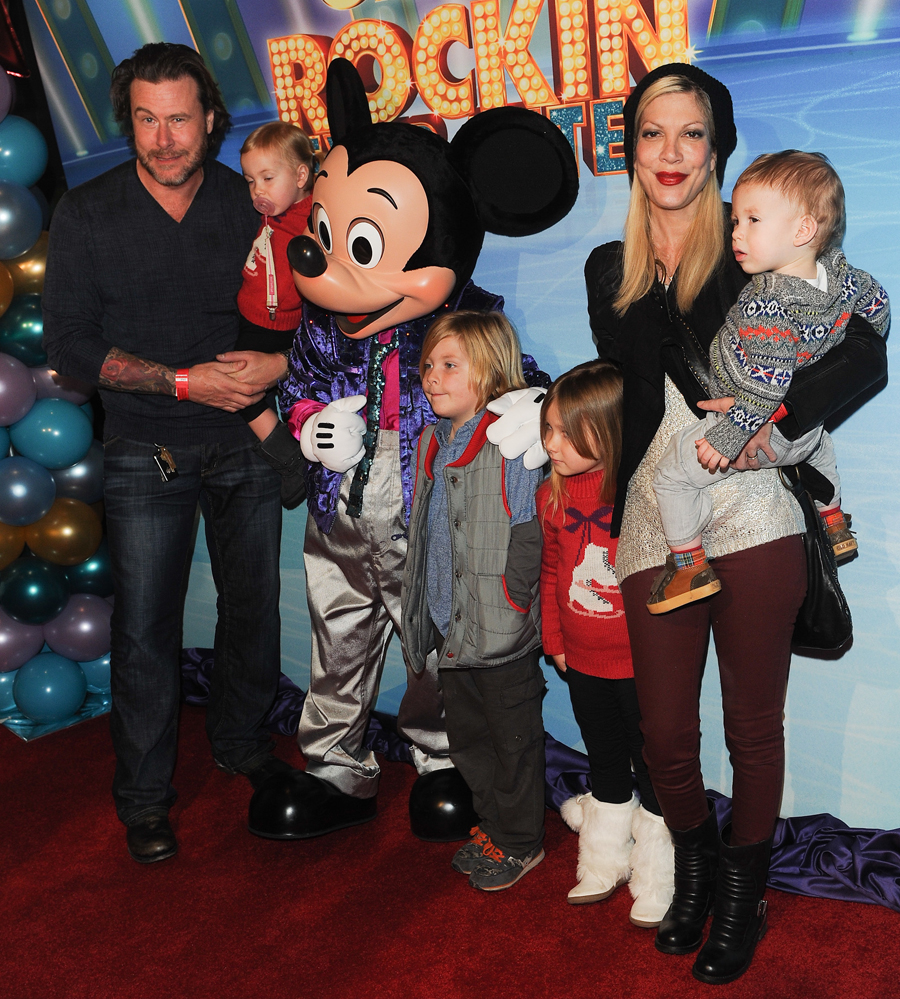 These are photos of Tori Spelling, Dean McDermott, and their three four kiddos a few weeks ago at a Disney On Ice event in LA. Dean looks as greasy as he always does, but I think Tori looks cuter here than I've ever seen her look. She usually demonstrates unremarkable style, but I love this outfit! The boots, the hat, the whole outfit.
But this is not a happy story. Instead we're hearing from Us Weekly that Dean has cheated on Tori with a Canadian random on Dec. 6 (a week before these family photos were taken). The woman, Emily Goodhand, tells her story in disturbing detail. Ms. Goodhand tells Us that Dean whipped out the sex tape he made with Tori as part of a second night of foreplay. Who knows if this story is true, but Tori and Dean did cheat on their respective spouses together before they got together, right? If Dean really tried to show that home movie to this woman, that's pretty weird. It's bad enough that Dean was (allegedly) cheating. I'll let you decide based upon the story:
Tori Spelling and Dean McDermott have been married for seven years, but according to Emily Goodhand, he wasn't faithful to her. She claimed that she spent two nights with him in his hotel room in Toronto and that they had sex!

Dean, 47, met Emily on Dec. 6 through mutual friends at Pravda Vodka House she told Us, while he was in town promoting his new hosting job on Chopped Canada.

"We were just having fun and hanging out," she said. The group then headed to another bar and he was "flirting" and "very charming" during the walk.

"I was drinking, so what he said is blurry. But he was talking about his kids and his work," she told the mag. "And when people open up, you feel closer to them in some way. I felt like I could trust him. And we know a lot of the same people, so we had that in common."

When getting to the hotel bar, he kept the flirting to a minimum to be discreet, but at one point slipped his key card and a note with his room number into her purse. While at first Emily didn't go to his room, she said she later changed her mind and headed there.

"I made a bad decision," she told the mag. However, he wasn't there when she arrived so she texted him. "I said, 'if you're not here in five minutes, I'm leaving.'" Then, less than a minute later he was there.

While in the bedroom, the father of five complimented Emily repeatedly, she claimed, but she "called him on his bullsh-t."

The two stopped talking and had protected sex, she told the mag, before laying together and talking. "He said, 'I love my wife. I love her so much, but she won't sleep with me," Emily added. "I didn't ask why because it was awkward."

She went to leave the room a little while later but he said, "Please don't leave me. I want to cuddle," Emily recalled. And she stayed the night – and that wasn't the only time.

The next night he invited her over again and they ordered room service and just cuddled, Emily explained. Before bed, he tried showing her stills from the sex tape he made with his wife!

"I look over at the screen at a frame of Tori lying on the bed. I'm like, 'I'm not watching that! No way in hell!'" Emily said. The next morning, Dean headed back to L.A. and the two parted ways.

However, Emily regrets her decision now, she told the magazine. "I'm an adult and I make my own decisions," Emily said adding she'd like to apologize to Tori. "I'm sorry, I f—ed up."

This interview comes as a surprise, but it's not the first cheating mishap for Dean. When he met Tori in 2005, they both left their spouses after a three-week affair. Tori even admitted that since their relationship began that way, she "often worried" he would cheat.

"If the phone rings and it's a girl's voice, I have to ask if he's having an affair. Dean tells me over and over again that he would never do that," she wrote in her book Uncharted TerriTORI, which came out in 2010?
[From Us Weekly via Hollywood Life]
Ugh, this is awful. Even if Tori's not doing the deed with Dean any longer, there's no excuse for cheating on your spouse. I mean … Tori willingly married a cheater, and she was cheating on her ex-husband, but yeah. It still sucks for Tori and the kids. Tori seems sufficiently divorced from reality to not notice the signs of Dean cheating, but Dean is definitely the bad guy in this situation if it's true.
I don't know though. Part of me wonders if this tale is part of Tori's grand media scheme. She's been telling everyone how broke she and Dean are even while she takes $10,000 family vacations. Could this "affair" be a planted story to drum up some drama and sell more books? I feel bad for even suggesting as much.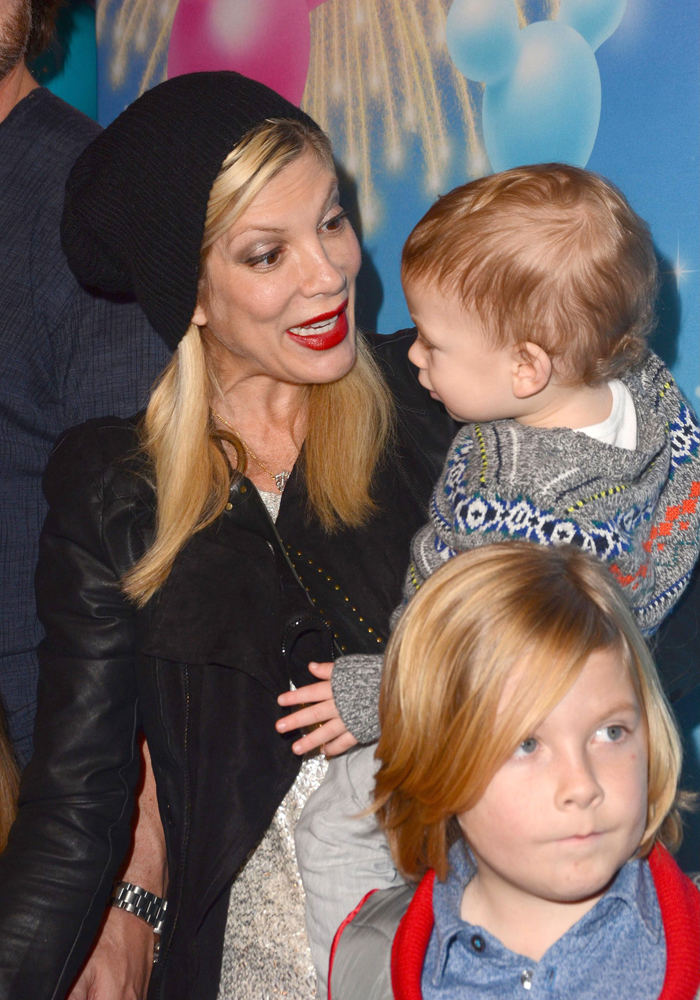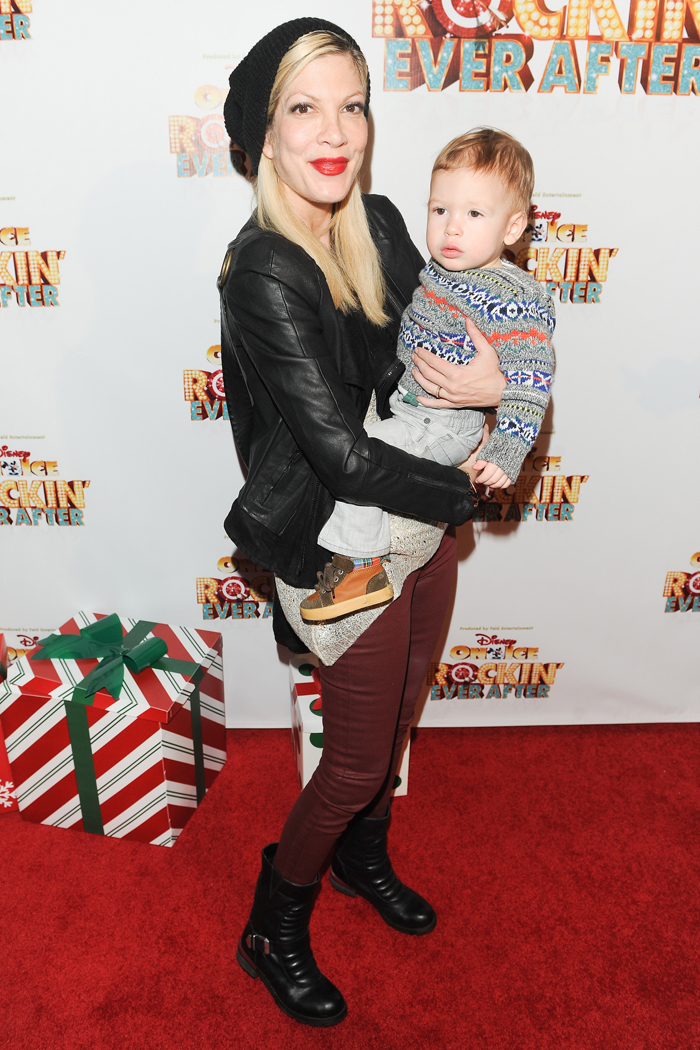 Photos courtesy of Fame/Flynet & WENN