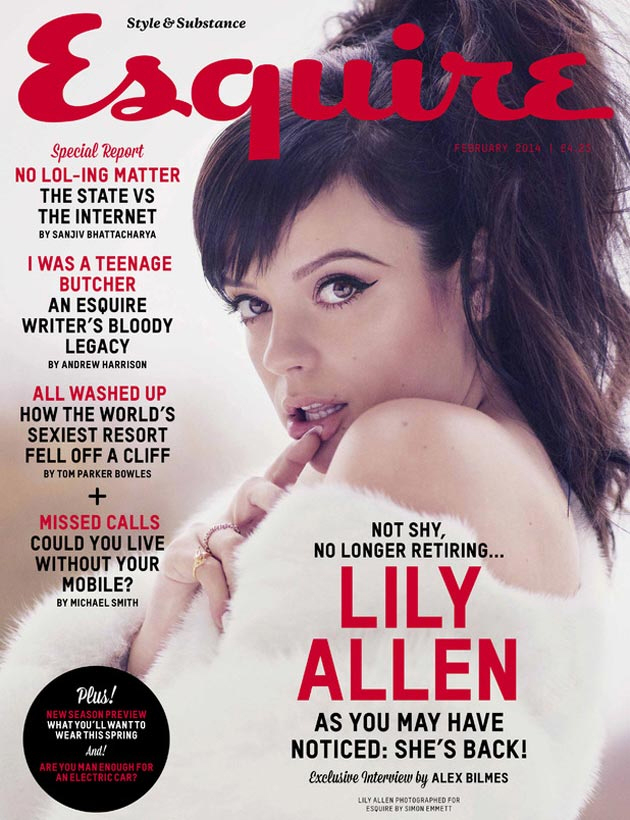 I'm kind of glad that Lily Allen has rejoined the music industry and is back to doing press, because it gives me a chance to judge her as a celebrity. And let's face it, as a celebrity, Lily Allen has been an a—hole for a really long time. I lifted my harsh view of Lily for several years, while she was going through a really bad time in her personal life, when she had "retired" from the industry and she seemed to actively not want any attention. But that's over. Now she's back with new music (and racist music videos), and she's back to trash-talking other artists (which is what she used to do before she "retired"), being a hypocrite (which is what she used to do before she "retired") and being so smug and full of herself and her version of "keeping it real" (which… you get it).
I have the kind of fly-trap memory for celebrity shenanigans where I remember clearly what a drugged-out, liquor-soaked, trash-talking mess Lily used to be. And guess what? Lily covers the new issue of Esquire UK and she's trash-talking and painting her drunk, drugged-out mess years as some kind of "authenticity" that today's pop stars are sorely lacking. Some highlights from the Esquire interview:
Things were more "authentic" in the 1990s: "I feel like when I was growing up and dreaming of being a pop star, it was the days of Britpop when things felt authentic and anarchic, and people were taking drugs and having a lot of fun and having sex with each other and it wasn't fake, it was real. So excuse me if I found it a bit disappointing when I arrived and it was a bunch of sterile f**king botoxed idiots that stank of desperation."

Her re-entry into music: "I feel very lucky. I couldn't ask for much more really. And actually I'm not really asking for much more. I'm not trying to take over the world here. I don't want to be Rihanna. I want to sell some records, sell some tickets to my shows and live my life."

Why she retired: "I was at the end of my tether. I'd had enough of people constantly hacking at me. And I think once you're exhausted physically and mentally, it does get you down."

She felt "persecuted" by her celebrity friends: "I thought the people in that showbiz circle were my friends. But almost the second I got pregnant and I wasn't able to go out and party, they were suddenly quite nasty. There's a way that those people survive, and it's not by being nice. The way they make themselves feel powerful is to ostracize other people. I feel blessed to be able to recognise that but at the same time it can still feel pretty s**t what you walk into a room full of people and you can feel the eyes looking at you and people laughing. It's hard for me because I will eternally feel like that little bullied girl at school, because that's what I was."
[From The Daily Mail and Esquire]
LOL, I'm sorry, but this is one of the funniest and least self-aware interviews I've ever read? Lily Allen is the same fool who, coked out of her mind and drunk as hell, heckled Elton John at an awards show. This is the same person complaining about how SHE was mistreated. She's the same fool who gave Miley-esque interviews about how cocaine is super-amazing and how cokeheads are just fine and now Lily is complaining about being "bullied" by all of her celebrity friends because she didn't want to do drugs with them when she was pregnant. SERIOUSLY? They "bullied" you and you didn't take that as a sign that you just hung out with drugged-out losers and enablers? And that's why you quit the music business?! Hahahaha. But of course, when she was drugged out and banging every dude she could get her hands on, that was "authentic" and "real". Not like the young pop stars who are drugged out and having lots of sex these days.
Cover photo courtesy of Esquire.