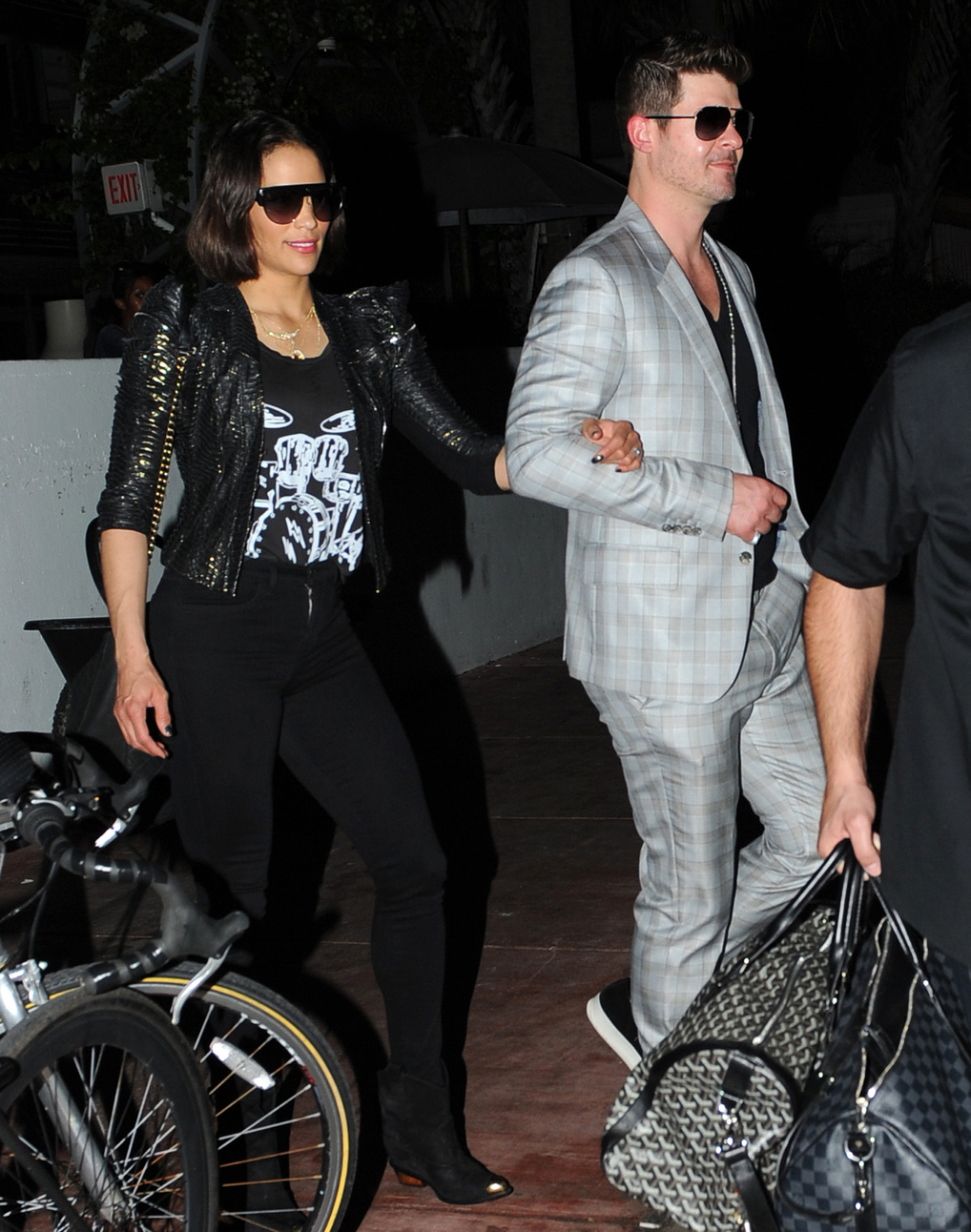 Here are some photos of Robin Thicke on New Year's Day in Miami. He was out with his wife Paula and during the day, he was seen hanging out on a hotel balcony with some K-Fed/Taylor Kitsch looking dude. Apparently, Robin rang in the New Year in Miami, probably earning some ridiculous amount to perform. But! Page Six says that Robin nearly pulled out of the NYE gig because SLS Hotel South Beach gave him a tiny room. Robin Thicke is a diva?! Well, I never.
Robin Thicke threatened to pull out of a New Year's Eve appearance at SLS Hotel South Beach because he thought his room was too small.

The "Blurred Lines" crooner was booked to perform and host a party at the Miami hotel and checked in Monday. But we're told Thicke was dissatisfied with his digs and demanded to be moved.

"He threatened to pull out if he didn't get a bigger room," a source said. "His travel agent was calling all over Miami to get him a bigger room at a different hotel." But a rep for the SLS denied the drama, saying, "Robin has been a great guest."

Thicke played the Gatsby-themed bash with Skylar Grey.

On Sunday, Thicke and his wife, Paula Patton, could have used a room before heading to Miami.

Spies at 1Oak in Las Vegas told us the couple were "too busy kissing and hugging" during Major Lazer's performance to pay attention to the show. "No one could interrupt them. Fans were coming up to them, but the couple ignored them," said a spy. "The only time they broke away from each other was when Thicke went to the DJ booth to yell 'Happy New Year.' "
Huh. My feeling is that Robin probably did pitch a fit over his room, but the hotel quickly agreed to move him into some more luxurious digs and the hissy fit was over. As for Robin and Paula's PDA… lord, I don't even know what's going on in their marriage. I hope they're happy and I hope there's less drama from them in 2014. As in, I hope I don't have to write about a constant barrage of reports of Robin coming on to 20-year-old club chicks. Please.
Photos courtesy of Pacific Coast News, Fame/Flynet.