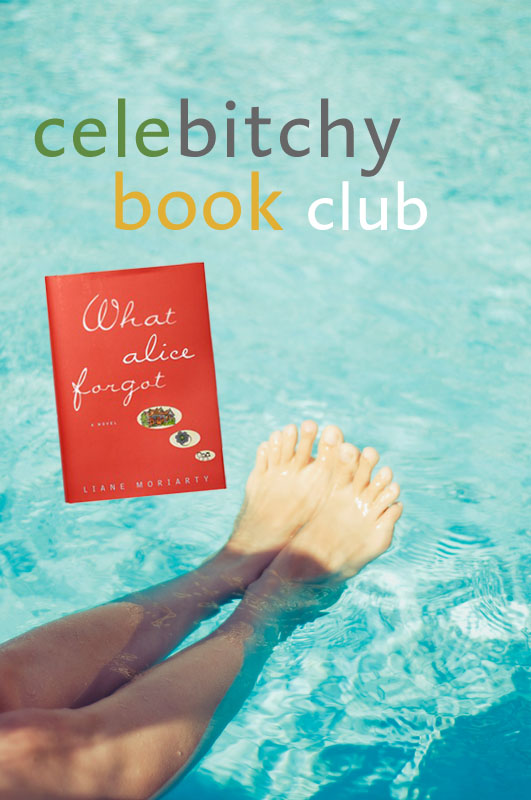 What Alice Forgot was one of the easiest reads we've done so far on The Celebitchy Book Club. While the premise seems high-minded, the execution was readable and breezy. The basic story line: a woman, Alice, wakes up on the floor of a gym after conking her head. She's 29 years old, madly in love with her husband and pregnant. She doesn't recognize anyone around her. People keep talking to her like they know her and everyone keeps giving her strange looks. Finally, she's told that she's not 29 and pregnant – she's 39 and a mother of three, and she's in the midst of a terrible divorce. Her head injury has made her "lose" an entire decade of her life.
The rest of the book takes place over the course of a following week, as Alice tries to remember how everything changed in the past ten years. She tries to figure out her young children, why she's no longer close to her once-beloved sister, why her estranged husband Nick loathes her. And she has no memory of her closest friend Gina or how Gina died. Alice is flooded with memories of her life up until her 29th year, so part of the story is told in flashbacks and memories. Plus, the narrators switch over a few times as we follow Alice's sister Elizabeth, who is going through a major life crisis of her own. We also switch narrators to Alice's godmother/surrogate mother Frannie. I thought the "Frannie" sections were the weakest and most unnecessary, honestly. The story didn't need to be told from Frannie's perspective at all.
Anyway, SPOILER, by the end of the book, Alice finally gets her memory back in dramatic fashion and I was pleased that it was a sense memory that triggered everything. After spending nine-tenths of the book learning about Alice's lost decade second hand, I actually wished Alice's final memory recall had gone on longer, that we get the heavy emotional payout we deserved, told from Alice's perspective. But it felt like some of the drama and "heaviness" was glossed over in service of making this a light, breezy read.
My biggest problem? So much about the ending. Everyone got their happy ending and it felt like it was disservice to some of the real issues the characters were going through. Elizabeth's years-long struggle with fertility had left her severely depressed and somewhat manic, but she got an ending with a cutesy bow on it. After remembering exactly why her marriage had ended, Alice finally seemed content to let it die. Until the very end, which just… ugh. Nick was such an a—hole and I just didn't believe that Alice would have been capable of burying ten years' of grief and anger like that.
So, would I recommend this book? Sure. It's an easy weekend/vacation read that you'll be able to get through quickly. But just know that you'll be disappointed by the end.
Bedhead's Take: Like Kaiser, I had issues with the neat and tidy ending of this book. What did I really want to happen? For Alice to grow a pair and realize that there were good reasons that she and Nick grew apart. I also wanted her to get rid of that kiss-ass school principal she was dating, but I think the "new" Alice liked that dude because he fit her new persona. I wouldn't have gotten along with the new Alice in real life because I can't stand people who have no greater goal than to build the largest lemon pie in the world. Ah well.
This book was a fun and breezy read, which I appreciated because I've been stuck in the depressing muck of sci-fi land for awhile. I dug the Elizabeth character a lot, but Gina was far too romanticized for my liking. The book was a decent reflection upon how much can change in a decade in all of our lives. It inspired me to do a little self-exploration on my own, which never hurts.
Our next book club pick is our first non-fiction selection: Empty Mansions: The Mysterious Life of Huguette Clark and the Spending of a Great American Fortune by Bill Dedman. We will discuss the book on February 9th.
image credit: truetype/photocase.com