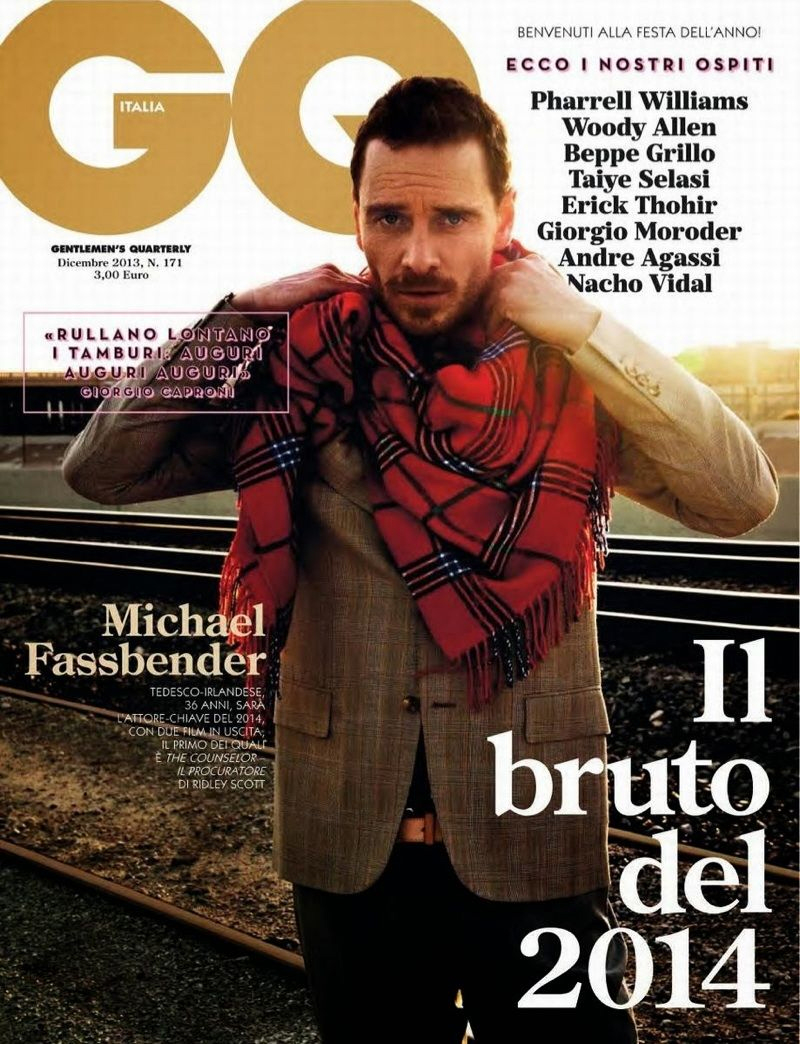 A few weekends ago, we had a preview of Michael Fassbender's GQ UK cover for the February issue. Now we have a lot of quotes from the interview, plus more photos from the (terrible) GQ shoot (photos at the end of the post), plus Michael also covers the new issue of Italian GQ (cover above). I do not blame Michael for the crappy GQ UK shoot, as I said two Sundays ago. GQ UK just has some really terrible stylists these days and it seems like the magazine's mission in life is making attractive men look foolish, old and/or creepy. As for the interview… Michael is holding back a bit, but that's fine. He went through a phase a few years ago where he would talk about the beast within and ruining the sweetshop in interviews, but nowadays, he's most circumspect and conservative. It's fine. I miss Raw Fassy, but Reticent Fassy is okay too. Some highlights:
On claims that he's a sex symbol: "I don't see myself as a pin-up. I don't dwell on it. That sort of information isn't good for my own head."

Whether he would do full-frontal nudity again: "Of course I would do it again if the film needs it. When filming '12 Years a Slave', [director] Steve [McQueen] wanted me to lose my pants for a particular scene and I was like, 'Steve come on, we've done "Shame" already.' 'Listen, it's not a big deal. I mean half the population has one between our legs and the other half has something else. It's weird how there seems to be so much hype around one man's piece of anatomy. It's just ludicrous, really!"

On his 12 Years character, Edwin Epps: "He is a monster, but he too is a man. As hard as it is to believe, I had sympathy for him, despite his actions. I had this primal feeling that what we do to each other affects us, and that goes for both ends of the whip, if you like. I wanted to bring that part of Epps out to where the audience could recognize themselves, even if just for a second. So then it doesn't become so comfortable to keep his monstrosity at arm's length. Bring him closer and it's more effective. To force the audience into recognizing the human being, the flesh and blood and brain behind the horror. Where does such abhorrent racism stem from? And what does it leave behind in a man like Epps?"

He practiced his whipping skills for 12 Years a Slave: "I remember I had to practice on the whip; I had to learn to crack it properly. I remember thinking about the knot it created in my shoulder, the knot it would create from doing such a physical task as whipping the skin off another human's back. That physical memory would stay in the body, my body, Epps' body. The body would retain the memory of what you have done to your fellow man or fellow woman. What would the psychological effect of this be? The retention of pain in your body memory? It's got to be stored somewhere. That's what I tried to with Epps. There's a deep conflict in the man."

He's an adrenalin junkie: "Have you ever done skydiving? I've done two jumps but I want to do more. Last time was in Hawaii, New Year's Eve. An incredible feeling. And that's the sort of thing that blows my mind about human beings. Someone somewhere first had that idea. To jump out of a plane and free fall. Of course you have to pull the parachute eventually and that's the bit that freaks me out. When you suddenly slow down and you can see how high you are. You can see the curvature of the earth. Applying the brakes suddenly makes you more aware of your own mortality. Before this everything is just a rush of brown and greens as you scream towards the planet through space. Then the chute opens and you can see all the details. The cars. The trees. Houses. All of life is brought back into sharp focus. Suddenly reality appears a little too close somehow. Wouldn't it be terrible to be on your death bed and suddenly think, 'God why didn't I do that? Was it because I was worried about failing? Or what someone else might think of me?' We are all going to die eventually. Take the jump. What have you got to lose?"
[From GQ UK via Irish Independent & Contact Music]
He doesn't see himself as a sex symbol? Huh. And he needs to stop complaining about the attention given to the Fassdong! That's the whole reason most people went to see Shame. The Fassdong was a marketing tool. A great, big marketing tool. Mm… tool. What were we talking about?
I like the part about bringing humanity to all sides of the slavery issue, and how he ponders the psychological and physiological remnants of slavery. There's a part near the end of the movie where Michael has to whip someone and it's so, so awful and uncomfortable and brutal. The look on Epps' face as he's doing it too… it killed me. Everything about that film killed me and I really hope all of them win the big awards.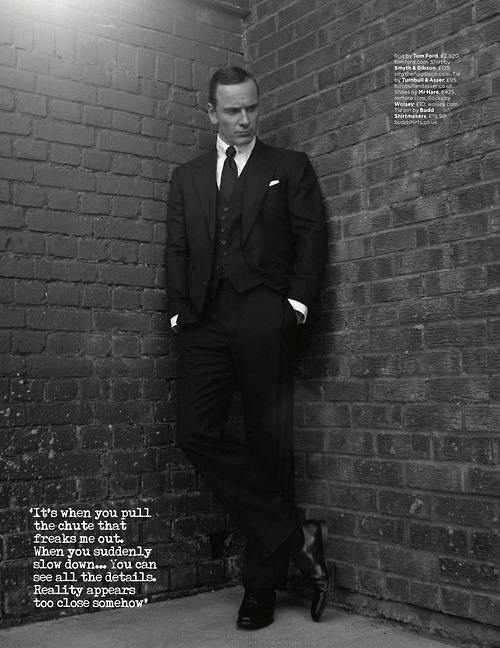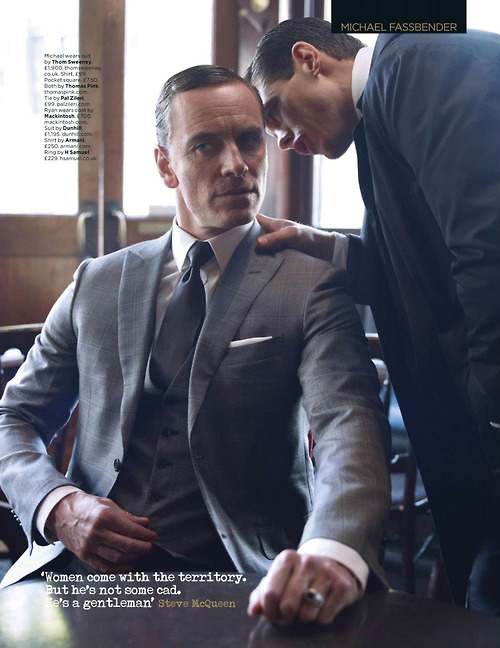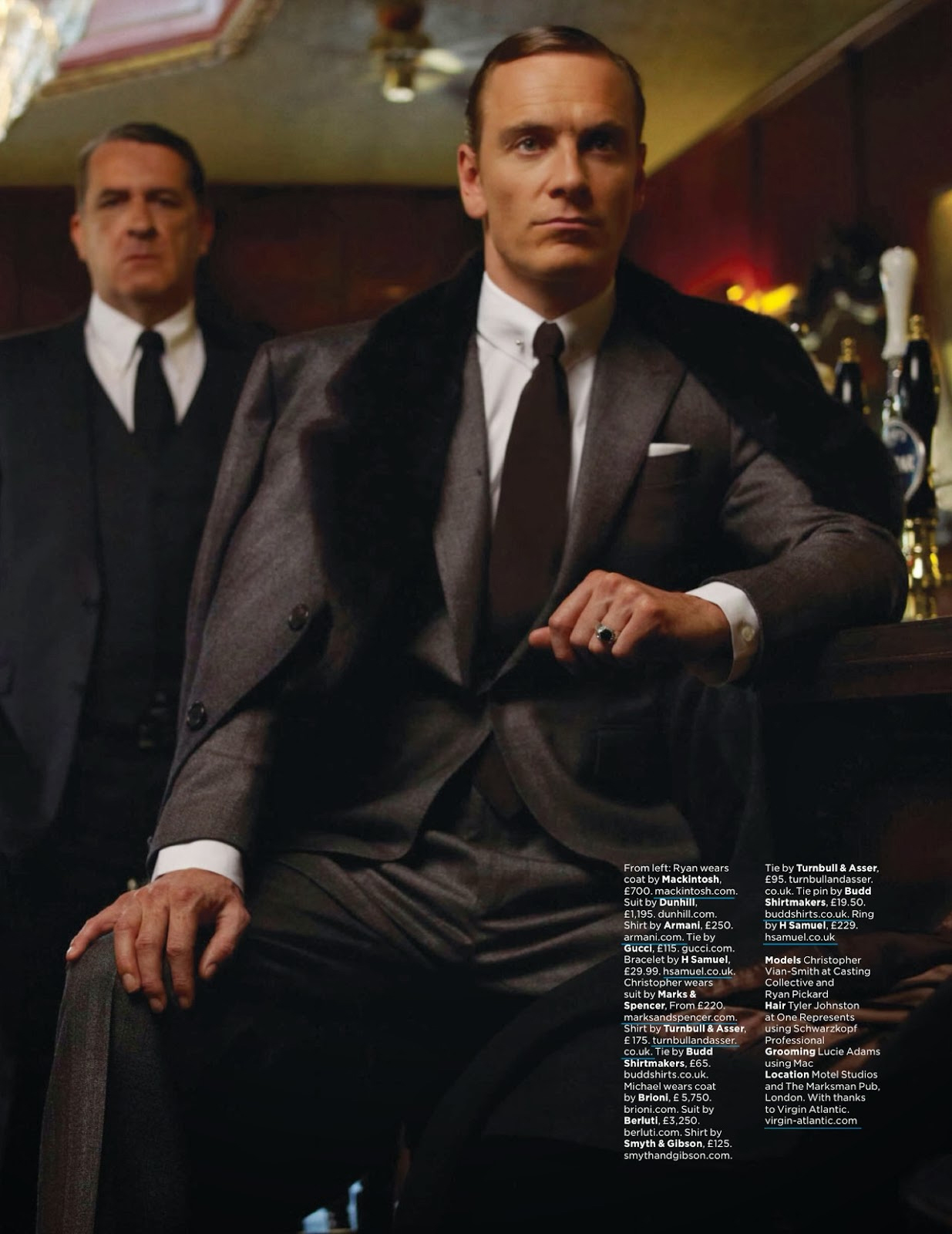 Photos courtesy of GQ UK, GQ Italy.