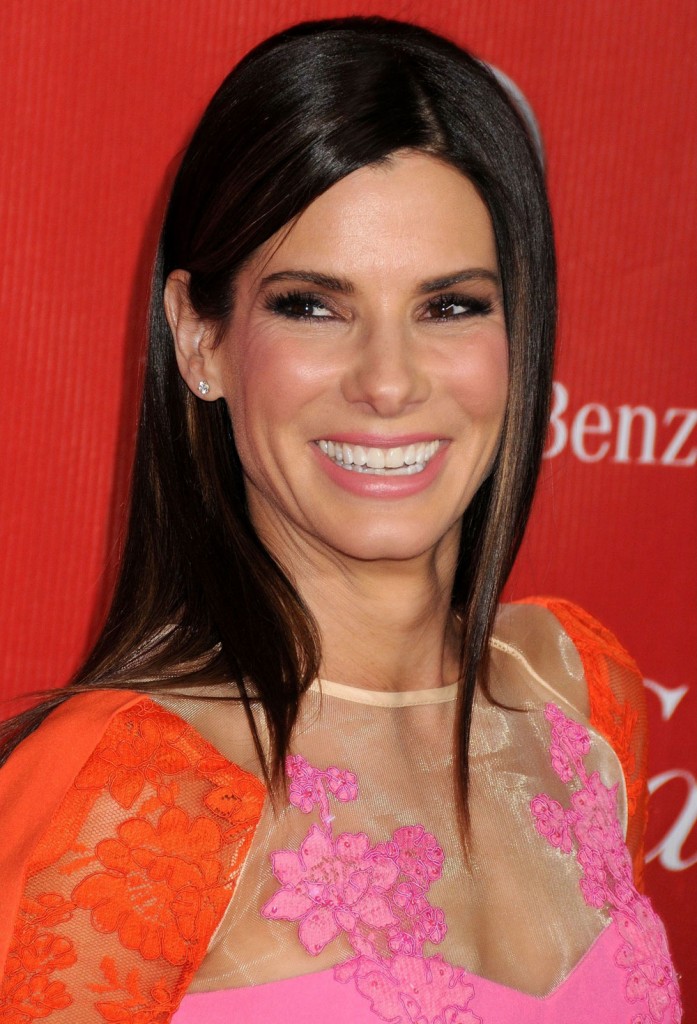 These photos are of Sandra Bullock at the Palm Springs International Film Festival, where she was honored for her role in Gravity. Other award winners at the ceremony included Meryl Streep, who took home the Icon award, and Tom Hanks who had the Chairman's award. The show wasn't televised and from what I've heard the speeches were longer than usual, since no one had to worry about going over time limits.
Sandra is wearing a pepto pink and bright orange Alex Perry dress with lace accents. It fits her like a glove, and she surely looks hot, but there's something "off" about her styling here. Maybe it's the contrasting bright colors, or the fact that her makeup is a little heavy-handed. This isn't her best showing, which brings us to the point of this story. In her acceptance speech, Sandra cracked some jokes about how she googled herself and was kind of shocked to read what people were saying about her online:
The Academy Award winner, 49, admitted she recently did a little search on the web that gave her a bit of insight.

"So, I Googled myself and read the comments section, thinking I could get some tidbits of what people really think of me," Bullock said while accepting her actress of the year honor for the film Gravity at the Palm Springs International Film Festival's opening night on Saturday. "No human being should ever read the comments sections or ever Google one's self at any time."

But the star, who said she learned "a lot about myself," opened up about her discoveries – good and bad.

"Some things I was very well aware of," she said. " 'Sandra Bullock is over 40' came up a lot. I know that. 'Sandra Bullock's way past 40.' Yeah, I know that, too … 'There's absolutely nothing special about her acting. She's not particularly attractive, I can't stand her, she's mediocre. She's over 40.' And apparently Julia [Roberts] … You and I are in a dispute over George Clooney. We talked about this, right? It's shared custody and we're both fine with it."

Going off of that, Bullock – who hasn't publicly dated anyone since her divorce from cheating ex-husband Jesse James – also touched on relationship rumors.

"[There were] lots and lots of comments about who I've dated. Some are true and some I'll never admit to," she said.

One person she didn't necessarily date, but revealed she had a moment – of sorts – with? A fellow awards season regular.

"I was reminded I made out with Meryl Streep," Bullock revealed of her online dirt. "Off-screen, not necessarily her choice. I kind of took her by surprise."

But behind all the jokes and silly revelations, the actress, most importantly, acknowledged: "Some commenters thought I had good hair and good teeth. And I made some young girls and some over 40 girls laugh with some chick flicks. I sparked with Betty White and I've flown into space. I've had a pretty good life and a pretty good career."
Kaiser reminded me that the story about Julia and Sandra fighting over George Clooney is from the most recent edition of The Enquirer. We didn't cover it, but the jist is that Sandra wants George to support her in her Oscar campaign while Julia Roberts is hoping George will support her campaign instead.
I found the YouTube video of Sandra's speech! It starts at 1:40 in the video below. She's so good at deadpan comedy and she's such a great actress. She switched on a dime from being humorous to serious and heartfelt. Everyone is focusing on what she said about Googling herself, but her comments at the end of her speech are just as good. She got choked up when she said "I was watching beautiful stories about people struggling in everyday life in a world that they don't think they belong in… and I was watching heartbreaking stories about our past in this country, that make me so proud to be in this business, because they will one day help me show my son how far we've come and how people have suffered so that there can be a better life for everyone."
I know she's talking about 12 Years a Slave. Just thinking about that movie gets me choked up like that too. It's a masterful film, and I'm plodding through the book now. It's not hard to read, it's just hard to take.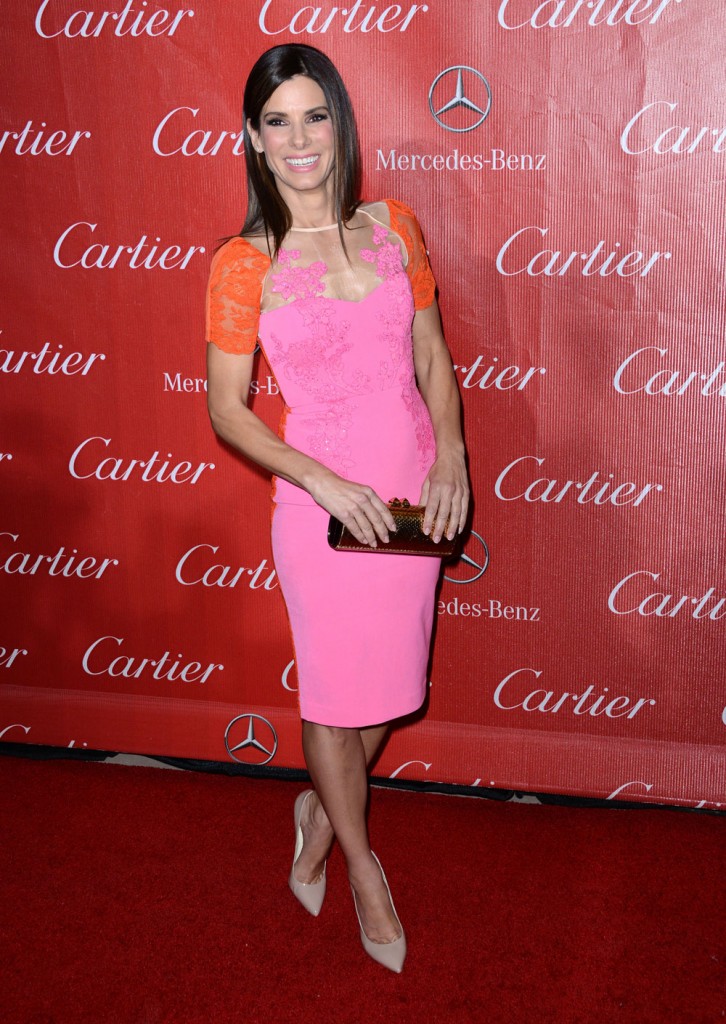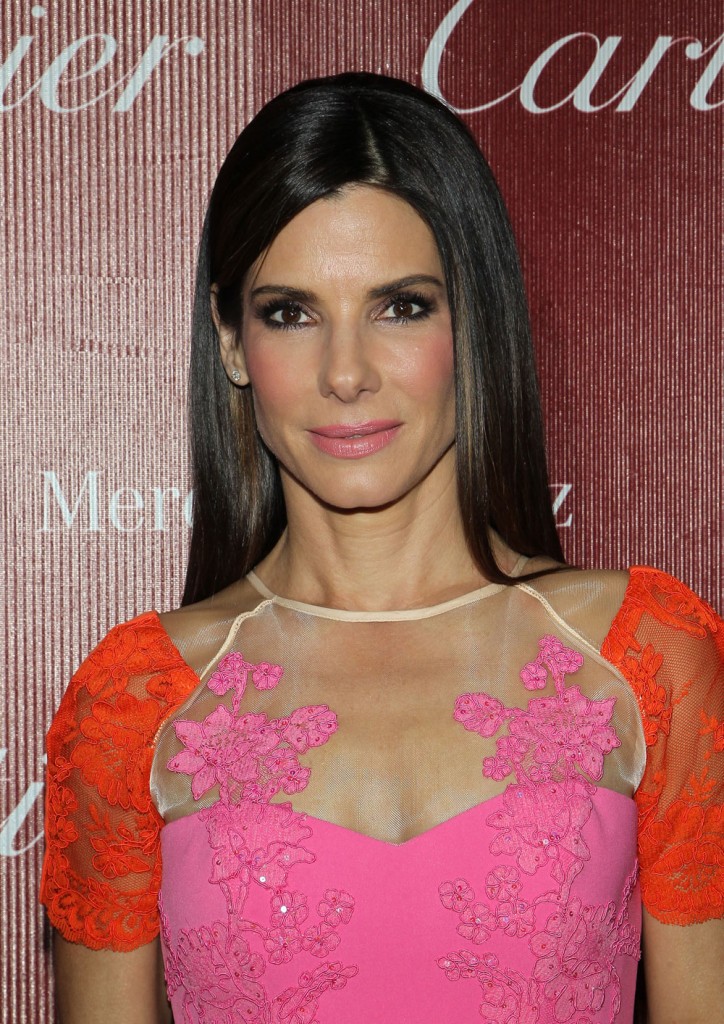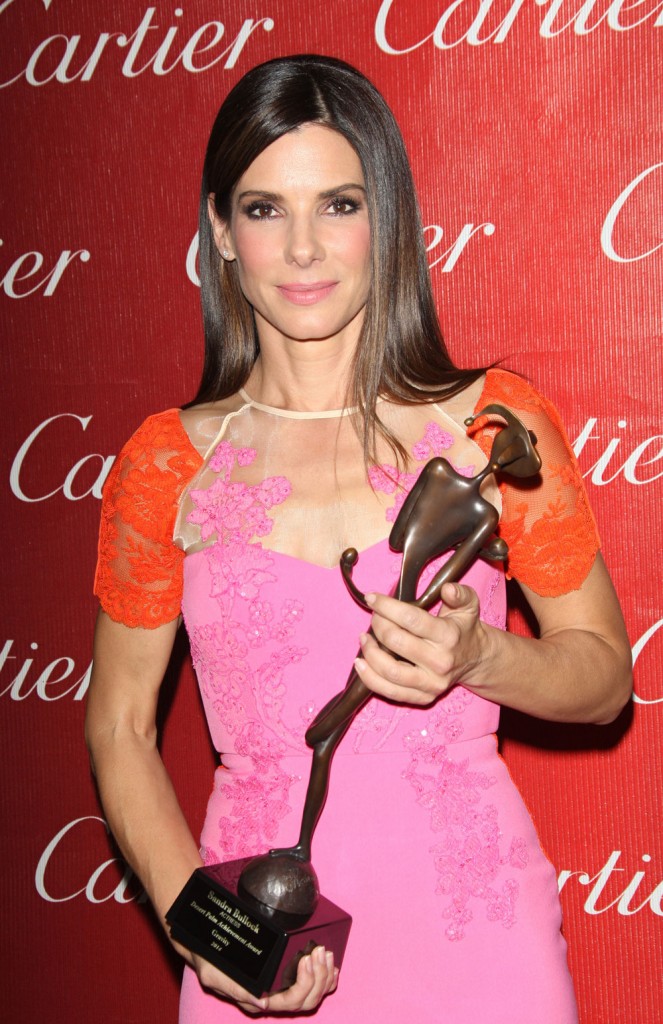 photo credit: WENN.com and FameFlynet