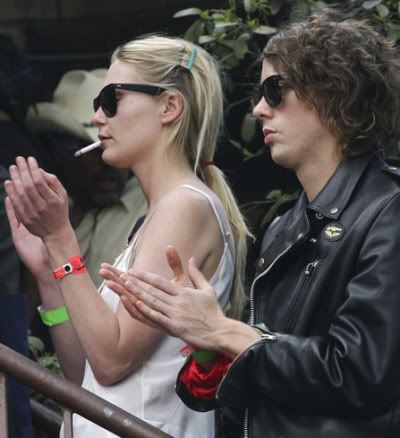 Kirsten Dunst has been staying at the London flat of her new lover, Razorlight singer Johnny Borrell, since last Friday. The two met just a few weeks ago and were seen together at the SXSW music festival. British tabloid The Sun reports that Kirsten is settling in nicely with Borrel's crowd of carousing chain-smoking Brits:
JOHNNY BORRELL and KIRSTEN DUNST's romance is going at breakneck speed even by showbiz standards.

RAZORLIGHT frontman Johnny pulled the Spider-Man actress just weeks ago, when his band were touring the US.

Kirsten then followed the singer around America. On the rare days they weren't together they would speak for hours on the phone.

Now she has flown in to Britian and made herself at home in his new North London pad.

On Sunday smitten Kirsten was stage-side as her man headlined an anti-slavery charity gig in North London.

The pair then partied at trendy boozer The Hawley Arms — proof she's been well and truly accepted into the Camden Caners indie scene.

It's a beautiful story. Well, beautiful for everyone apart from Johnny's ex, who he dumped to be with Kirsten.
I wonder if Kirsten is missing those art classes she was so excited to be auditing. It's a good thing she's not enrolled in school as a full time matriculated student. Maybe it's a school break now.
The Sun and Sky News point out that Kirsten and Johnny could be the next Gwyneth and Christ Martin. Kirsten does have that kind of psuedo-intellectual full of shit type personality that meshes well with Gwynnie's "my adopted nation is better than yours" holier-than-thou take on the world. I can see those two becoming fast friends over some wine in Gwyneth's garden.
Gwyneth recently said that she thinks it's inappropriate for women to get drunk, but considering how much she gushes about drinking wine with her friends and while alone, there must be some self-loathing there. Oh and here are pictures of Gwyneth drunk.