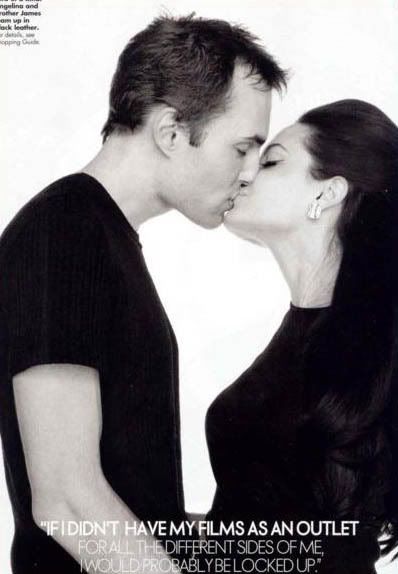 Angelina Jolie's brother, James Haven, must be broke. That's about the only explanation I can muster for why he would give a rambling interview to a British tabloid in which he reveals way too much about his troubled relationship with his estranged father, John Voight. Either that or he wanted to talk about his charity work and they somehow spun it into this family confession with embellished quotes. (That really could have happened, because I caught another British rag blatantly doing that same thing to Josh Hartnett.)
Haven paints his mother, with whom he and Angelina lived, as a baking, caring saint who did her best to raise two children alone. Their father, Jon Voight, was a raging tightwad who bullied his ex-wife and had to be goaded by his children to pay child support at the height of his high-paid Hollywood career.
Angelina's brother says that his father has never written Angelina a letter expressing congratulations or pride at her ongoing charity work. He also says that when their mother, Marcheline Bertrand, died from cancer at the age of 56 this January all their dad did was leave them a voice mail expressing condolences.
Angelina is thin, he says, because she is greiving and often forgets to eat. He also says that she's very picky about the women he brings into his life and that "because I'm so close to Angie it's like I've already got the perfect woman in my life and it's hard for anyone else to live up to that."
Despite his kind of half-admission that he has some romantic feelings for his sister, he says their kiss at the 2000 Oscars was not with tongues, and was overblown:
"She's always been very protective of me with regards to my romantic life, which I love," he smiles. "She wants me to be with the right woman. When you come from a divorced home, divorce is what you desperately want to avoid.

"Maybe I haven't found the right woman because my sister is too picky for me. Any woman has to go through two filters, me and then my sister.

"I'm a perfectionist by nature. Then, because I'm so close to Angie it's like I've already got the perfect woman in my life and it's hard for anyone else to live up to that.

"I go to Angie for advice and won't do anything without her because we were so close as children."

Her influence on him is so profound, he claims he has even been persuaded to adopt a child himself – provided he can find a partner first. Angelina has even brought about a change of career, persuading him to spend large parts of his time campaigning for charity. He is currently preparing to take part in a major US campaign to fight the AIDS pandemic in Uganda.

James is outraged by the claim that their relationship might in any way be inappropriate – claims prompted by 'that' kiss after the 2000 Oscars.

"I did not give Angie a French kiss, it was something simple and lovely," he insists.

"She was about to go off to Mexico to finish filming Original Sin with Antonio Banderas. I congratulated her on the Oscar win and gave her a quick kiss on the lips. It was snapped and became a big thing round the world."
At first I thought that Angelina must be mortified by how much crap her brother is revealing about their family and troubled relationship with their father, but then I realized that she's way too candid and personal in interviews, too, and has said that she doesn't trust anyone except her mother and maybe Brad. She didn't mention her brother as a person she trusts, so maybe she expected him to do something like this and sell her out.
Here are pictures of Angelina and her brother at the Oscars in 2000. They are also shown kissing in an inset picture. There was a lot of understandable uproar about the sibling kiss and their too-close, almost intimate behavior, but at least it looks like their lips are closed.
Header picture from Into Gossip.