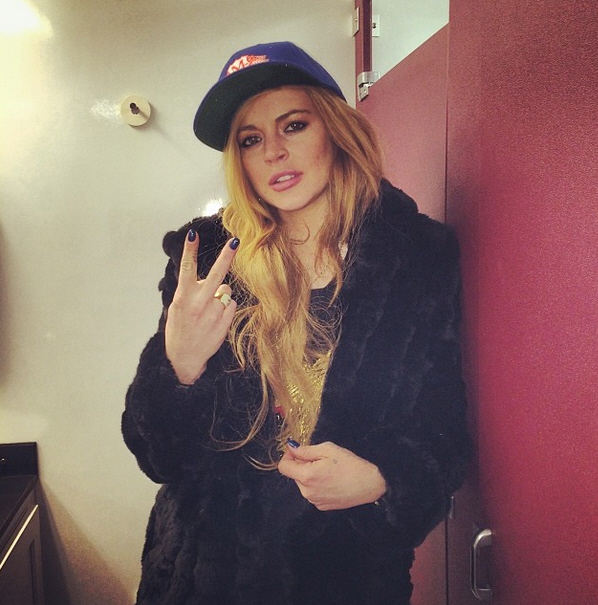 As we covered, Lindsay Lohan was in Shanghai earlier this week for some fashion award event. I theorized that she was probably paid a decent amount (low six figures, I'm thinking) to fly to Shanghai and receive an award. There was probably the basic appearance fee, plus the organizers probably had to shell out for Lindsay's first class plane ticket AND her first-class hotel accommodations. If I was organizing the event, I would not think it was worth it, even if Lindsay was on her best behavior. Because there is NO "best behavior". Lindsay lives and breathes crack drama, 24/7. So of course there was crack drama on this trip. Apparently, Lindsay's "laptop" was "stolen" and now someone has their hands on lots of naked photos of the Cracken. Of course.
You want to see Lindsay Lohan naked? That's what she's afraid of … because we know what's in her stolen computer.

Lindsay claims her computer was stolen at the airport in Shanghai, China, and she's offering a reward for its return. In a move showing an utter lack of sophistication, Lindsay isn't specifying how much she'll give … she's saying, "Whatever it takes." Translation: A lot.

Why, you ask, is she so freaked out? We've learned she had a bunch of nude photos of herself. She claims they're all from various photo shoots that were never supposed to be released. Again, when an actress is asked to take her clothes off, usually no good comes from that.

And there's more … We're told Lindsay claims she has "private correspondence" from a bunch of famous people, including Woody Allen and Lady Gaga, that she wants to keep under wraps.

We pressed on whether there were selfies but got no answer … so we're guessing there are.
The only names she could come up with were "Woody Allen" and "Lady Gaga"? What, she's not in constant communication with her sober friend Tom Hardy? Or her partying friend Robert Pattinson? She's not emailing John Travolta? Just Woody and Gaga? And even then… I doubt Woody is emailing back. And LL and Gaga probably share at least one dealer.
As for the naked photos… how stupid. In any possible explanation, that's just stupid to have a cache of naked photos OF YOURSELF on an unsecure laptop that you travel with internationally. STUPID.
Would you like some Crack Mad Libs for this situation? Of course you would. I'm doing two versions!
Option #1: The Cracken claims something has been stolen.
Lindsay Lohan threw her ___ across the ___. She was already howling: "______!! I can't believe I lost my ____!!" A police officer entered the ___. "____?" he asked the Cracken. Lindsay stomped her ___ and pouted her ___ lips. "I don't have documentation because _____. You don't even know how many ____ photos there are on ____. Would you like a preview?" The cop demurred. "No, ma'am. I'm ____," he told her. Lindsay began wailing again: "____!"
Option #2: The Cracken's emails to Woody Allen.
Dear Woody, I hear you have a new ___. I want to be involved! Should I ___? Or do you just want me to ___ your ___? If you don't give me ___, I will come to your house and ____ . Kisses to Soon-Yi!!"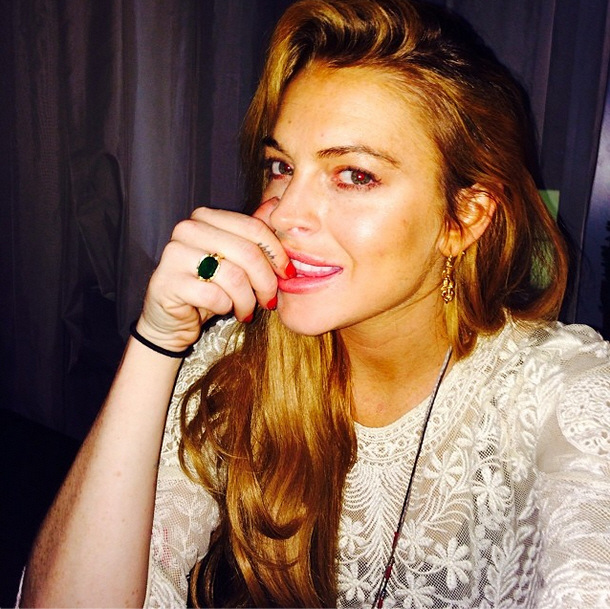 Photos courtesy of Fame/Flynet, LL's Istagram.