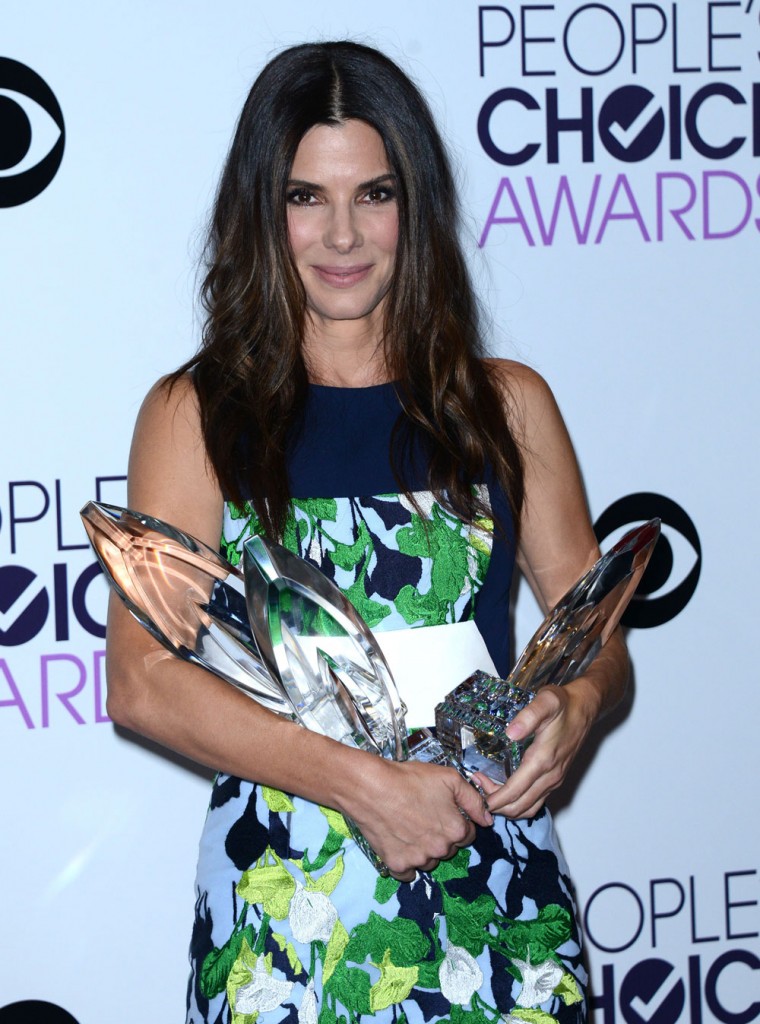 Sandra Bullock was probably the biggest name at last night's People's Choice Awards. When they were announcing the nominees for Favorite Movie Actress, which Sandy won, I was struck by all the actresses who weren't there. Also nominated in that category were Gwyneth Paltrow, Jennifer Aniston, Melissa McCarthy, and Scarlett Johansson. The only other nominated actress who showed up was McCarthy, which worked out well when Bullock and McCarthy won Favorite Comedic Movie for The Heat. That reminds me of when Jennifer Aniston seemed drunk at the PCAs. Good times.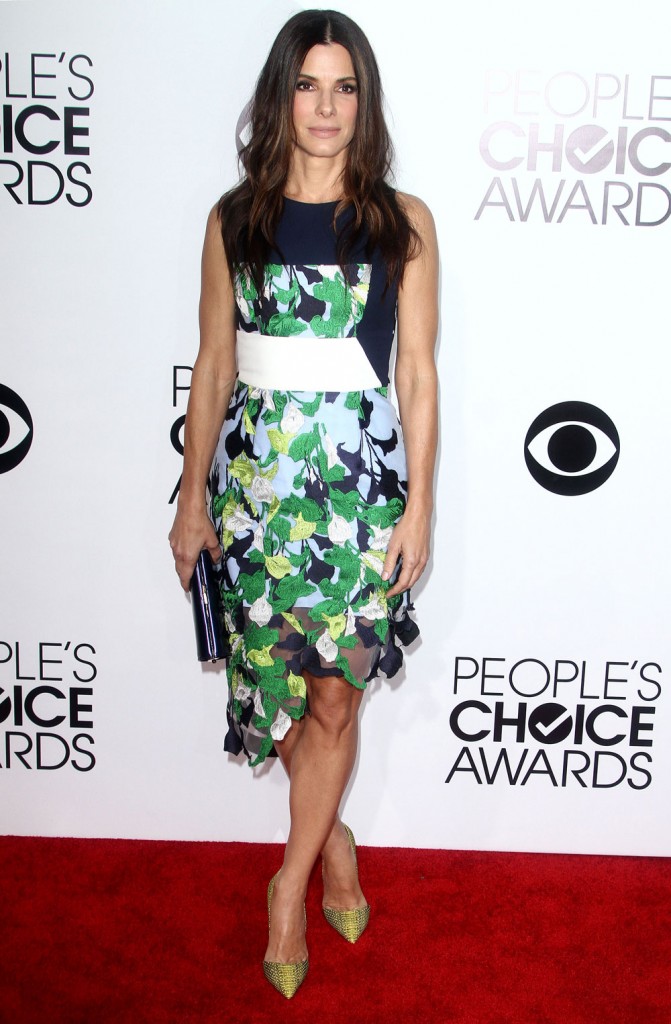 As we've come to expect, Bullock's acceptance speech was funny and heartfelt. You get the sense that she's extremely skilled at speaking off the cuff, and that she's very gracious. She thanked her son, Louis, "for letting me come out tonight," and then added that she won awards "because people work a lot harder than mommy to make her look good." That was sweet! (You can see videos of the acceptance speeches and hosting moments here.)
In terms of Bullock's fashion, I really liked her Peter Pilotto dress on camera. In these pictures, I'm not so sure. The dress hugged her incredible figure and it was a nice balance between casual and formal. It looked a little too "sundressy" to me on camera at first, but the cool asymmetric hemline made up for it. Plus it's the People's Choice Awards, it's not the Oscars. Also, I love her makeup and hair, especially because she switched it up instead of doing a flat iron look.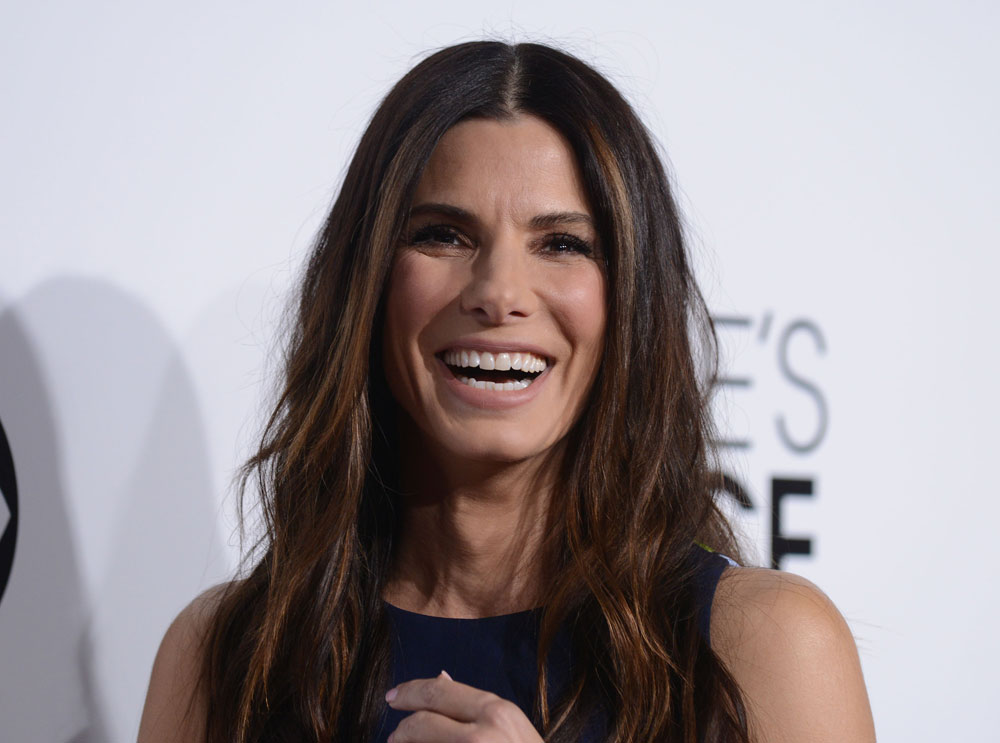 Next up we have one of the night's co-hosts, Kat Dennings, in David Meister. (This reminds me to apologize that we don't have photos of Melissa McCarthy, since Meister is her favorite designer.) The dress is a little too "prom" for me with the very typical strapless top, floral print and full skirt. I do like her styling, she's so pretty. This was one of her red carpet outfits, Dennings changed multiple times during the ceremony. My favorite of Denning's multiple changes last night was her first dress, a bright blue Oliver Tolentino. You can see that here.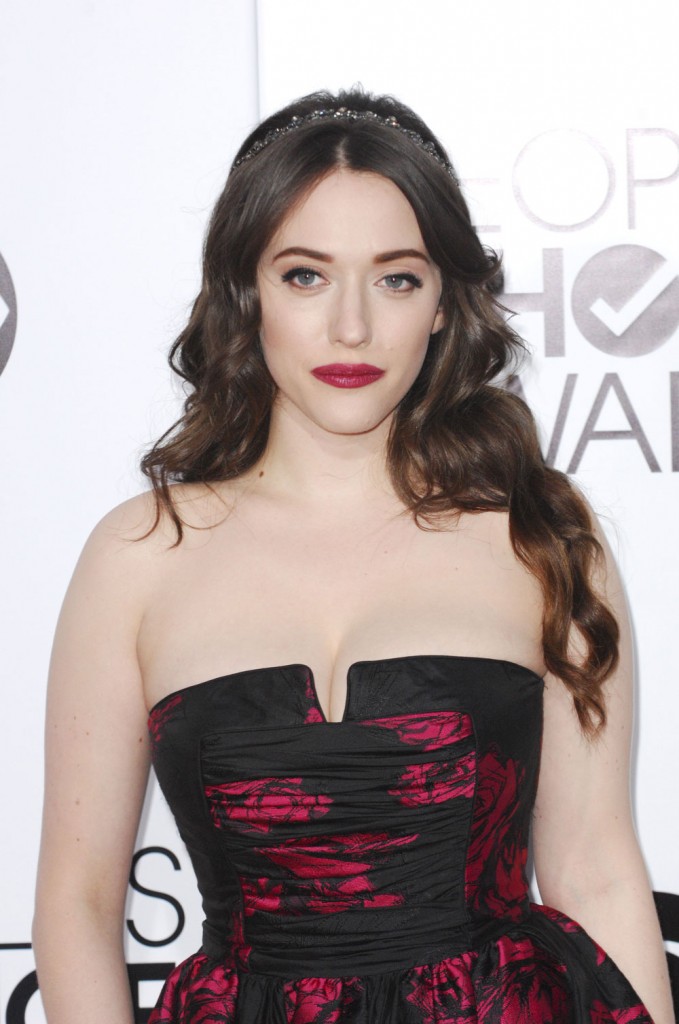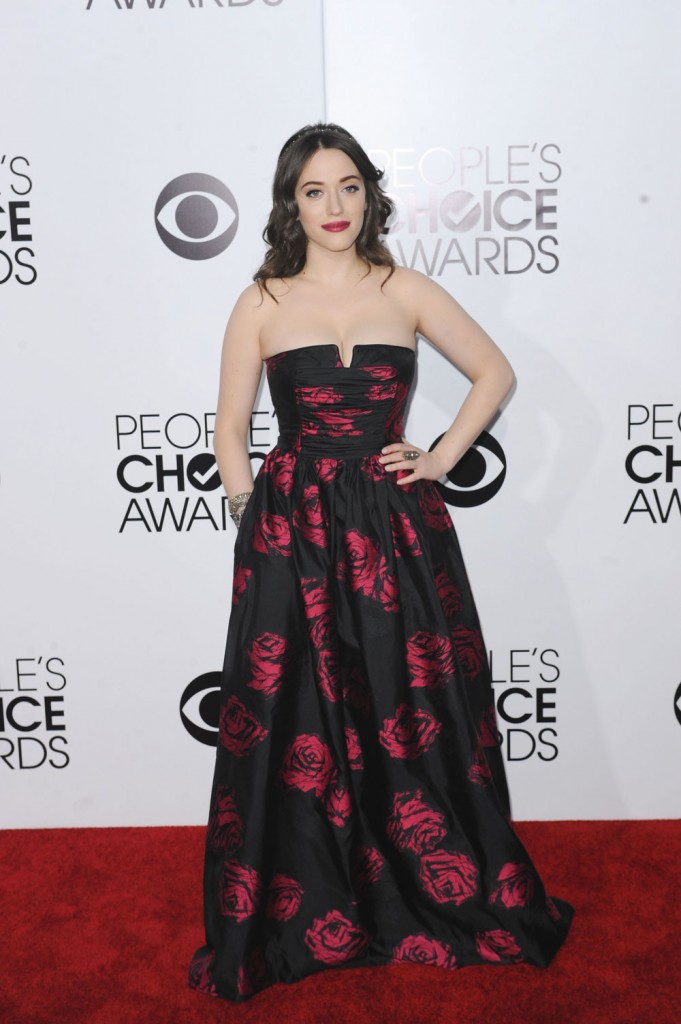 Here's Denning's Two Broke Girls co-star and co-host last night, Beth Behrs. She's wearing Giulietta on the red carpet. Behrs' dresses during the ceremony were very girly and forgettable, although they all made her look gorgeous. This dress was a little better than the clingy, glittery dresses she wore while hosting.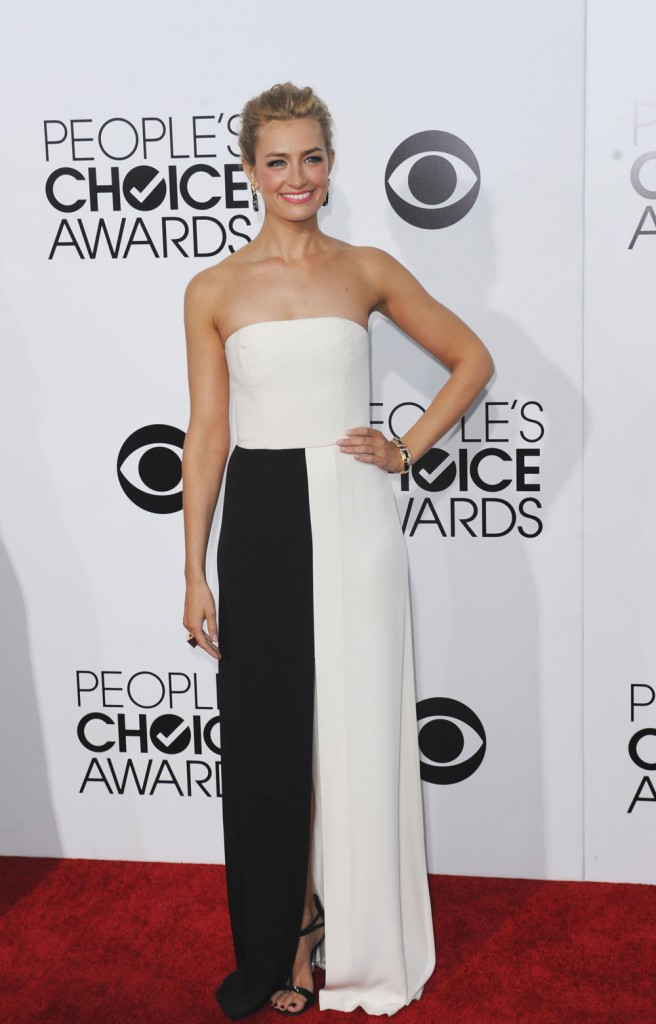 As for how these two did hosting the ceremony, I was pleasantly surprised. The opening bit, which took place on the set of Two Broke Girls, went on too long, but they had some humorous moments throughout. The standout moment was when Dennings read some made-up tweet requests for songs for Behrs to sing on stage. Behrs was game and did versions of Miley Cyrus' "Wrecking Ball," Carrie Underwood's "Before He Cheats," and Sir Mix-a-Lot's "Baby Got Back." They had great rapport and riffed off each other. At one point Dennings said "You're Hathaway, I'm Franco." They were much better than those two, but that bar is set incredibly low. Here's their last gown change of the night, below.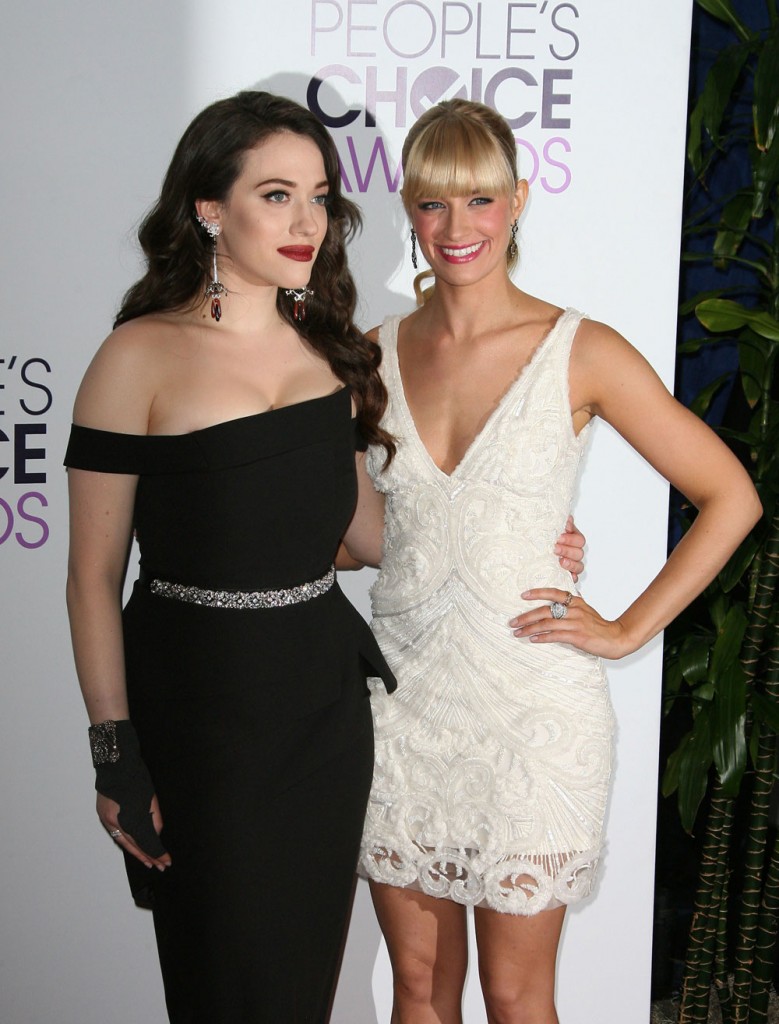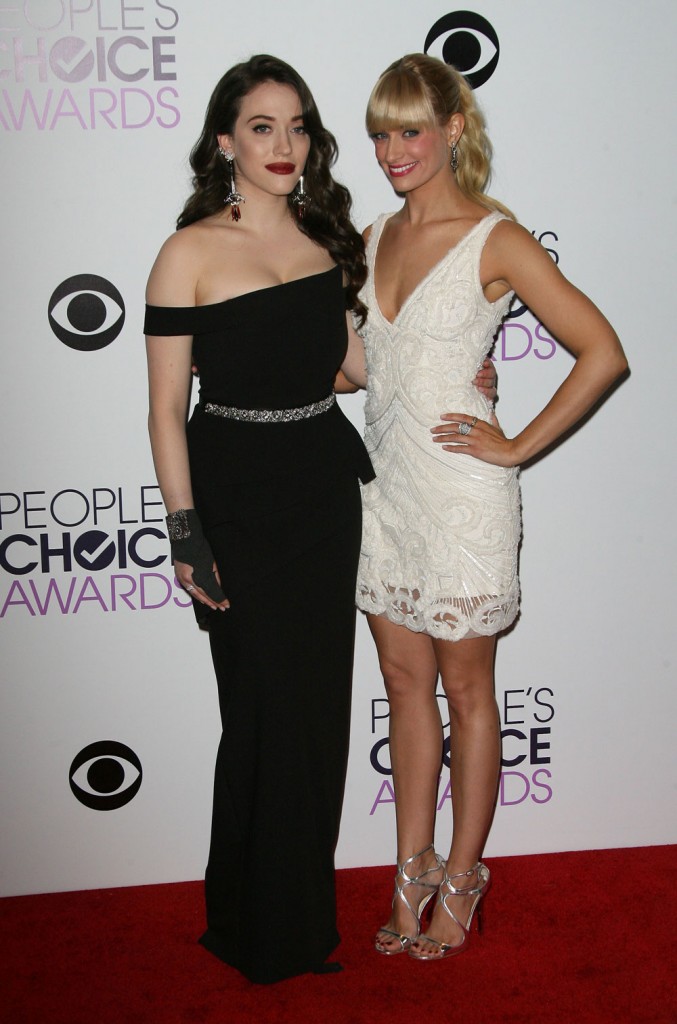 Finally we have Nina Dobrev in black and silver sequined Jenny Packham. In photos this dress looks conservative although on camera it stood out and fit her like a glove. I love to see Nina's fashion game. Something negative: I don't like her hair piled up on top of her hear like that, it looks weird.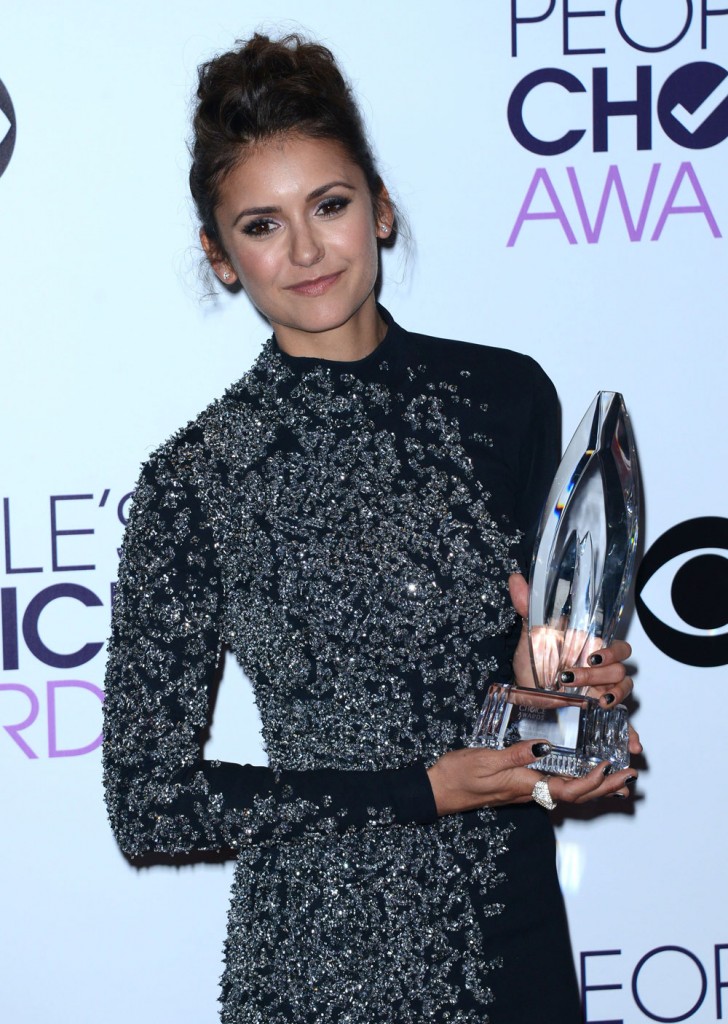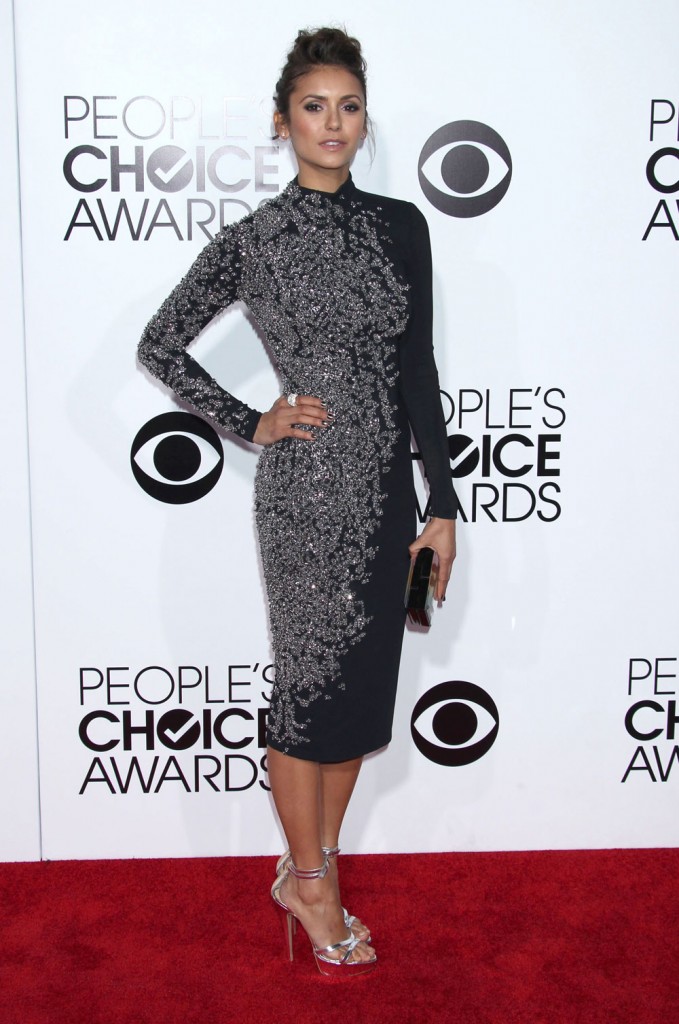 Nina and her Vampire Diaries co-star, Ian Somerhalder, gave one of the best speeches last night. (Excepting Jennifer Hudson, which we'll get to in a moment.) When they won for Best On Screen Chemistry, they addressed how their real-life dating life paralleled their characters, until they broke up in real life. They said, in turn, "we started dating on the show, we started dating in real life, and then we broke up in real life, and yet our characters were still dating on the show. It's a good thing it's not awkward." Then they looked at each other like it was awkward. It was cute, with Ian even kissing Nina on the cheek afterwards. I get the sense that it's not "over" yet for them, we heard that they were back together before the holidays!
Bonus Ian looking a little d-baggy with that facial hair and smirk.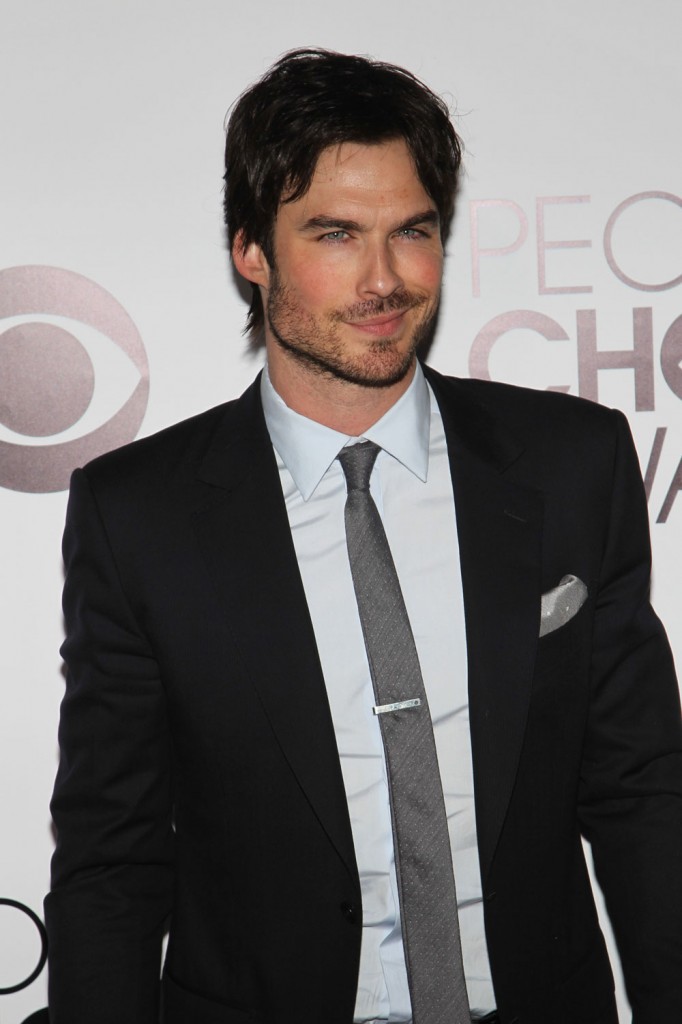 Photo credit: WENN.com and FameFlynet