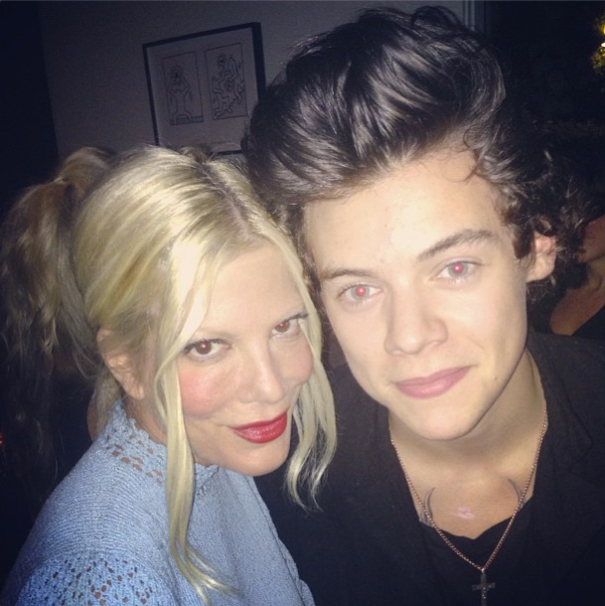 I raided Tori Spelling's Instagram account for some pictures, and lookie at what I found! Tori posed this photo of herself with Harry Styles a few months ago. I'm sure it means nothing, people. Ha. Tori still appears to be deep in denial after Dean McDermott allegedly cheated with a Canadian random last month. We've heard that Tori is privately making Dean's home life hell, but she has yet to comment on the rumors. She instead posted a happy family New Year's photo. Tori might also be turning a blind eye to Dean's cheating if the rumors are true that he's a sex addict who has cheated for years.
Tori's behavior has grown increasingly odd. She went and bought a super-cute puppy a few days ago (see photos here). I guess Tori needs to take care of yet another living being on top of four children. She (along with Dean, maybe) has also moved out of her $7000/month rental home and into a $10,500/month house. Even though the family is SO broke. The weirdest part is that Tori and Dean abandoned a fully-loaded SUV at the old home. Now E! says that Dean hasn't been at the new house in days. Are he and Tori are living apart?
They may have kept a brave face for the cameras, but an insider tells E! News that Tori Spelling and Dean McDermott are leading separate lives.

"They recently moved to a new house together," the source told us. "But since the cheating scandal, Dean hasn't been seen at the house very much. Right now he hasn't been there in several days."

But despite the growing distance between them, it seems as though the mother of four is doing her best to keep her family together.

"Tori is wearing her wedding ring but it looks like things are very strained. She has had her friend Mehran [Farhat] staying with her and is leaning on him for support. She's trying to keep things together for her kids and is putting on a happy face," the insider explained.

"She's acting as normal as she can and sticking to the same consistent routine. She definitely doesn't want her kids to be affected by what's going on."

Spelling was spotted out and about with her children–and without her husband yet again–over the weekend.

The former Beverly Hills 90210 cast member grabbed a quick lunch with her four kids, Liam, Stella, Hattie, and Finn, as well as her friend Mehran and the children's nanny.

Spelling and crew got a bite to eat at Maggiano's in Los Angeles and even took a few doggie bags home with them.

The blonde appeared to be in good spirits as she exited the popular eatery.

Both Spelling and McDermott have remained mum since the cheating rumors first surfaced a few weeks ago.
[From E! Online]
It sounds like Tori and Dean's relationship is drawing to a close. He sounds like a mega jerk, and if he's cheating, Tori might as well cut him loose. Just think of all the reality show sTORIlines that could come as a result. Tori as single mom. Tori on the dating scene. Tori finds love again! The possibilities (and ratings) are endless.
On a brighter note, Tori and Jennie Garth's crime comedy pilot got picked up by ABC Family. That's great news for both ladies, but I'm sure Tori will blow her earnings in a heartbeat.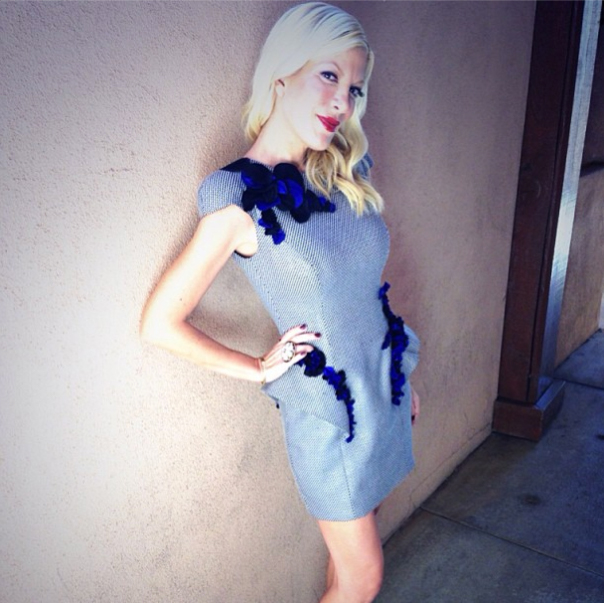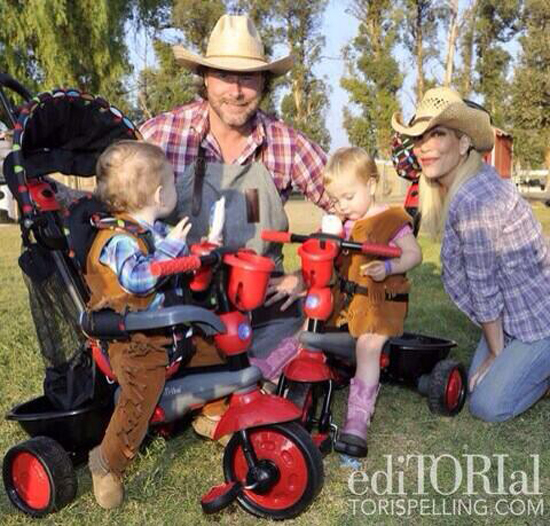 Photos courtesy of Tori & Dean on Instagram, ToriSpelling.com & WENN