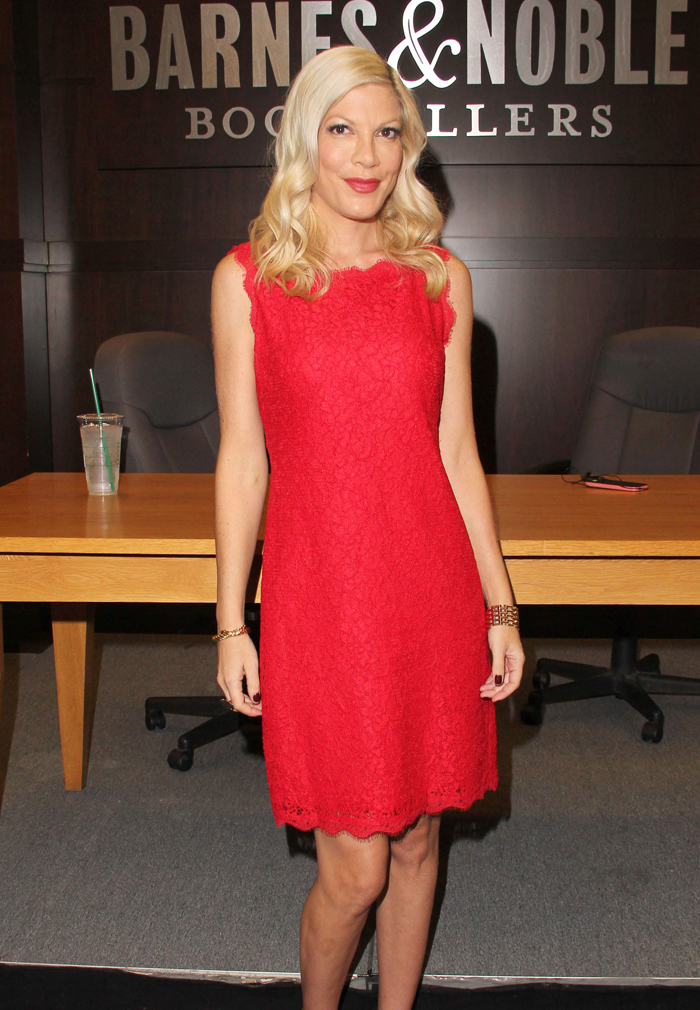 Tori Spelling's marriage drama dominates all three of the major tabloids this week. Crazy, right? I guess we can blame the slow holiday news cycle for constant coverage of Dean McDermott's wandering wang. Let's get back up to speed in short order. Last week we heard how Dean cheated on Tori with a Canadian random. Emily Goodhand said Dean was whining about his "sexless marriage" (which has somehow still produced four children), so she slept with him several times because why not?
Then we heard how Tori was refusing to publicly acknowledge the cheating but gave Dean hell at home and wouldn't let him move out. Tori also kept the dream alive with a happy-family New Year's photo in which all parties looked completely dead-eyed and miserable. Let's kick off the tabloid addendums with a good, old-fashioned tale of sex addiction:
The shot, which she posted on her website, was classic Tori Spelling. Her four kids, lined up in front of a sparkling Christmas tree in Norman Rockwell glory. Naturally, she backed it up with words. "We're spending the day together — cuddling, cooking, baking, unwrapping gifts, eating, watching movies and counting our blessings." Tori, 40, wrote on her blog. But one thing she failed to mention was the elephant in her living room — breaking news reporting that her husband, Dean McDermott, had recently had a one-night stand during a business trip to Canada with a 28-year-old named Emily Goodhand, who was cliaming that Dean told her he had a "sexless marriage." Tori, it seemed, was using the shot of her kids to convince the world that everything was hunky-dory.

Now Star has learned from sources that the episode was hardly a fluke and that Dean, 47, is a serial cheater who has bedded at least two other women during their seven-year marriage. And Tori has known about it the whole time.

"I think Tori has known about Dean's cheating for years," a source claims. "He has two girls he regularly sees, and Tori knows about it. She keeps threatening to kick him out but then never follows through. She loves him, and she tells herself he cheats because he needs the sex and that it's an addiction." The insider adds that she is demanding that he go to rehab, but so far Dean is resisting.

"Tori feels completely hopeless and at a loss as to how to handle Dean's marital indiscretions," another friend says. "And the truth is, she doesn't have a clue how many other women are out there. She is worried they might start coming out of the woodwork."

So far, Tori has remained mum about the scandal, but behind the scenes she's terrified it will destroy the brand she has created around a happy family image — thus the happy family act. "She's frantic to keep details of Dean's other escapades under wraps. It's all about business," says the source. And Tori admitted in her memoir, Spelling It Like It Is, that her impulsive real estate buying got her into so much financial trouble that she put her family in debt. She has also completely blown through her $18 million fortune, the source says. Tori fears that if Dean dumps her with four kids, she'll be forced to ask her mother, Candy, for help. "There's no way she wants to do that!" says the friend. "So she is pretending everything's fine."
[From Star, print edition, January 13, 2014]
Soooo Dean is now an alleged sex addict, so Tori excuses his cheating? Or maybe she doesn't really tolerate it but doesn't want to ask her mom with help raising the kiddos. What a mess of theories, and that's not all.
In Touch repeats the mistress pregnancy story we covered yesterday. Apparently Dean and Ms. Goodhand (LOL) did it without any protection or birth control. Gross. The Enquirer says Tori is "living a twisted reality" and "would rather be a reality TV star with her husband and kids at her side than face the truth."
The best reason for Tori's lack of foot in Dean's rear end comes from Radar, who says Tori and Dean never signed a prenup before getting hitched. Ruh-roh.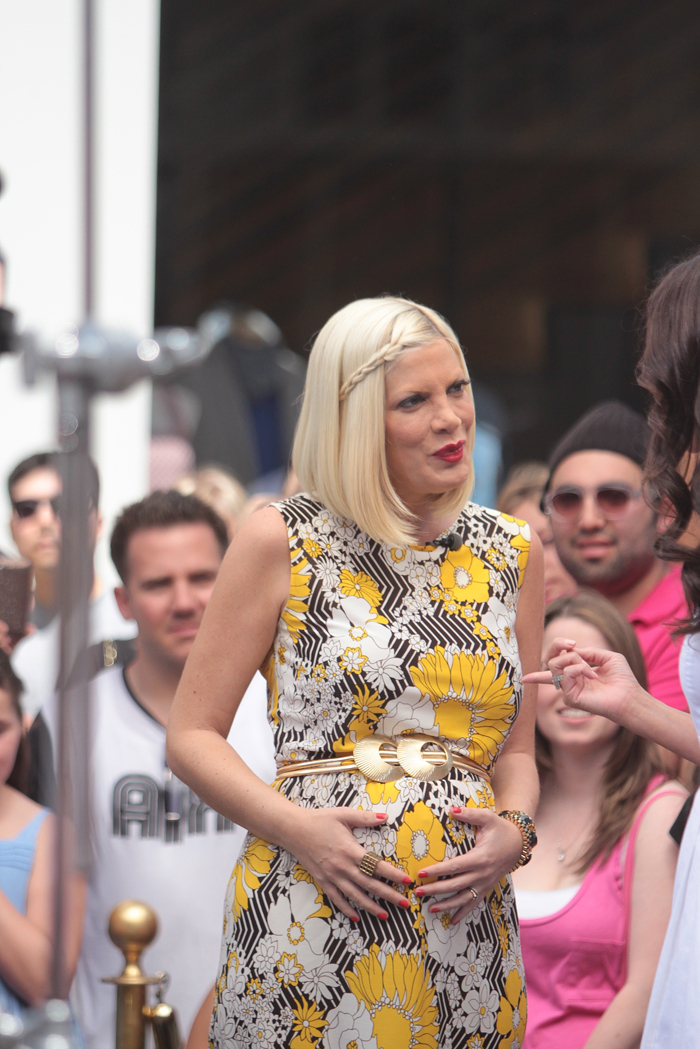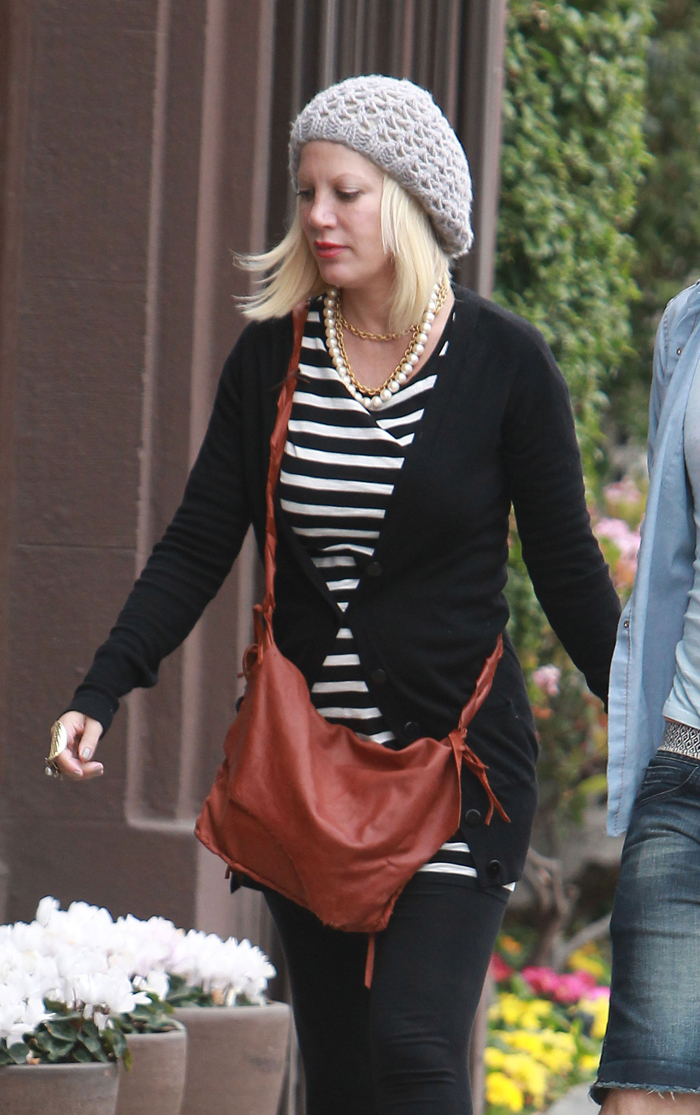 Photos courtesy of Fame/Flynet & WENN