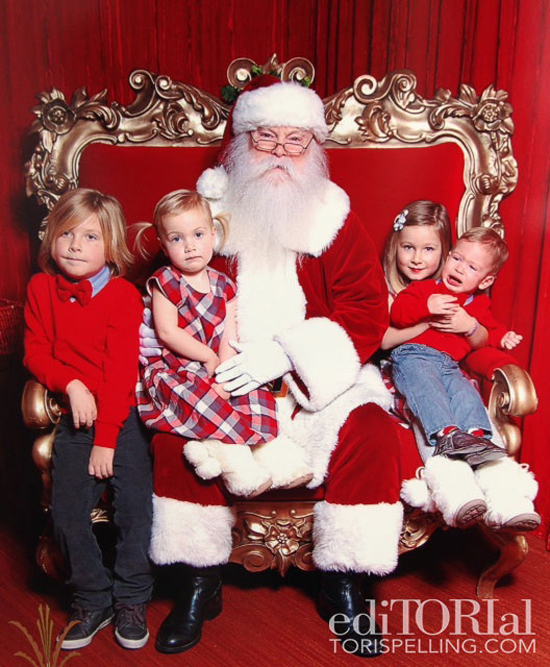 Last Thursday, we talked about a new wrinkle in Tori Spelling's life. Her husband, Dean McDermott, was revealed by Us Weekly to have cheated with a Canadian random. Since then Tori has been putting on a "happy family" face for her website. She wrote a sickly sweet Christmas message about being "so grateful for all my blessings." She posted these photos of her children with Santa, who looks a lot like Dean. I don't think that's Dean in the Santa outfit, right? Damn, I can't tell.
My point is that Tori has gone out of her way to ignore the news of Dean's infidelity. She is not responding at all to the media coverage, which is telling because Tori is usually quite vocal in shooting down rumors. Radar Online says Tori refuses to talk publicly about Dean's cheating because she doesn't want to shatter the image of "picture perfect family." She's also refused to let Dean move out but is making his life hell at home with constant screaming fits. I can't blame her for being mad at hell at the guy, but their poor kids are hearing everything go down. Here's Radar's take:
Even though Tori Spelling is refusing to publicly acknowledge reports that Dean McDermott cheated on her, the former 90210 star is making her husband's home life a living hell, RadarOnline.com is exclusively reporting.

As Radar previously reported, a 28-year-old Canadian woman named Emily Goodhand claimed she had a few rolls-in-the-hay with McDermott, 47, at the Fairmont Royal York Hotel in Toronto while he was in the northeast for a TV gig earlier this month.

Despite the cheating allegations, the mother of four posted a cheerful Christmas picture and message to fans: "I wanted to take a minute to wish each and every one of you a very Merry Christmas, and for those of you who don't celebrate Christmas, a very happy holiday season!

"As another year comes to a close, I can't help but feel so grateful for all of my blessings. My beautiful family, my amazing friends, and of course, all of you!"

Spelling said she and her family were "spending the day together — cuddling, cooking, baking, unwrapping gifts, eating, watching movies and counting our blessings," signing the letter "T, Dean, Liam, Stella, Hattie + Finn."

But sources tell Radar, "It's all a calculated plan on Tori's part…she is refusing to comment on the cheating rumors publicly, even though she believes Dean did cheat on her.

"Tori is obsessed with having a picture perfect family, and thinks it's a big part of her image. Commenting or addressing the cheating would taint that image. Things are very tense in the house right now, and Tori is making Dean's life hell."

The source added, "Even though she is trying not to fight in front of the kids, it's impossible. She has been crying and screaming at Dean, and saying he has ruined everything, including Christmas.

"Sadly, Liam and Stella know their parents are fighting and it's only a matter of time until they find out why. Dean even offered to move out, but Tori wouldn't allow it. It's a very unhealthy environment, and the kids are being impacted by it."

Goodhand told the magazine that McDermott, who's been married to Spelling for seven years, told her that he "had a sexless marriage" with his wife.

McDermott was formerly married to Canadian actress Mary Jo Eustace before leaving her for Spelling.

Deep down, Spelling "has always been very insecure about her relationship with Dean….she has been telling friends she always had a deep, dark feeling that Dean would cheat on her," the insider concluded.

"She has never completely trusted him and has always kept very close tabs on Dean. But despite all that, Dean still cheated."
[From Radar Online]
Well I'm not surprised to learn that Tori suspected all along that Dean would eventually cheat on her. Their own relationship started when they both cheated on their at-the-time spouses with each other. So sure, it was only a matter of time before either Tori or Dean cheated in this marriage too. Cheaters rarely ever reform themselves, and this is a sad situation for the four children who must now deal with the fallout of their dad's wandering wang.
With that said, it sounds like life in the Spelling-McDermott household is pretty toxic right now. Here's a Christmas morning video from Tori. Her kids are opening their presents, and you can hear Dean's voice in the background.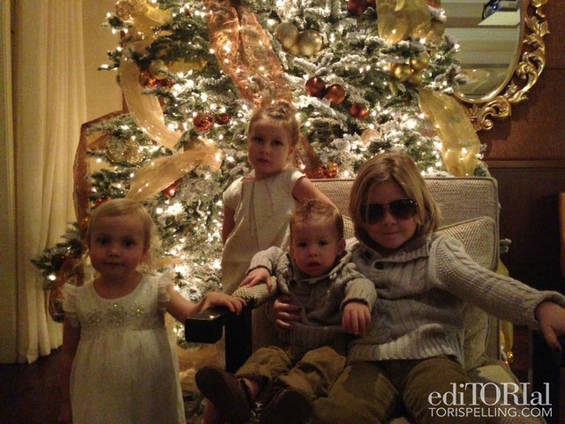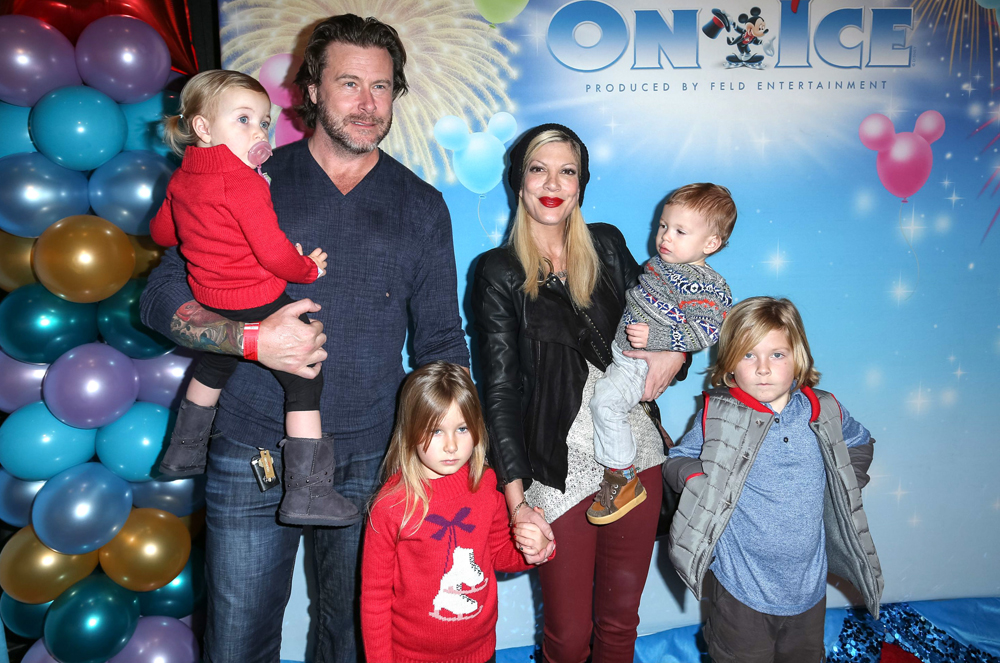 Photos courtesy of ToriSpelling.com, Fame/Flynet & WENN