Tori Spelling fires back at Star, says her kids cried over the 'divorce' story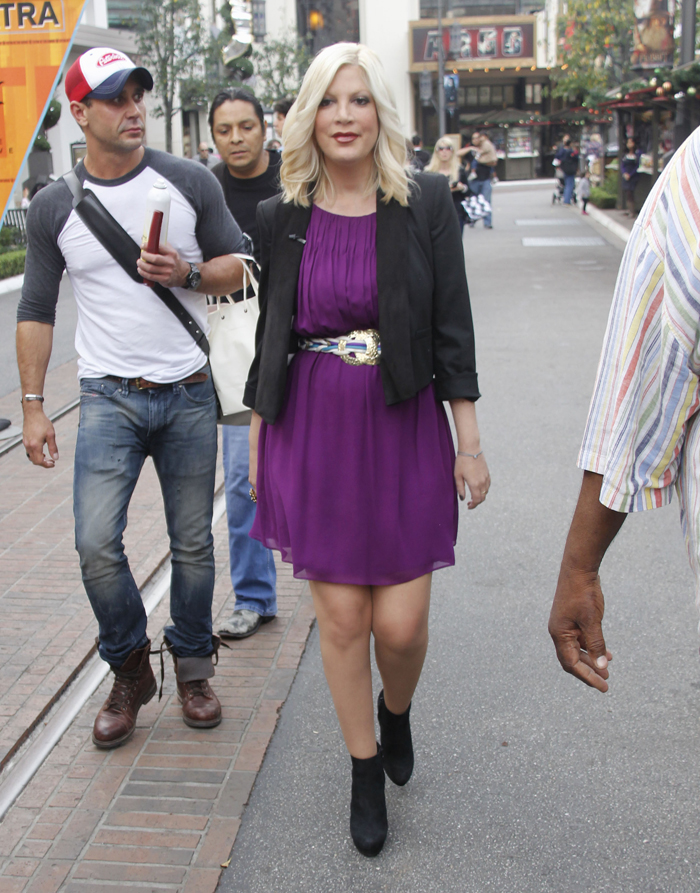 Last week, we covered the Star story that alleged (through a rather flimsy source) that Tori Spelling and Dean McDermott were hurtling towards a $300 million divorce. The story provided details such as Tori hiring a private investigator after suspecting Dean of cheating on her with a couple of different women for at least two years. Further, Star's source claimed that Dean often chided Tori for her weight struggles after giving birth to four children. The story also tried to make a huge deal out of Dean making a play for Candy Spelling's money since Tori didn't get anything from her dad after he died, but that part didn't make much sense at all.
Even before Star appeared on newsstands, Tori got wind of the story and spoke with the Mail to categorically deny marriage troubles. Of course, the story had already gone to print and showed up in grocery store checkout lines where Tori's kids saw it and freaked out. Tori wrote about it on her blog, and she rips Star several new ones. This is so sad: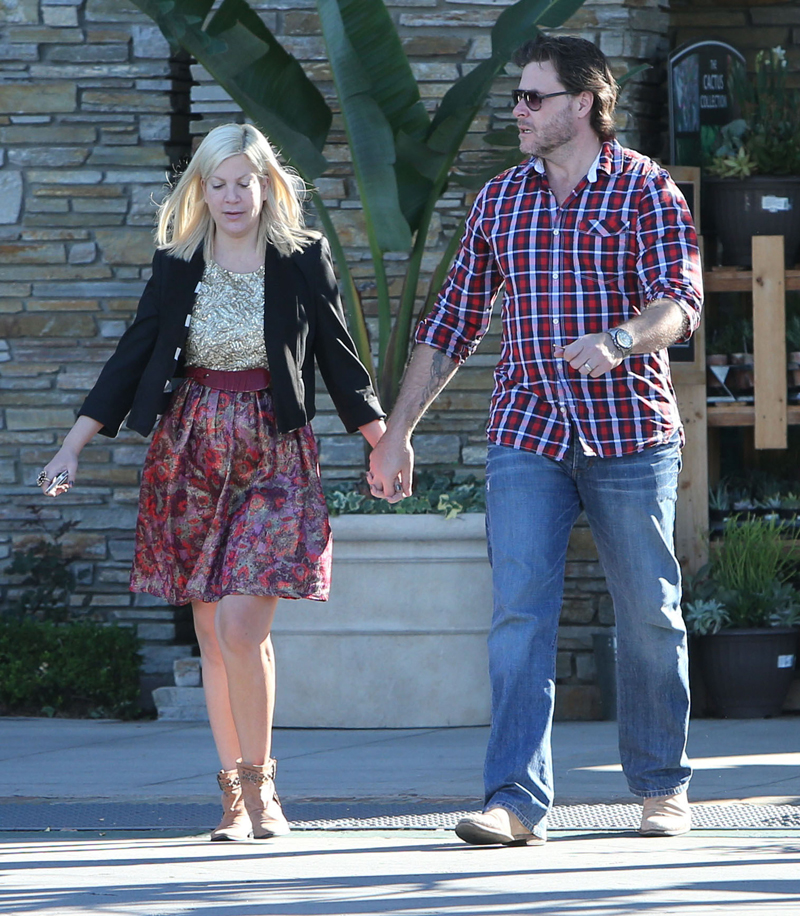 [Y]ou might be wondering what I'm referring to while others have already seen the hateful story on the cover of this weeks Star magazine claiming that Dean and I are divorcing and many more horrible claims against my husband. Yes, the story will pass but what won't pass is what happened in a local supermarket check out line.

My son Liam is turning 6 in a couple weeks. His proudest achievement so far in his young life is that he is learning to read. Until now, when that pride turned to sorrow thanks to Star magazine. He first spotted me on the cover, then Dad, and then a picture of himself and his 3 younger siblings. He was able to read two things out loud, the word DIVORCE (which he proudly sounded out) and the caption above his picture which read "Who will get the kids?" He became terrified. I had to hurry him and his confused 4-year-old sister Stella out of the grocery store and into our car. By the time he was fastening himself into his car seat he was asking, "Why is someone getting us?? Where are you and Dad going?" He was anxiously biting his lower lip and his big blue eyes were filled with tears. My heart sank. How would I explain to my children that what these 3 writers who have never even met us but who claim to know the ins and outs of our relationship and have proudly put their names on this article are flat out writing lies?

I've always had shots taken at me. It's been almost 24 years since I became a public figure starting at age 16 with 90210. It's the downside to this business but I've built up a pretty thick skin to the lies and trash talking at this point. But my children are another story. Keep them out of it! I wonder if any of those 3 writers have children? How would they feel if their child had to read something so hurtful and confusing as what mine had to read? How do they sleep at night knowing they've potentially emotionally scarred and if nothing else terrified innocent children.

Driving home I repeatedly told my children, "That magazine doesn't know us. Daddy and I are very happy and in love. There will be no divorce and all of us will remain together as a family". Stella, my literal one, just kept saying "But then why is it on the magazine? Magazines are true." I wish that were always the case.

I'm lucky my two oldest are only 5 and 4 and couldn't read the fine details of the article where horrific claims were made against my husband, their Dad.

Again, you want to make inaccurate low blows at someone Star? Go for me! I can handle it. I always have. But don't do it to a man that has done nothing but loved me and our children. He has stood by me during the good times and held my hand through the darkest moments of my life. I'm so blessed to have him as my partner in life and love and he is the best father to our four children. I'm aware that all that matters is that we know our truth. It's just sad that our actual happiness would probably be deemed boring to Star Magazine. What kind of society have we become where love stories and fairytales are dead? That others' failure is what people crave and what sells? That's not the world I want my children growing up in.
[From Tori Spelling's blog]
Tori is absolutely correct in that the tabloids never consider how much their hypothetical "divorce" stories will upset the children, especially when the stories aren't even true in the first place. I hope Tori and Dean are just fine, and hopefully, the kids will eventually forget about Star's cover, but it wouldn't surprise me if the cover is emblazoned in their impressionable minds for good. How terrible for these kids.
One more thing — if Tori had been forewarned about this awful story being splashed all over the cover of a very prominently placed tabloid magazine, don't you think she could have left the kids at home while she hit the grocery store for her weekly shop? I'm not trying to blame Tori at all for this story upsetting her kids, but I would have left them with a sitter or with Dean until things blew over. Maybe she didn't realize they would see it though.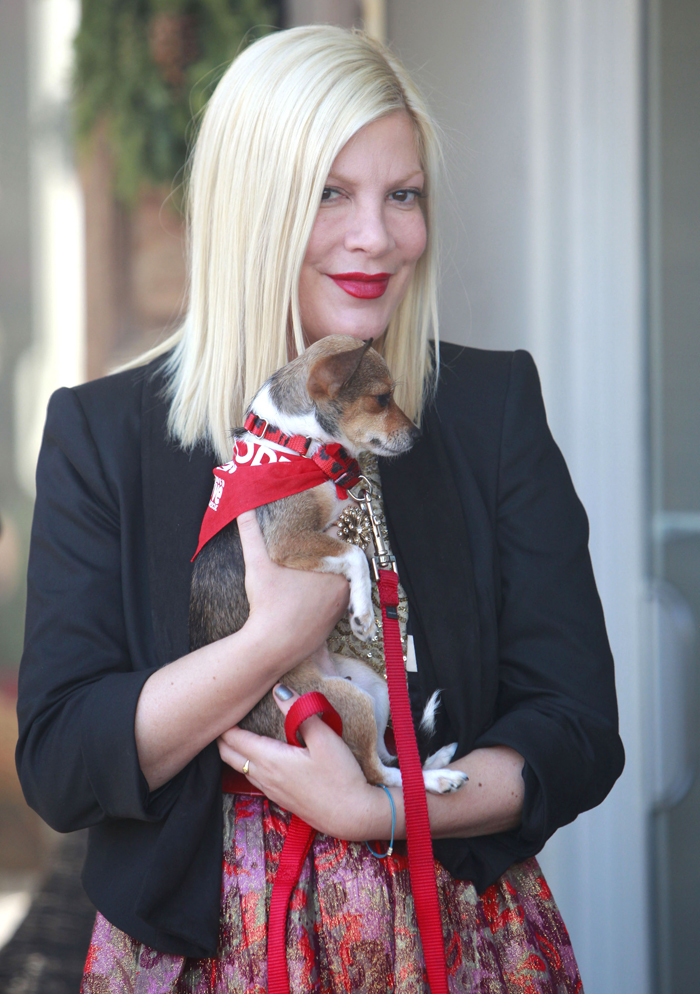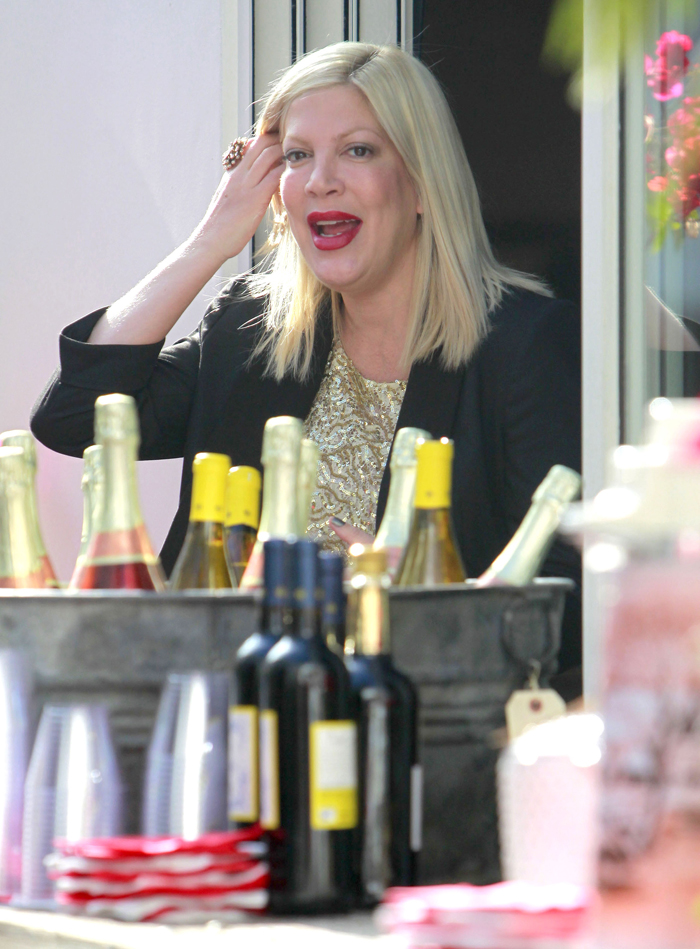 Photos courtesy of Fame/Flynet
Written by Bedhead

Posted in Dean McDermott, Tori Spelling

- Zach Galifianakis is awesome [Buzzfeed]
- Prince at the Billboard Music Awards [D-Listed]
- Bieber's Billboard look [Go Fug Yourself]
- Married to Medicine recap [Reality Tea]
- Celebrity first marriages [Pajiba]
- The last Mad Men baffled a lot of people [Lainey]
- Karolina Kurkova's crazy hot dress [Moe Jackson]
- Jennifer Garner on set [Popsugar]
- Kitten vs. Lizard [CDAN]
- Doetzen Kroes' great butt [Celebslam]
- Shameless star Jeremy Allen White [OMG Blog]
- RIP Ray Manzarek [Bossip]
48 Responses to "Tori Spelling fires back at Star, says her kids cried over the 'divorce' story"