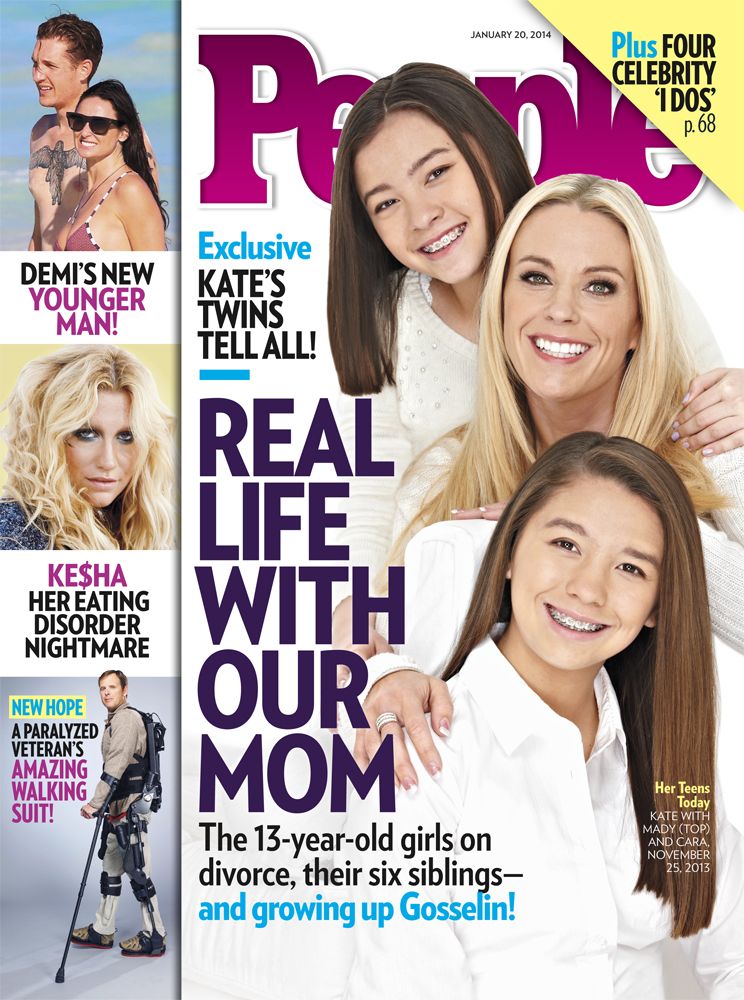 It's a notoriously slow week, gossip-wise, and this week is typically like this every year. People are still recovering from the holidays. So in that respect it's not a big coup, relatively speaking, to earn a magazine cover at this time. It's still a damn magazine cover, and somehow, in 2013, Kate Gosselin has earned two. This woman can't get a talk show or reality hosting gig, but she's covering both People Magazine and In Touch. This begs the question: what year is it?
People of course takes a more positive spin on Kate's life, over two years since her show Kate Plus 8 was canceled. How did Kate earn this cover? I imagine some kind of long term contract with People, drawn up during her divorce and promising a cover story once a year into 2014. Kate's issues can't be big sellers, yet somehow she's earned the cover of People twice in the last six months.
Here's People's take on Kate's life. They focus on her 13 year-old twin daughters, Maddy and Cara, whom we're hoping will write a juicy tell-all in a few years. People addresses the issue that Maddy and Cara "have been harmed in some way" by their harpy mother and a life growing up in front of the cameras. All People has up is a teaser quote from the twins, who deny that they're messed up at all. It's kind of funny to me:
"People expect us to be damaged," Cara says, as Mady joins in: "People think we're supposed to be messed up, like, 'Oooooh, the poor Gosselin kids, they're going to be scarred for life, waaaaah.' Here's the big news: we're not messed up."

What they are, however, is outspoken and ready to set the record straight on surviving their parents' bitter split, starring on a hit reality show, and the biggest issue they're still grappling with (hint: it involves six 9-year-olds with whom they share a house.) And when it comes to mom Kate, they aren't shy with their opinions.
They're 13 years old. Everything they've gone through is "normal" to them, it's all they know. I truly hope these girls are ok, but they have years to go before the develop any kind of perspective on their lives.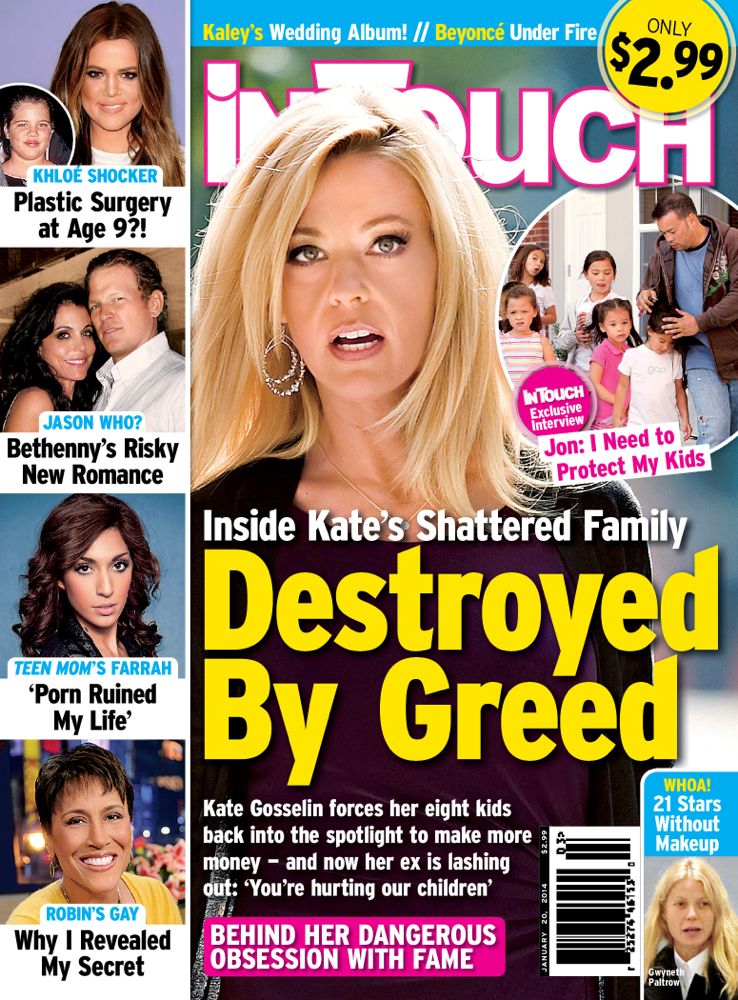 Meanwhile In Touch has Jon Gosselin bitching about Kate, yet again, for the fact that she keeps trying to put their kids under the media spotlight. Jon is nothing but a hypocrite, but at least he's doing reality shows without using their kids, like Kate.
Jon Gosselin lashes out at his ex-wife in an exclusive, explosive new interview with In Touch. He slams Kate for wanting to put their eight kids back on television. "I consider that exploitation," Jon tells the mag.

Jon believes Kate is using their children to get back in the spotlight and is driven by greed. "She uses them as her props," he tells the mag. "It's a problem for her that she can't afford our old lifestyle anymore. It's so unfair to them. I work really hard to keep my kids safe and then she just goes and tweets about them all the time. I don't have a Twitter [account] anymore and even when I did, I never tweeted about my kids. I kept their lives private."

Jon tells In Touch, "I don't think being on TV is good for kids. A lot of them do not want to film and they come to me and tell me that. It's upsetting and I think it's embarrassing for them. They are enjoying having an ordinary childhood."

He worries that the exposure has caused some long-term damage. "They shy away from cameras and I don't think that is normal," Jon tells the mag of his eight children. Gosselin also recently said, "Developmentally, they have problems with their peers, and they have problems with talking to other people — I think more so than someone who grows up off of TV."

Kate insists the opposite is true. "They ask all the time, 'Are we going to film more?' They want to do it," she recently said. "They weren't harmed. I'd say definitely — we'd go back and do it again.

The majority of the money the kids earned on TLC has been placed in a trust to pay for their education, but it's Jon's belief that the children aren't benefiting from a Kate-focused project, like her recent cookbook — even though the kids are pictured throughout. "That," says Jon, "is a problem."

For more, pick up the latest issue of In Touch, on newsstands now.
Jon is a bitter broken record, but he does have a point about their kids. They should finally have a chance at some semblance of a childhood. Kate is featuring her daughters front and center on People. Is she pushing for another reality show about her family, particularly her poor daughters as they go through puberty? You know Kate would jump at the opportunity, her kids have always been little money-makers to her. I think there's little for Jon to worry about, since Kate's time has long since passed.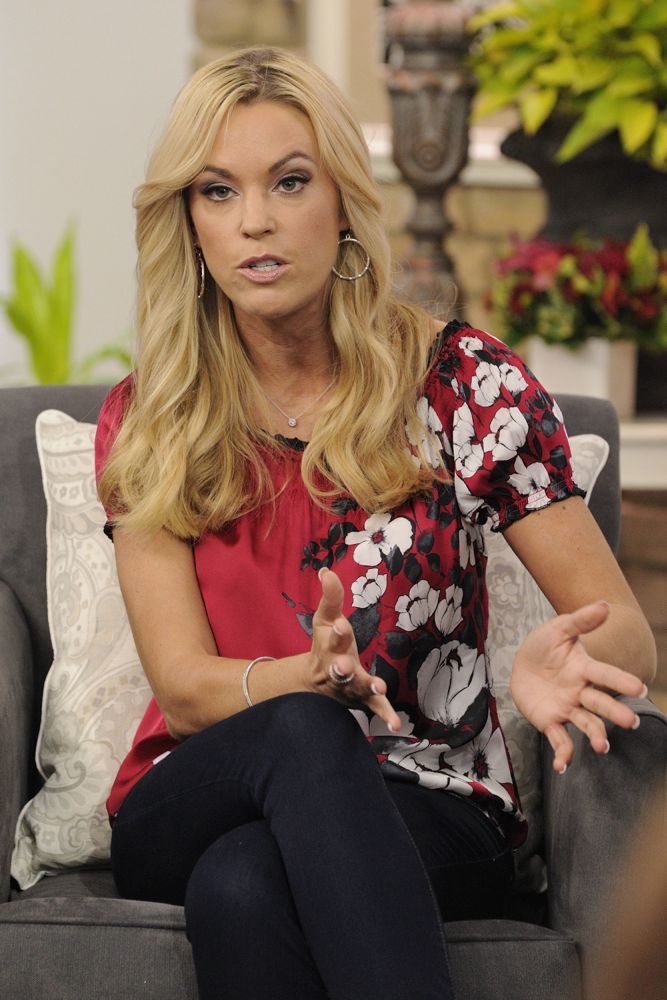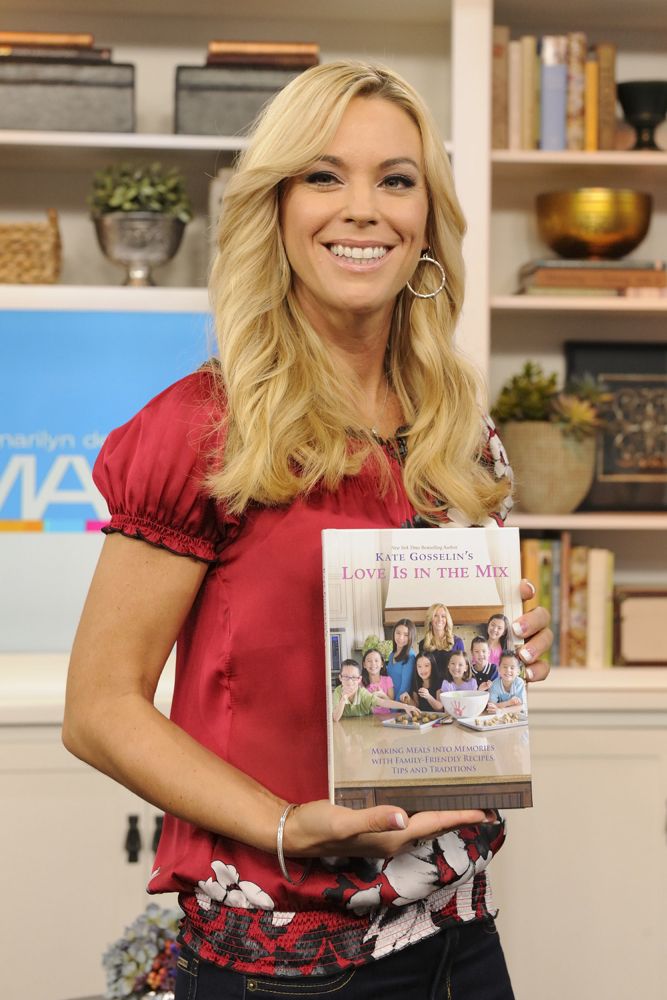 Kate Gosselin is shown on 10-1-13. Credit: WENN.com