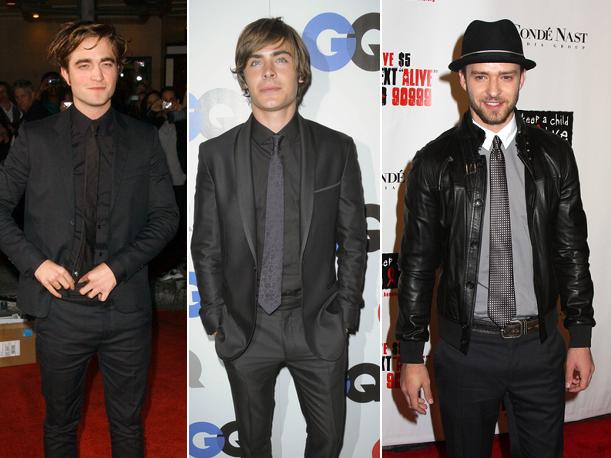 The touchy egos in young Hollywood are at it again. Zac Efron and Justin Timberlake are both supposedly jealous of "Twilight" star Robert Pattinson. The three have all been tapped for roles in the upcoming film "Ohio," but Pattinson's getting the lead. None of the young men are known for being particularly down-to-earth. They've all got their egos – and if I were the judge, I'd say Timberlake's is probably the biggest. He also seems to be the one who has the largest problem with Pattinson getting the lead, and his people are insisting that he get a ton of screen time to compensate.
"Twilights's" Robert Pattinson has found a new character to sink his teeth into – but he's ruffling some big Hollywood feathers in the process! Rob, 22, has been offered the starring role in the upcoming movie "Ohio," based on the 1970 shooting of anti-war protesters at Kent State University, a source tells Star.

Zac Efron and Justin Timberlake have been appropached for smaller parts in the film, but they're unhappy that they're not top dog. "Everyone in the industry is shocked that Rob is already getting such big roles. Zac and Justin have been working for a lot longer than he has," says the source. But don't expect any fistfights among the actors – most of the action has been behindd the scenes.

"Zac's people want him to have the lead," the source notes. "And Justin's people have asked that he get a lot of screen time." Sounds like "Ohio" may not be big enough for the three of them!
[From Star, February 2, 2009, print ed.]
Justin is funny and talented, but the problem is he knows it. Pattinson strikes me as equally full of himself, though he's only had one major film – "Twilight – so it seems a little early for him to be so cocky. I associate Zac Efron too much with Disney to really take him seriously, though he was good in "Hairspray." Ultimately it sounds like there are a lot of egos that could be clashing on the set. I expect a lot of reports of feuding over trailer size and who took the last croissant from craft services. Sounds like it'll be a fun shoot.
Here's Justin Timberlake at the American Cinematheque Awards honoring Samuel L. Jackson. In Beverly Hills on December 1st. Images thanks to Bauer-Griffin.