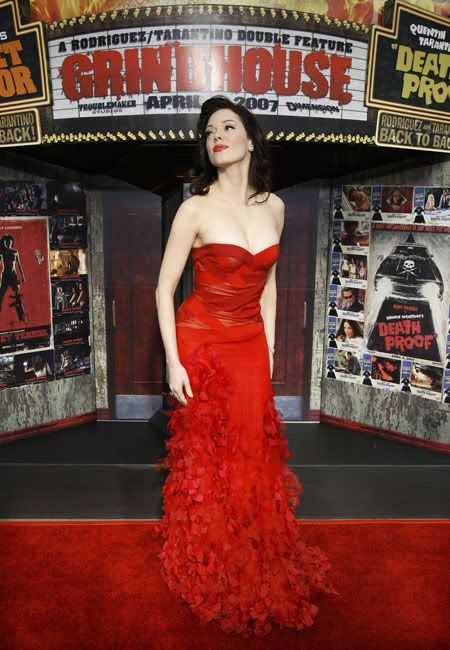 Rose McGowan is said to have pissed off her female costars by insisting that they not wear red to the Grindhouse Premiere. She wanted to coordinate her outfit with the bloody theme of the gorefest and didn't want anyone to upstage her. Most of the women complied, but twins who had bit parts in the film, Elise and Electra Avellan, wore bright red clothing just to annoy her.
March 28, 2007 — ROSE McGowan had her female co-stars in "Grindhouse" ready to scratch her eyes out at the L.A. premiere after she had her reps warn them not to wear red because McGowan didn't want her own red dress upstaged. "It caused quite a stir. The feeling is she's self-obsessed," said our spy. Among the beauties ordered to do without red were Rosario Dawson, Jordan Ladd and Sydney Tamiia Poitier. But McGowan was in for a rude surprise when two minor cast members, twins Elise and Electra Avellan, paraded into the theater in bright red outfits. "It was basically a '[Bleep] you!' to Rose," said the source. McGowan's rep had no comment, but a pal of hers told us, "She wanted the girls to coordinate what they wore so they would look amazing and sexy and beautiful."
McGowan looks pretty good apart from the saggy eyes she blames on an unlikely sunglass mishap in a car accident, and that terrible attitude that shows all over her smug face. If she really wanted to "coordinate" with her co-stars as her friend suggest, she would have told them all to wear red. Instead she comes off as haughty bitch for insisting that she have center stage. I have not been able to find pictures of Rosario Dawson, and wonder if she showed up. With McGowan's demands, maybe she decided she was better off at home.
Pictures [via]