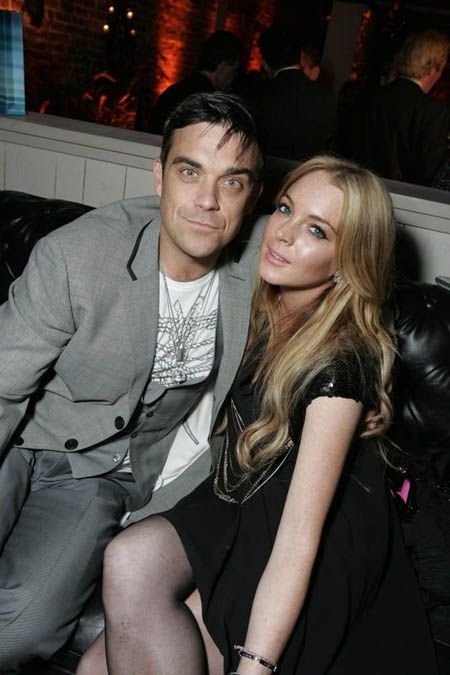 When my friend George went into rehab they wouldn't even let him date anyone "in the program" for like the first six months or a year. And since he couldn't date in any of the boozy old circles he used to frequent … or in the clubby weekend scene he used to roll through – he pretty much had to take time off … get sorted and sober. After this enfored waiting time – then started dating other losers from Rehab who had been vetted through the same process. It seemed to work. Even if he became a mind numbing bore … he was a sober m.n.b.
These rules apparently don't apply for celebutards. Particularly hot ones like Robbie and still lucrative ones like Lindsay. I suppose why should anything that seems to work be applied to the time bomb of celebrity revolving door rehab … See exhibit A above as reported in LFR gossip:
Lindsay Lohan with British pop star Robbie Williams at The Tudors Premiere after-party at Les Deux nightclub in L.A, March 26. Lindsay Lohan revealed last night at the L.A Premiere of The Tudors that she is dating: "I'm dating" she said, "I'm really happy and i'm having fun". At the after-party Lindsay hung out in the VIP area at nightclub Les Deux chatting with British star Robbie Williams, who himself checked into rehab in February.
Now it's a rather obscure statement for our purposes because it doesn't confirm that she's dating Robbie Williams. IN fact she was rumored to have shined him on when he turned the charms on her at an LA nightclub not many months ago. Then they were just both sozzled celebs with Rehab in front of them (and to be fair at least one go round already behind Robbie) so they were drunken fair game. Indeed almost natural mates in the economy of California. Now they seem more likely to steer each other off course — if this insta-rehab was even for real
Lindsay was last rumored to be dating Porn Producing Scourge of a Nation Joe 'Girls Gone Wild' Francis – so she can really go up the food chain – and Robbie's last romance sold details to the tabloids once again. Surely these two could use a six month break from their own bad taste. Most importantly Robbie is scheduled to strip down publicly for Elton Johns Birthday … and we wouldn't want any mismanaged sobriety to get in the way of that.
Still they say forbidden fruit tastes the sweetest — lets just hope these two aren't a banana flambé waiting to ignite.
pics via Gossip Rocks