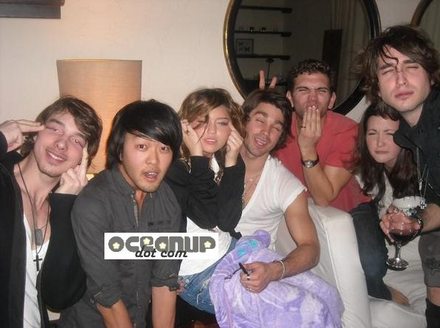 Miley Cyrus is being accused of racism towards the Asian community. Miley, with a group of friends, was photographed "slanting" her eyes in photographs posted on the web. So far, no backstory on the photos has been revealed, but what possible explanation could there be?
The OCA is pissed off, and sent Miley a harshly-worded statement, via TMZ. I had to look up what "OCA" was, and I'm Asian-American! It's a pretty popular acronym, which stands for either Orthodox Church of America, or the Organic Consumers Association, or in what seems to be the most confusing acronym in history, the Asian Pacific Americans. But that would be APA. No matter. OK! has details.
Miley Cyrus is no stranger to dealing with controversial photos of her on the internet. But now, the Hannah Montana star is being accused of racism after a photo showing the 16-year-old and a group of friends slanting their eyes surfaced on the Web.

The OCA–a group "dedicated to advancing the social, political and economic well-being of Asian Pacific Americans"–is fuming mad at the photo of Miley and her pals for using what they have deemed an offensive, stereotypical gesture.

In a statement to TMZ, the OCA says, "The photograph of Miley Cyrus and other individuals slanting their eyes currently circulating the Internet is offensive to the Asian Pacific American community and sets a terrible example for her many young fans. This image falls within a long and unfortunate history of people mocking and denigrating individuals of Asian descent……Not only has Miley Cyrus and the other individuals in the photograph encouraged and legitimized the taunting and mocking of people of Asian descent, she has also insulted her many Asian Pacific American fans. The inclusion of an Asian Pacific American individual in the photo does not make it acceptable…OCA hopes that Miley Cyrus will apologize to her fans and the APA community for this lapse in judgment and takes the opportunity to better understand why the gesture is offensive."
From OK! Magazine
I agree that this is offensive, and Miley could certainly do a lot of good by simply acknowledging a mistake and apologizing. Most people forgave those Olympic teams for their pictures taken pre-Beijing games with the players making "slant eyes". I'm not Miley's biggest fan, so I just think this is just another sign of her bratty, self-important teenage attitude, one drop in the bucket. Just apologize, Miley.
Header image thanks to Oceanup.com