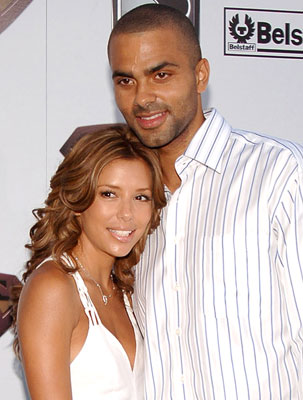 It's a story old as time itself. Rappers want to be ballers, shot callers and brawlers … and ballers want to get their hip hop on … Eva Longoria's outsized arm candy San Antonio Spur's Tony Parker is the latest entrant. Appropriately enough EurWeb has the skinny on the Belgian Born, French raised Monsieur Parker's venture into the rapture:
MON DIEU! TONY PARKER IS A RAPP.ER: Eva's French fiance dropped French hip hop album Monday
French NBA star Tony Parker is hoping his budding rap career reaches the same heights as his day job as a point guard for the two-time NBA champion San Antonio Spurs.
The 24-year-old athlete, the fiancé of "Desperate Housewives" star Eva Longoria, has just released his self-titled, debut rap album with producer Polygrafic of Sound Scientists.
The first single, "Balance-toi," is an upbeat, dance track with such lyrics as: "What, you want to dance? No, it's not worth it. Me, I'll stay on the sofa enjoying the vibe by raising my arms."
As to whether the 24-year-old Belgium-born baller outshines the hip hop experiments of his fellow NBA brethren Shaquille O'Neal, Kobe Bryant, Allen Iverson and Ron Artest, the jury's still out.
That jury aint out … that jury Fedexed a guilty verdict on all those tallboys straight to the Supreme Court many a year back. And it was guilty of no skillz at all … on all counts .. do not pass the Recording Studio … do not collect 200. But Parker may be onto the slickest line since Maginot: keeping it French may be the cheese eating move of all time. I mean lyrical skills are not so easily judged when your flow is delivered in la langue française …
Have a little look see listen … he's definitely pretty — he and Eva Longoria could populate the globe with cappucino colored little pekingese-faced babies – in reflector shades and borrowed attitude. And there aint nothing wrong with that.