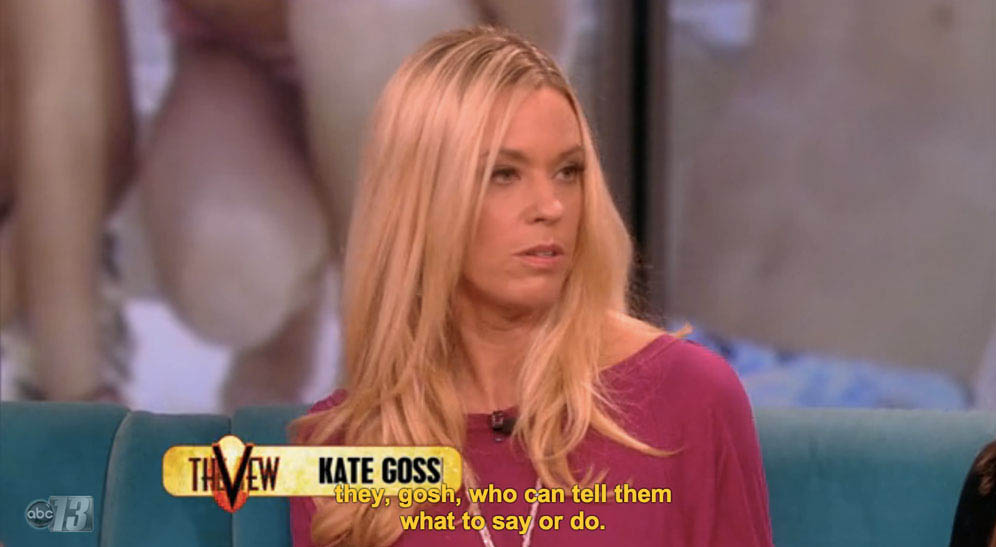 Kate Gosselin and her 13 year-old twin daughters, Mady and Cara, were on The View yesterday. It's very clear that Kate is fishing around for some kind of reality show for her family. Kate wants the lifestyle, she wants the cash and she wants the fame. Of course her ex husband, Jon Gosselin, is dead set against his kids being on TV again. It's up to debate whether Jon has the best interests of his kids in mind or is just trying to stick it to Kate at every turn. I guess I wouldn't blame him for that. Radar claims that Jon has no legal means to prevent his children from appearing on TV again, which we'll discuss in a moment.
The last time we saw Kate get interviewed with her daughters, on The Today Show, the girls clammed up and didn't say much. Kate got visibly angry at them, sneering that they should "use their words" and allegedly chewing them out backstage for not performing on cue. Jon issued a statement hinting that the girls were trying to get back at their mom for something. Many people who viewed the clip thought that the twins were acting defiant, not scared, in front of the camera.
On The View, the twins were more talkative. Their body language was uncomfortable and there were awkward moments, however, particularly when they were asked about their relationship with their father. Kate prompted them at times, and the girls often looked at their mother for help answering questions. Whoopi Goldberg said to them "don't look at her," when asking them a question about what they like to do for fun.
Barbra Walters asked the girls how they cope with having six little brothers and sisters and Kate said "Mady you've waited your whole life for this question."
"You ruined my dramatic silence," Mady quipped. She said that her siblings were "annoying, and it's not just the group it's every single one of them."
Here's a little more of what they said, and you can watch part of the interview, which cuts off a few minutes before the end, below:
On how they coped with their parents divorce
Mady – "Honestly, it wasn't hard for us.

"I think it was harder for you, definitely [mom]. It didn't really affect me and we still saw both parents. And we were little, we were eight or nine, so…we knew what was going on but we didn't see the stuff."

Kate – "I kept them sheltered. It's necessary and I think it drew the nine of us so much closer. There's really nothing off limits that we don't talk about. Clearly, there's hard times and strange discussions and probably not preferable things, but we're very open."

On if they want another reality show
Mady and Cara – "Yes."

Guest Fantasia chimed in "One wants to sing"
Kate – "Definitely they're branching out, becoming themselves and they, gosh, who can tell them what to say or do? They sort of tell me what to say and do."

Again, Barbara asked if they wanted another reality show, just the three of them.
Kate – "We'd get more talk time Mady."
Mady (sarcastically) – "Oh yeah."

On if they see their dad
Mady – "Umm"
Kate – "Answer"
Mady looks at Kate, Kate holds up her hands, and then Barbara ends the interview.
[From The View, some quotes via Radar Online]
Note Kate's response to the fact that one of her daughters loves to sing. She doesn't praise them, say they love music or talk about their talent. She bemoans the fact that she can't control them.
When Barbara Walters concluded the interview by asking if they still see their dad, all Mady did was say "Umm," and look at her mom uncomfortably. Kate snipped "Answer," but Mady wasn't taking the bait.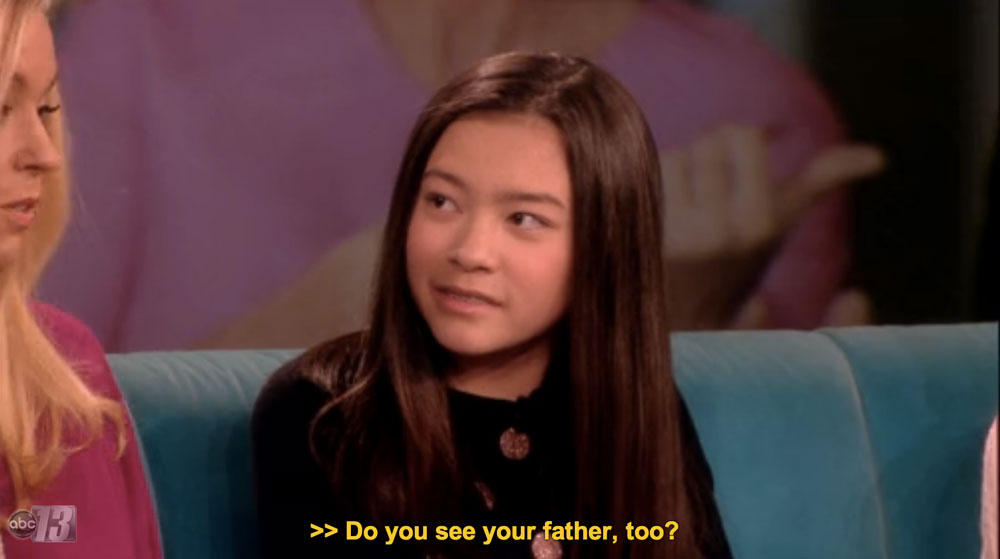 Radar has several follow-up stories that may shed some light on this. They claim that Jon is being a big hypocrite for trying to keep his kids off TV, because he supposedly made a legal deal with Kate that he would no longer have to pay child support, as long as he signed away his rights to veto his children's media careers. Radar's source says "That is Jon and Kate's child support agreement. He's being so hypocritical acting like he only wants the best for his children by keeping them off TV, when really he basically sold them." They also claim that Mady and Cara haven't seen their dad for a whole nine months! If that's the case, who do you think is responsible? I doubt the girls are making that decision on their own, I'm sure it's all Kate.
If you're in the US you can watch some of the interview below. They did cut out the part where the girls are asked about their father. You can see that on Hulu's full episode at around 21:00.
Also, check out Whoopi Goldberg's outfit. She's wearing high-heel Crocks, right? I have never seen shoes like that, but if anyone can wear them, it's Whoopi.