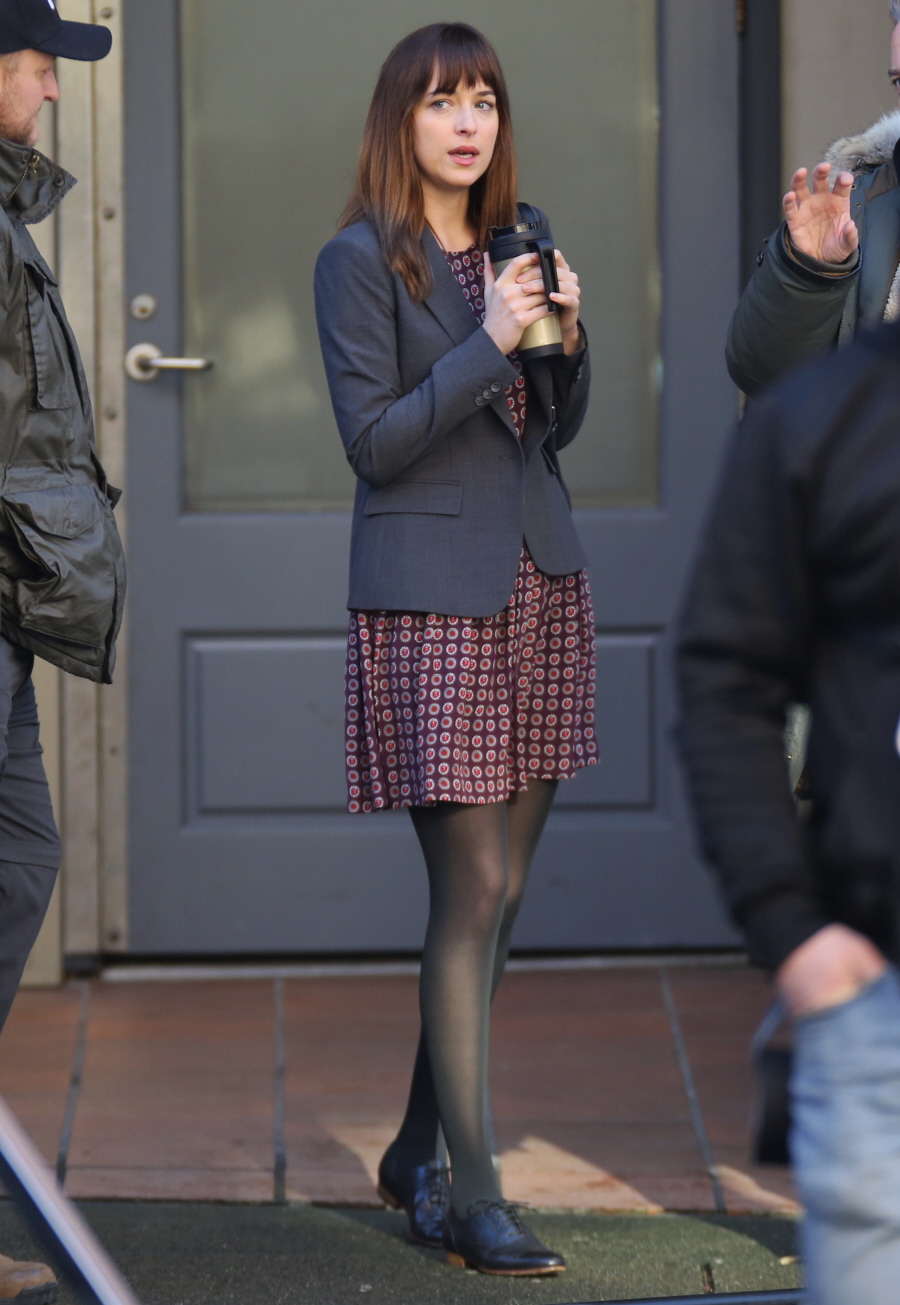 Here are some photos from the Vancouver set of Fifty Shades of Grey from… last week or thereabouts. I'm sorry I didn't get to them until now, but I do remember glancing through the pics a few days ago and getting quietly mad at the state of Dakota Johnson's bangs trauma and costumes. I wouldn't go so far as to say that the films should be aspirational or anything, but I would have appreciated if they had at least styled Dakota to look believably sexy. Dakota's a pretty girl – it shouldn't be this difficult, nor should the film look THIS cheap.
Anyway, if you want further proof that the producers are totally and utterly pulling their punches and bungling every single aspect of this cursed production, here you go – E! News spoke to a source close to the production, who said: "It's less racy than the book. They felt it would be too much, so they have dialed those scenes back." Producer Michael De Luca basically said the same thing to Deadline:
Worry not Fifty Shades Of Grey fans: The movie of the book aims to give you what you want.

"We're very conscious of not making anything gratuitous or exploitive while being faithful to the stories of the book and to the fans of the book," said producer Michael De Luca this morning at the Sundance Film Festival. "We're going to give them what they expect, which is an intense and erotic love story," he added. "Obviously the film can't be as explicit as the book," De Luca noted. "A picture is worth a 1000 words. So to be erotic onscreen means I think an image is going to have way more power than reading the words on a page."

The soon to be president of Production for Columbia Pictures (he officially takes the reins March 1) was in Park City for the second annual PGA Breakfast. In a free-ranging discussion with Producers Guild national executive director Van Van Patten, De Luca mainly discussed his career history. But it was on Fifty Shades that things got steamy.

"Not to sound corny, but it is, at its heart, a young love story. I think those things always work," he said of the blockbuster trilogy of books. "No matter what you think about the book, those things are in that story and they are very cinematic. I think people love a good love story and the these two characters endeared themselves to 90 million readers so it's hard to say that it didn't connect on a deeper level than just its more sensationalist aspects, but it was the love story that did it for me."

…Onstage, De Luca also had nothing but praise for author E.L. James on what is her first experience in a film adaption of one of her books. "She's been great, she's been collaborative and active," he said of his fellow producer on the film. "She the true north, she's the North Star for us with these characters so it's been great being able to check with her."

One change between the book and the upcoming film is the removal of the novels' inner monologue by Anastasia Steele (being played in the movie by Dakota Johnson). "The book is explicit by design because the author wanted to get inside of the female character and wanted to in detail go through her experience," De Luca told the crowd of PGA members. "On a literary level that was necessary but on film it is a whole different medium. In any adaption of a book, you have to lose some stuff and you have to combine some stuff. In the dramatic arch of a 2-hour or 90-minute movie, it's a 3-act structure."
TL;DR version: no dong shots.
Basically, the sex is going to be toned down significantly because the producers think that the loonies will only need to see a close-up of Dakota's face as she moans or something. As for the loss of Anastasia's inner monologue… I'm not sure whether that's a good or bad thing. It will take a little bit longer for the audience to realize that Anastasia is a moron without hearing her inner monologue. But on the other hand, a really exhaustive and accurate-to-the-book voiceover might have been the thing that would make this film into a cult-classic, something to hate-watch and laugh at. Without a really awful voiceover of Ana whining about anything and everything, the film will just be a watered down Lifetime movie.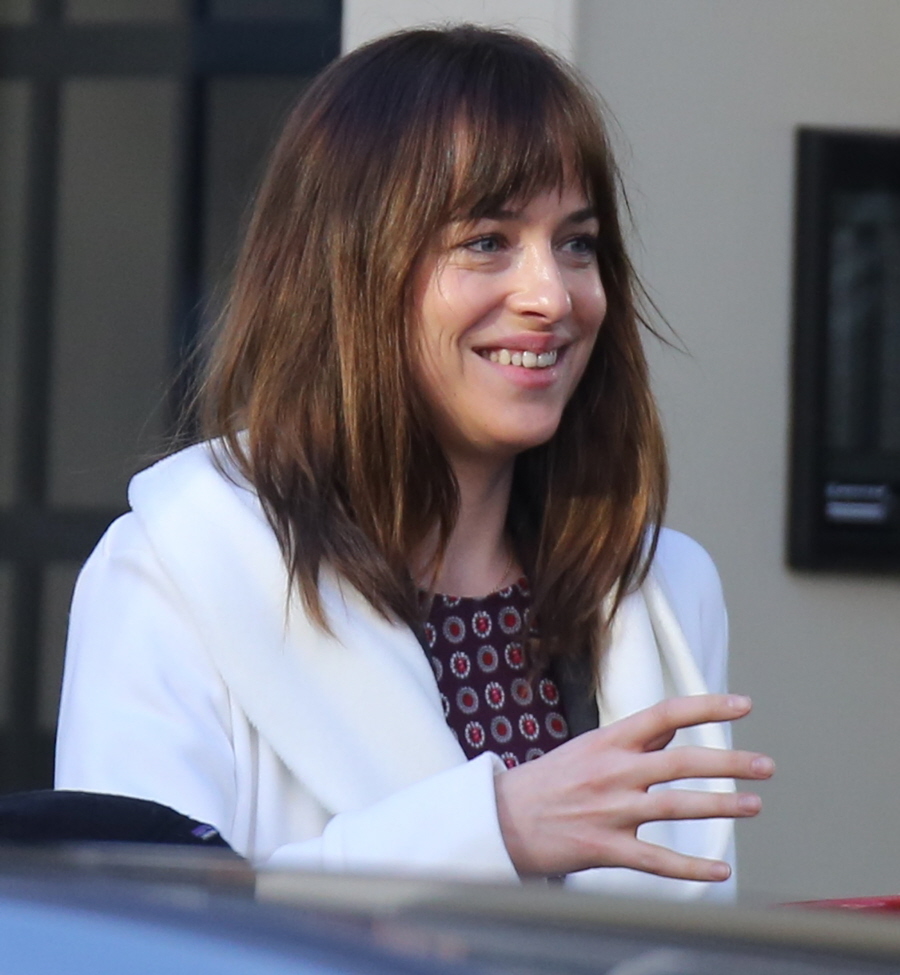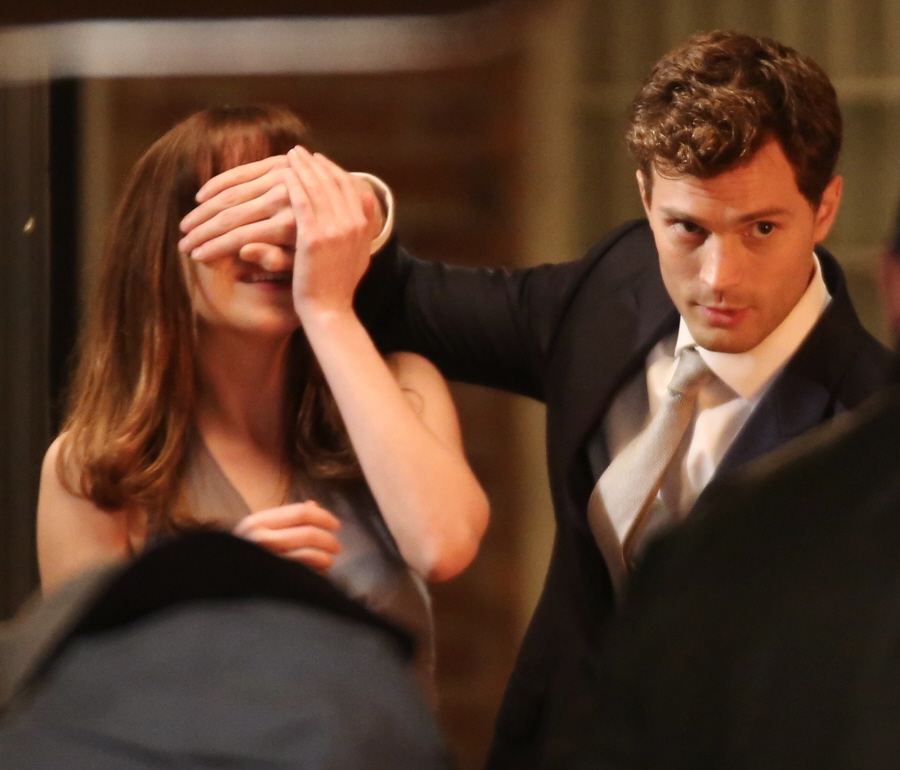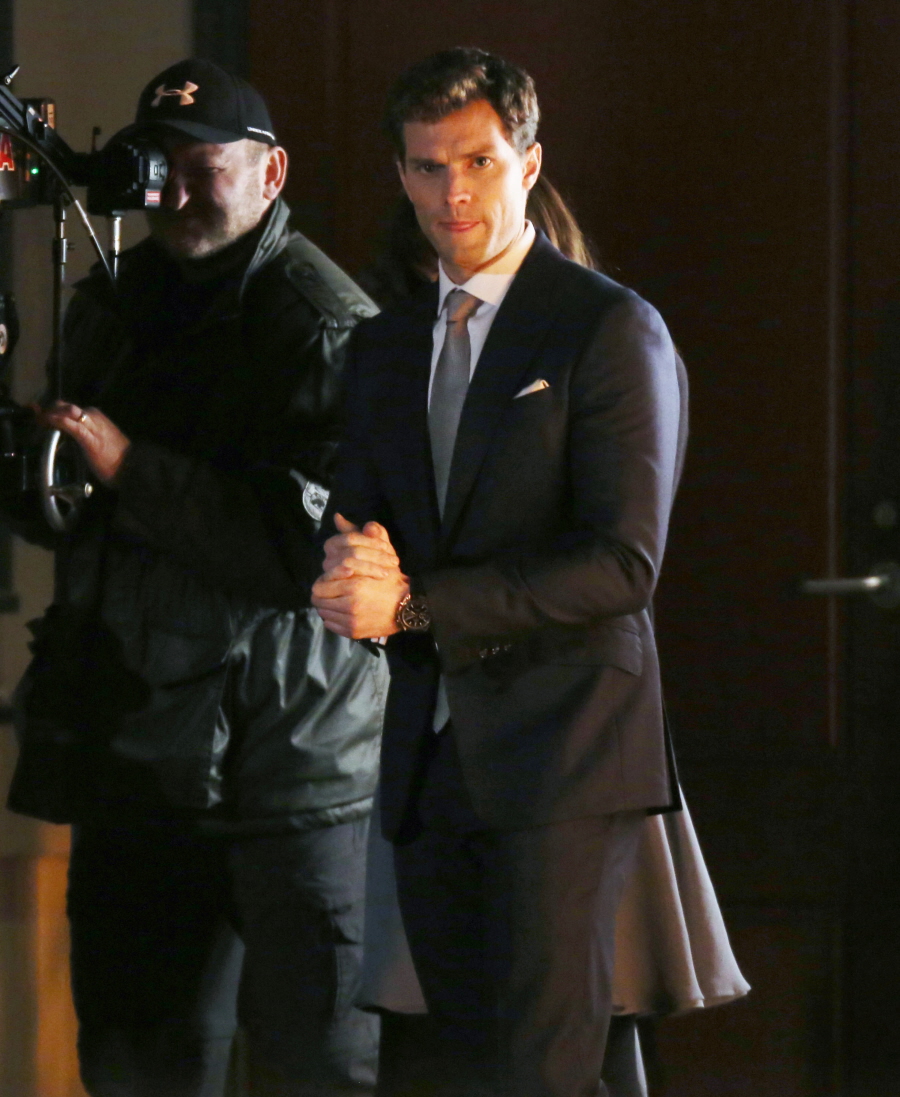 Photos courtesy of Fame/Flynet.