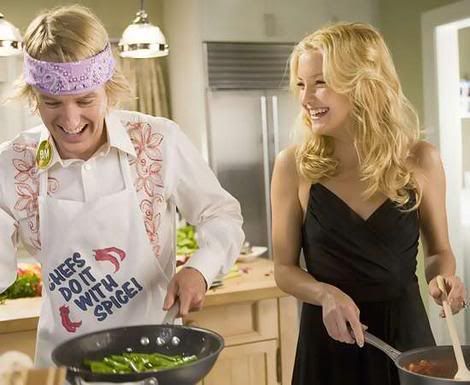 According to the gossip rags, Owen Wilson and Kate Hudson's relationship is on shaky ground. People were saying that the two blonde cuties were ready to bring their relationship to the next public level when they were seen bike riding and going on outings together in Australia, where Kate is filming Fool's Gold with Matthew McConaughey. It looks like they're going through a rough patch or a cooling-off period, though, as Wilson is back in LA and sources say he's partying it up with the ladies. He also went on a Hawaiian vacation without Hudson.
In Touch speculates that Owen's absence has ld Kate to get close to Matthew McConaughey on the set of their new film.
Just when it seemed as if if Kate Hudson and Owen Wilson were getting serious, things have started to fall apart, and insiders are blaming Owen. Over the past few weeks, the 38-year-old has been seen out with an ex in LA, participated in a seedy bar brawl with longtime pal Woody Harrelson and went on a jaunt to Hawaii – without Kate.

According to insiders, Kate, 27, has found a strong shoulder to cry on: Matthew McConaughey's. Kate's troublesome romance has drawn her and Matthew, 37, together.
[From In Touch print edition, April 2, 2007, via Sammie's Effluvia.]
It's not too much of a stretch to say that Hudson and McConaughey are chummy on the set of their film, and I would doubt that's more than conjecture on In Touch's part.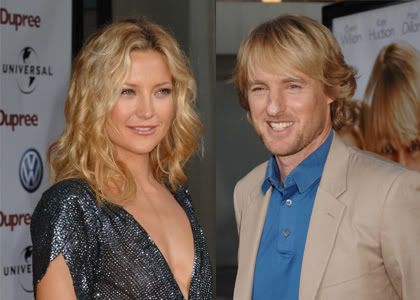 Star magazine has Owen partying with other women in Hawaii and say he was seen dancing with a hot chick at a bar in LA. They're not sure he's playing the bachelor though, and say it might not have been him or something:
[Owen] was photographed with a stunning blonde on a March 12 stopover in Maui, Hawaii… But Star can report that the blonde was with Owen, 38, and another guy friend. "Owen knew the girl and guy through Woody [Harrelson]. Owen was staying at Woody's place in Hawaii, so that's their connection," a source tells Star.

There was another Owen sighting in L.A. later that night; this time he was spotted dancing "very, very closely" with a "gorgeous brunette," says another source. But a friend counters that it's a case of mistaken identity: "Owen doesn't dance! Ever!"
[From Star Magazine print edition, April 2, 2007, via Sammie's Effluvia.]
Maybe Owen is just hanging out with his friends and travelling like normal while Kate is wrapping up her work on Australia's gold coast. It seems like that movie with Matthew McConaughey has been filming forever.
It would be nice to see these two settle down, but it must be hard with their jet-setting schedules.
The Star article mentioned that Owen was staying at Woody Harrelson's Hawaiin home around March 12th. Harrelson majorly embarassed Wilson when they were out together in California on March 3rd. Woody punched out a bouncer for telling him not to leave a bar with a glass of wine, and Owen apologized repeatedly, saying he was sorry he brought him. I wonder if Harrelson invited Wilson to Hawaii in an attempt to make it up to him.
Update: Here's why Fool's Gold is taking so long to shoot: deadly jellyfish! [Thanks to RadarOnline for the tip.]