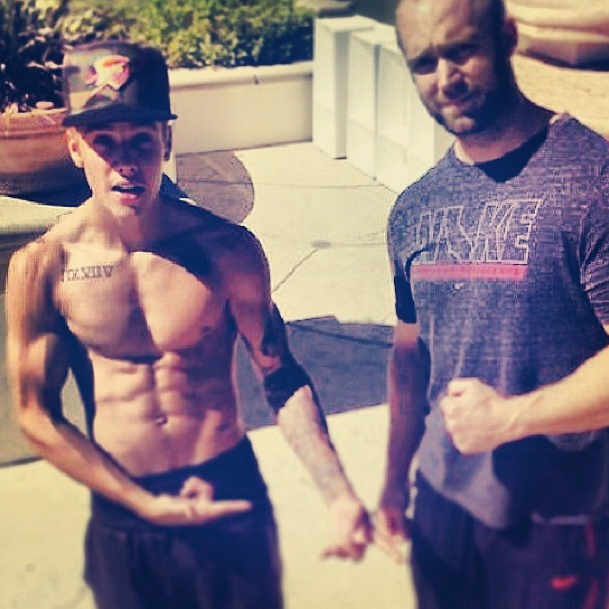 Here's an October 2013 photo of Justin Bieber showing off his abs, which are important later oin this post. Bieber was (thankfully) not at the Grammys last night. He's been in Panama for the past few days to take a load off after resisting arrest for DUI in Miami Beach. We talked yesterday about how the Miami Beach police department may have fudged the blood-alcohol content on Bieber's swaggy arrest papers. We've got more good news and bad news coming right at ya. Here are many more updates:
* Not only did the Miami Beach PD screw up Bieb's blood alcohol level, but they embellished the speed of the "drag race." TMZ got ahold of surveillance video and GPS reports that prove Bieber was traveling only 27 mph during the race. This is just amazing. A police department manages to arrest this menace, and they screw it up completely. Bieber was still underage drinking and driving under the influence of weed and mystery prescription drugs. He'll probably skate.
* Justin's still in Panama, and he's hanging on the beach with Chantel Jeffiers, the "bad girl with a big heart." Reports say Chantel dared Bieber to drag race, and that "she would be the prize."
* Justin's mom reportedly flew down to Panama. She is in attendance with Bieb's manager, Scooter Braun, and Bieb's childhood buddy Ryan Butler. TMZ has photos of Scooter with a Belieber, who also took a selfie with … Usher. The buzz is that they're all planning to stage an intervention on the swaggy adult.
* Bieber's former housekeeper, Tatiana Voziouk, has spoken to the Mirror. She's detailing all of the drug use she saw while working in Bieb's home: "I'm terrified he'll become the next Michael Jackson. If he doesn't act now I will hear one day that he has passed away. It is heartbreaking. I have decided to speak out now as I care for him. On the kitchen top there was often a bottle of prescription cough syrup which I know had codeine in it, but I am not sure what else. There were soft drinks like Fanta alongside it too. I was told not to touch those bottles. And I wasn't allowed to throw them away. I was always picking up joint butts and stubs from the kitchen, lounge and pool area where they had been thrown."
* TMZ has photos of Bieber's kitchen that were taken in early 2013. The pictures are full of drug paraphernalia and (allegedly) cups of Sizzurp. Bieber also spends $8500 on marijuana per week. How is that possible? The Mail cites a friend who says Biebs smokes 12 bongs per day. He also relies on Xanax and Ambien. Aaand he keeps "a child's sippy cup" of Sizzurp by his bed. That last part is absolute gold.
* You may have noticed Justin's 38-year-old dad, Jeremy, in in photos from the Miami Beach debacle. He's the one in the blue shirt (see gallery pictures). Radar Online says that Baby Biebs has been financially supporting dad for years even though Jeremy was absent until his son became rich. An insider says, "Jeremy treats Justin as a friend, a peer, instead of as his son, they're buddies. It's absolutely no secret that Justin's manager, Scooter Braun, and Jeremy don't get along. Scooter has been the father figure in Justin's life, and then all of a sudden, Jeremy pops back on the scene … look at all the chaos in Justin's life. Scooter is the voice of reason, and tells him stuff Justin doesn't want to hear, and Jeremy is the opposite." I agree that Jeremy isn't exactly a good influence, but I think Biebs would be going off the rails even without deadbeat dad back in his life.
* A story that originated in the Sun (via The Mail) says the Biebs has been hitting anabolic steroids to enhance his physique. Biebs is allegedly abusing Clenbuterol "to give himself a six pack. His physique had gone from boy-like to muscled in a very short time and his mood have become wildly erratic." Well Bieber has gained weight lately. He's a whole 140 pounds now. This theory implies that since Bieber is all newly ripped, his team might be able to blame his swaggy actions on roid rage. For reference's sake, here's Bieber's chest in 2012.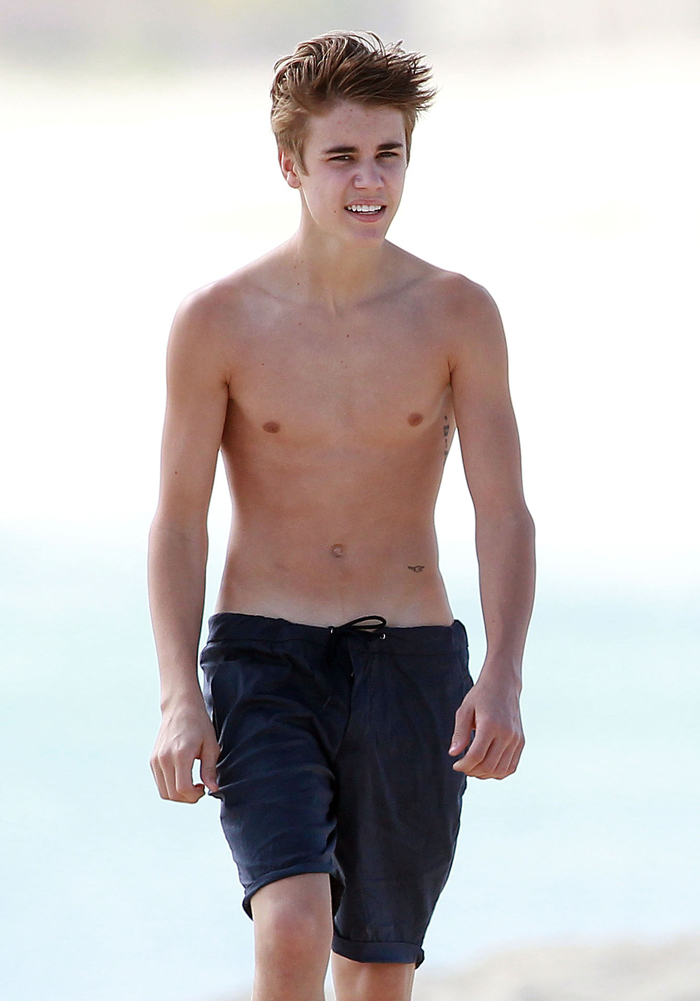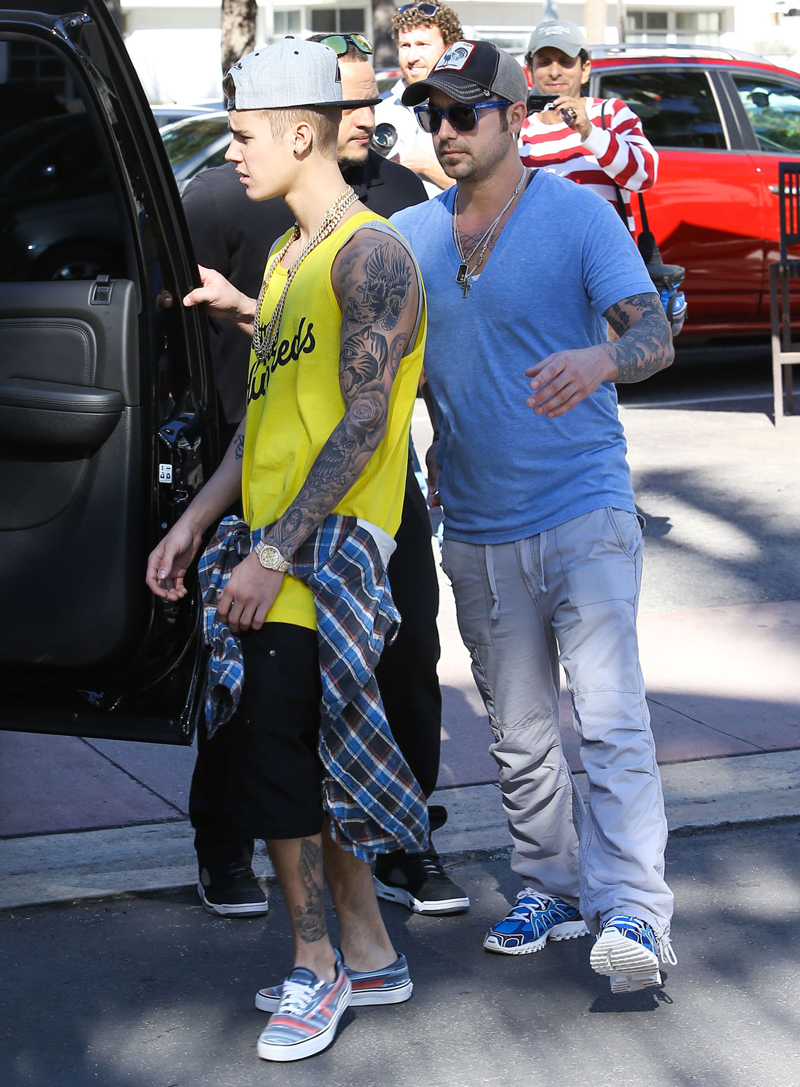 Photos courtesy of Fame/Flynet & Justin Bieber on Instagram