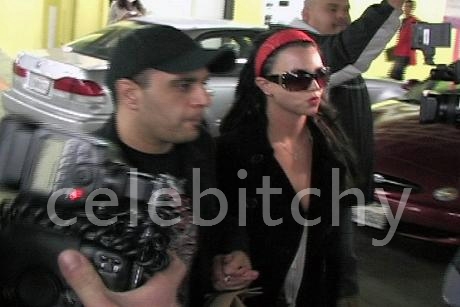 Last week, Britney Spears had to get a restraining order against former "manager"/ Svengali Sam Lutfi and former boyfriend/paparazzo Adnan Ghalib. Lutfi had been harassing Britney as well as her friends and family, and both he and Adnan were trying to file legal documents on Spears' behalf.
Instead of just listening to the court order and not being a complete psychopath, Lutfi responded today with a lawsuit against Britney – though most of the complaints have to do with her parents.
Sam Lutfi has filed a lawsuit against Britney Spears and her parents for libel, defamation, battery, intentional infliction of emotional distress and breach of contract.

According to the papers, Sam claims Jamie and Lynn "launched a campaign of lies and intimidation designed to destroy Lutfi and drive him out of Britney's life."

In the lawsuit, Sam claims he was standing in Britney's kitchen on January 29, 2008 when Jamie stormed into the house. Lutfi alleges Jamie yelled at him, claiming Sam made a rude comment to Lynne the night before. Then, Sam claims, Jamie "intentionally punched him in the chest" and threatened to kill him if he ever heard Sam make a rude comment about Lynne or any member of the Spears family again.

All the claims of libel and defamation spring from Lynne's book, "Through the Storm." Lutfi says since the publication of the book, he "has been subjected to unfathomable amounts of ridicule and public scorn."

Lutfi also claims Britney broke a contract with him and owes him unpaid management fees. He claims he had an oral agreement with Spears to be her manager for four years, earning 15% commission.
[From TMZ]
So this is basically an "I'm an asshole but I don't like being called an asshole or people reacting to my assholish actions, so I'm going to sue you for it" lawsuit. Good for Jamie Spears for punching Lutfi. This may be the first time I've ever condoned violence. But frankly, considering the terrible things Lutfi did to Britney (he admitted to Lynne that he often drugged her, amongst other things), Jamie Spears reacting that way shows that he's a good father. He and Lynne aren't married anymore but they clearly have a very good relationship.
I'm sure this will all be thrown out in court since Lutfi is nothing more than a narcissistic, deranged sociopath. But this guy really needs to be in jail. I'm guessing the only reason the Spears family didn't pursue charges against him last year was that it probably would have been too much for Britney to go through, considering her fragile mental state at the time. I really hope that something can be done to keep him out of their lives altogether, and hold him responsible for the atrocious things he did to Britney.
Here's Britney visiting Longs Drugstore with her mother Lynne Spears, Sam Lutfi and Chad Hardcastle at 130 in the morning on January 29th 2008. Images thanks to WENN. Header image of Britney leaving Century City mall with Sam in tow on January 30th 2008. Images thanks to Splash.