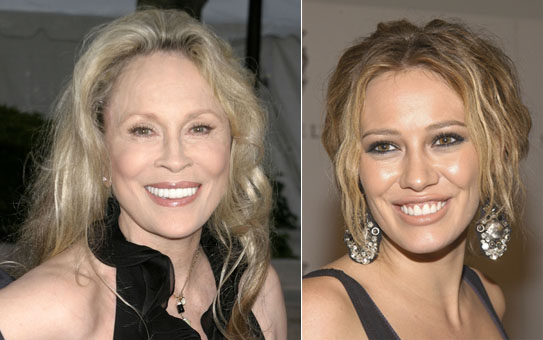 Hilary Duff has made whole career out of being cute, and attaching that cute image to stuff to sell. She puts out the nice music you buy instead of Britney for your kids (before Hannah Montana came along), she's got the cheaper line of fragrance, and she's been in some nice tween movies. It may be all a carefully constructed image if you consider her latest statement. Hilary hit back at Faye Dunaway's comment that she's not a 'real actress' by criticizing the 68 year-old actress' appearance.
During a break from filming a guest spot on the set of Ghost Whisperer, Duff told E!'s Daily 10, "I think that my fans that are going to go see the movie don't even know who she is," regarding the Hollywood legend (repeat, Hollywood legend), adding, "I think it was a little unnecessary, but I might be mad if I looked like that now, too."

Duff's diss stems from Dunaway's alleged remark, upon hearing the news that the former Lizzie McGuire starlet would be playing her old part, "Couldn't they at least cast a real actress?"
Hilary has a point that not many of her fans will be aware of Faye Dunaway, but isn't that sort of the point that Faye was making? That just because the original, ten time Oscar nominated Bonnie and Clyde film is unknown to younger audiences doesn't mean it needs to be retold, with a child star in the title role. Hilary deserves an opportunity to break into adult films, but who really expects this rehash to do well? Perhaps instead of saying 'couldn't they cast a real actress' Faye should have said 'couldn't they come up with an original idea?' I for one just won't bother to see this, not when I can hire the original for 50c at my local video store.
Faye may have something personal against Hilary rather than remakes – she had a small appearance in the 1999 remake of her 1968 film The Thomas Crown Affair, showing that she can't just be against remakes on principle. Technically the new Bonnie and Clyde film is not a remake but the story retold in a new script.
Hilary got one thing wrong though – she personally attacked Faye's appearance. Faye looks fabulous for 68, while Hilary's features are pretty but not stunning.
Hilary also had a public feud with Lindsay Lohan back when they were 13 and competing for the affections of Aaron Carter.
Picture note by Celebitchy: Faye Dunaway is shown at The Metropolitan Opera Season Opening on 9/12/08 and on 6/12/08. Credit: WENN. Hilary Duff is shown ringing the opening bell at the NY Stock Exchange on 12/23/08 and on 12/4/08. Credit: PRPhotos and WENN. There's one thing Faye and Hilary have in common – their giant teeth.