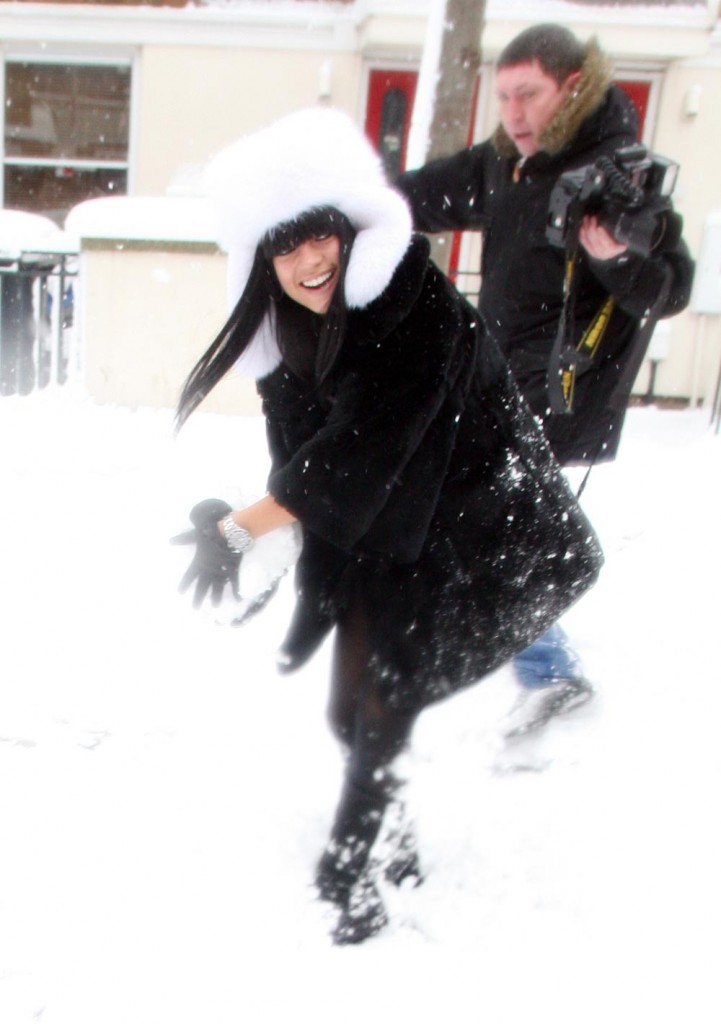 Lily Allen, who is currently topping UK charts with her new single, trotted out in the record British snowfall for a few quick photos with waiting paparazzi. Unfortunately, this degenerated into a brawl.
Allen was enjoying a day of winter fun at the city's Primrose Hill park on Monday, playing in the snow and sledding with a group of friends. (Photo)

Allen was photographed laughing and joking with the paparazzi and even traded a few handfuls of snow with the snappers.

But during the afternoon, a group of six youngsters began pelting the star with snowballs, and the innocent game soon turned violent, forcing Allen to call police and flee with her bodyguard, according to London's Evening Standard newspaper.

A source tells the publication, "She took it in good spirits at first, but it got more relentless. Some people told the gang to stop before people started squaring up to them."

One man was said to have been badly beaten during the incident.
There is a small part of me that suspects Lily Allen, who is known for being what my mother refers to as 'mouthy', might have said something to deserve a small pelting with snow balls. Not the kind of pelting that invites police action, but a gentle bombardment, if there can be such a thing. No reports have yet surfaced about what Lily might have said, and perhaps the men just decided to get in on the action and things got out of hand.
Lily has given an interesting interview with the New Zealand Herald, showing off her mouthiness to excellent effect, and suggesting that she's going to do something about it.
At 23, Lily still seems incapable of self-censorship, though she insists she's more careful than when she started. Everything she says, whether out loud or on her blog, is immediately reported and repeated across the world. She jokes that she's going to get a tattoo on her left wrist that says "shut up", so that, when she starts drinking again, if she waves her arms around, she'll see it and – she hopes – take the advice. "I find it hard to measure these things," she says. "How much to say, how much to keep in."
The writer also describes exactly how intense the paparazzi interest in Lily is.
There are around a dozen photographers who rock up to Lily's house every morning, and follow her everywhere: the only way she can give them the slip is if she leaves the house before 9am. She's got a dog, but she employs a dog-walker because she can't face the hassle; when invited by her friend to go for a run in the park, she refuses; she partly blames the photographers' constant presence for her current lack of love life.

"I've had a couple of times," she says, "when I've got to know someone over a few weeks and we've had a really great time here, just watching TV and shagging. And then I get paranoid because I get like, 'I don't want to leave the house with you, because I don't want us to be photographed together and for us to suddenly have to justify our relationship, when we don't know what it is yet.'

"And if I meet someone who's not part of the showbiz industry, I think, 'should I sleep with this person? Are they going to walk out of here and be straight on their phone?' Or you feel, 'oh, it's gone naff,' because they're secretly enjoying having their photo taken. I guess that's why people go out with famous people, but there aren't really any that I fancy. "I like," announces Lily, "much older men."
I suddenly see why celebrities have reps and refuse to comment on things. What do you say to paps after they photograph you with someone you've just had your first sexual encounter with, the morning after. "Thanks, it was great, hope we can do it again' or 'It was awful, can't believe I sat through three dates for that'? And if the paparazzi interest in Lily Allen is this intense, can you imagine what it must be like for Britney spears or Angelina Jolie?
Lily Allen is shown performing at G-A-Y heaven in London and in a snowball fight on 2/2/09. Credit: WENN