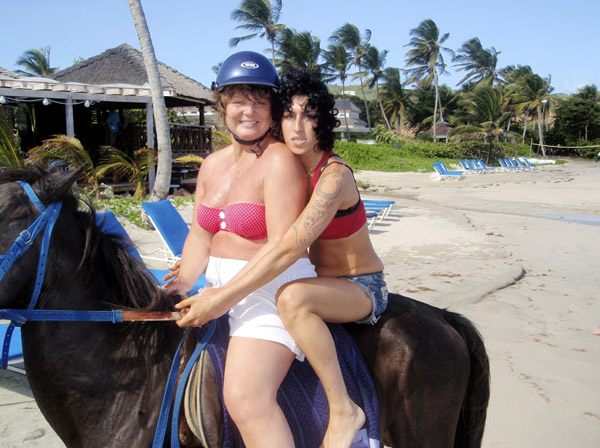 On the heels of one of the best decisions she could have made regarding her financial stability, Amy Winehouse made a not-so-smart move. Amy's record label, Island Records, has agreed to let her record an album in Jamaica – a country known for its easy access to drugs. The label has even agreed to foot the bill, as long as Amy continues to show improvements in her health and a record comes out at the end.
The Rehab singer, 25, wants to record her hugely-delayed third album on the Caribbean island where illegal drugs are known to be widely available.

And her record label will foot the bill for sessions which are likely to run into tens of thousands of pounds.

Amy has been on holiday in nearby St Lucia since before Christmas and has told Island Records she does not want to return to England.

A source said: "Amy is having the time of her life in St Lucia and doesn't want it to end.

"She is looking and feeling so much better and is worried about the bad influences waiting for her back in London.

"She has written a big chunk of her new album and has told bosses she wants to go to Jamaica to record it."

The label is "fully aware" Jamaica is awash with drugs like crack cocaine and cannabis.

But the source said: "They are keen to accommodate her as long as she keeps getting better and carries on working."

Amy is set to return to London this month for admin duties — before flying back to the Caribbean.
[from The Sun]
Those "admin duties" likely include putting the finishing touches on her parents' conservatorship of her company's money. Hopefully that will turn out well and her parents will be able to manage her finances smartly.
I thought that staying away from the UK would be a good idea, but that's because St. Lucia is a small island, and though her stay there has been great fodder for tabloids, she's not really getting into too much serious trouble. It's been reported that she was smoking weed at the resort at St. Lucia, but if that's the worst she's been doing, it's a huge improvement over her pre-vacation days. Once she moves to Jamaica, though, I can only imagine what she'll get her hands on. Hopefully the label will also require that she get some substance abuse help while she's on the island recording.
Amy is shown in the header on 1/22/09 horseback riding in St. Lucia with a woman identified as a "fan." Credit: Bauergriffin