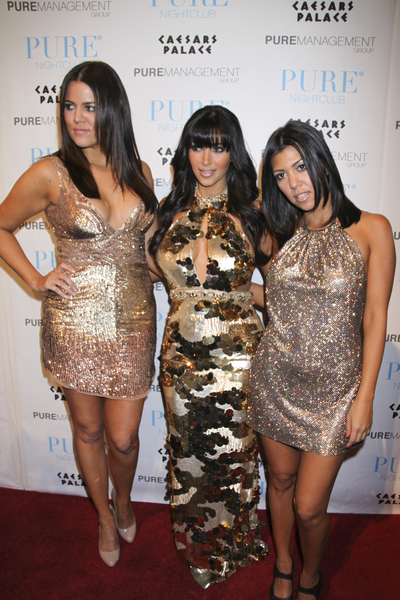 If there was one family I would not take dating advice from, it would be the Kardashians. One of Kim's former beaus released a sex tape of the two of them, and Khloe just broke up with her boyfriend because he was cheating on her. They don't seem to have particularly good taste in men (though Kim has been with her current boyfriend Reggie Bush for almost two years, so she's clearly done something right).
Well now Khloe is giving advice on whether dating football players or basketball players make better boyfriends. Her conclusion: football players because they're not on the road as often.
When it comes to dating professional athletes, the Kardashian ladies agree that football players are more convenient than basketball players.

"It's easier to date a football player for sure," Khloe Kardashian, who split last week from Rashad McCants of the NBA's Minnesota Timberwolves, tells PEOPLE. "Football players have one game a week, and they practice every day, but they're all at home.

"In basketball, they're on the road all the time," she adds to emphasize how much easier sister Kim Kardashian has it with her NFL star, Reggie Bush.

After blogging about her split, Khloe turned up in Tampa with her sisters to party during Super Bowl weekend.

"We're here to celebrate the breakup," joked other sister Kourtney at a pre-Super Bowl party at the Seminole Hard Rock Hotel & Casino.

"Relationships are so hard in general, even living next door to each other," Khloe says. "But they have 82 games a year in their season, and I work so much; it's hard to spend time together. It just wasn't as fun as it should have been."
[from People]
She also goes on to explain that she blogged about her breakup the next morning so that she wouldn't take him back:
"Otherwise, I could think, 'I'll take him back,' " she says. "I blogged the next morning so I wouldn't change my mind. It made me feel better. And if I do go back, I'd have to blog about it and be like, 'Sorry guys.' "

Khloe adds: "I normally never talk about relationships. But since he was kind of public, my fans were angry that I wasn't really saying anything."
[from People]
So between the time they broke up and the moment she posted a blog, she had fans clamoring for information? If she really didn't want to talk about her relationship, she could have just kept her mouth closed.
Khloe, Kim and Kourtney Kardashian are shown in the header on New Years Eve. Khloe is also shown with her ex, Rashad McCants. Credit: PRPhotos