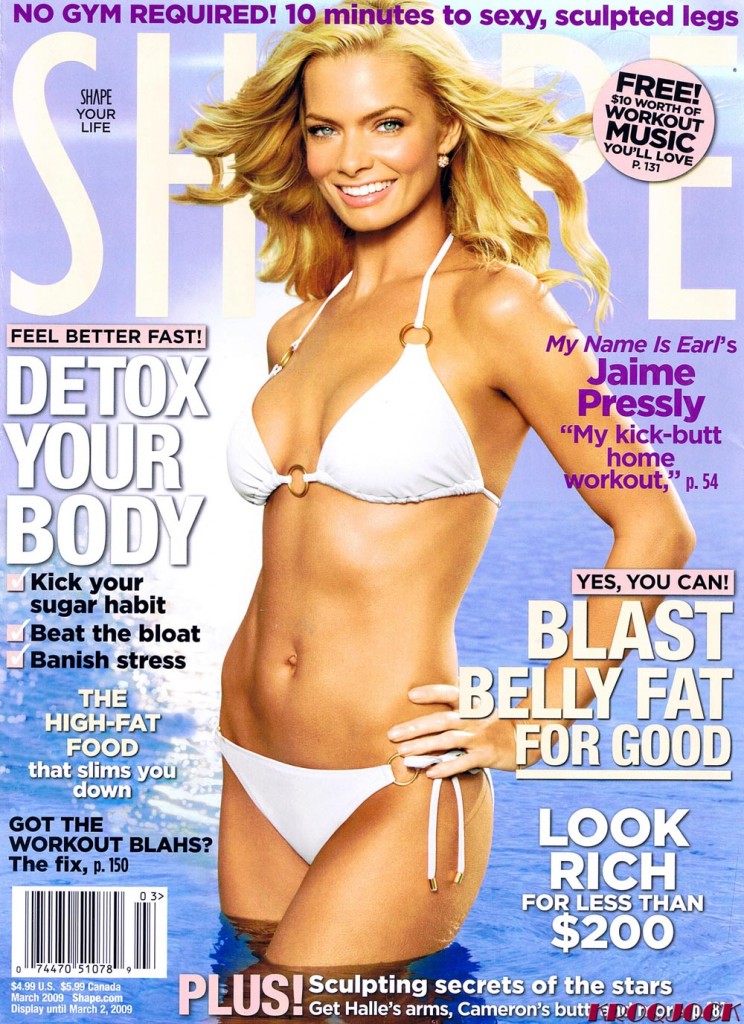 My Name is Earl star Jamie Pressly, 31, looks super fit and toned on the cover of the upcoming issue of Shape Magazine. Pressly is surely Photoshopped to perfection, but it's clear she also works hard for those tight abs. She told Shape that she ascribes to the "no pain, no gain" workout motto and that she met her goal of regaining her pre-baby shape in time for her 30th birthday. She has son Dezi James Calvo, 21 months, with her estranged boyfriend, DJ Eric Cubiche. Pressly said she's "going through a rough patch" in her relationship with Cubiche, but that their son is "the greatest thing that's happened to either one of us."
There's some arguing in the comments on The Huffington Post about whether Pressly has had implants and/or a tummy tuck. Several people say her boobs are natural on camera. They look normal to me and not super round, but it's hard to tell in a magazine photo spread. Either way, you can't just get plastic surgery and end up looking like that.
Pressly shares a home workout plan in Shape with her trainer. She said she also goes to the gym and that it's good for her to get out, even though she didn't want to leave her son at first.
I used to think you had to go to the gym to work out, but I've been doing more at home with a stationary bike, a weighted exercise ball (this link is to Amazon, but I got mine in the US at a Marshalls-type store for about $12) and a bar called a gymstick that's a little better than standard resistance bands in that it's harder to use. It saves a lot of time to work out at home and it's ideal for moms. It's doubtful I push myself half as hard as Pressly and I can only dream of looking like that some day.
Super fit people can serve as inspiration for the rest of us, and it's only natural to question if they took any shortcuts along the way. It sure doesn't look like Pressly did.
Thanks to kroqjock on Celebutopia for these
scans.