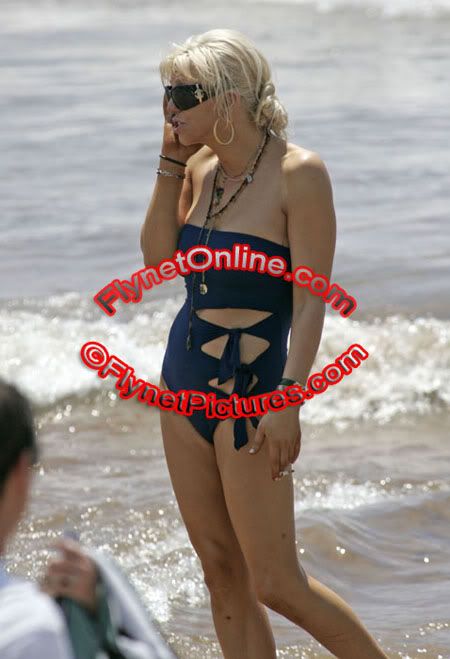 I put up the Courtney Love posed bikini pictures that she must have made a mint for, and received a really kind cease and desist from Splash Photos. I'm not being sarcastic, the people who work there are always nice and say they enjoy reading my blog. I would buy their photos if I could afford it, so visit the sponsors if you can.
Here are the full bathing suit photos from Flynet that I'm allowed to post. Courtney Love says she's lost 44 pounds and she must have done it super-quickly since she was looking chub to me the last time I saw her at Paris Hilton's birthday party in that stolen couture fringed number.
Supposedly Love wrote on her website that she "lost 44 pounds with 6 more maybe 11 more to go." She looks like she can't afford to lose more weight unless she removes some silicone, but isn't that the way it always goes when you lose weight? It's never quite enough. I have to take People magazines word that she wrote that, because I went through her site and it's such a mess that I couldn't find her blog. Or maybe People got confused and didn't really read that on her site. I heard that her diary book is full of all sorts of disorganized crap like that too.
Her rep attributed Courtney's weight loss to a macrobiotic diet of fish and vegetables that sounds low-carb, and work outs that included yoga. She is seen smoking cigarettes in those pictures, so it's kind of ironic that she was on a super-healthy diet. (Now that I live in Europe where so many people smoke I realize it's culturally-influenced. Despite the fact that it's so damn unhealthy and stinky I can see how people get addicted if all of their friends do it and it's permitted in public places.)
Courtney doesn't look as super-skinny in this weird cut-out one piece. She's wearing too much jewelry and just looks like a mess.