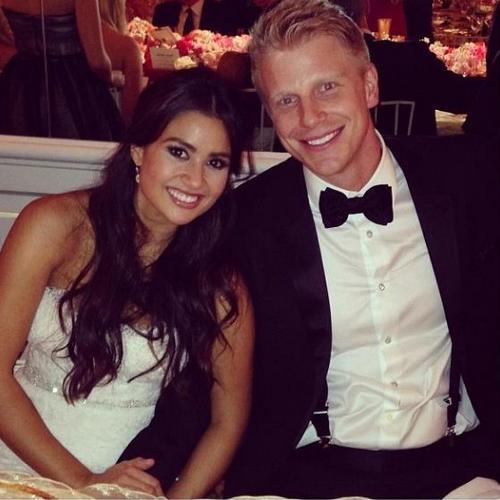 Jimmy Kimmel's show has such good writers. They consistently come up with funny viral videos, attention-getting skits for celebrities, and ways to make us notice things we otherwise wouldn't care about. Hence this clever stunt. Kimmel had Bachelor Sean Lowe and his soon-to-be bride, Catherine Giudici, on his show last week. That was ahead of their live, televised wedding on Sunday. It was ABC's fourth Bachelor wedding. (BuddyTV has a recap of the ceremony if you're interested.)
So Jimmy asked both Sean and Catherine the question they've capitalized on since the beginning of their relationship: did they really wait until marriage to have sex? He didn't just ask this question while they were talking on air, he had them both take separate lie detector tests. Then he promised to reveal the results on Monday night. Spoiler: they both passed. Or did they?
"Bachelor" stars Sean Lowe and Catherine Giudici got married in a live, televised ceremony over the weekend, but it was their claim that they'd abstained from sex throughout their entire engagement that may have gotten even more attention. It certainly got the attention of Jimmy Kimmel.

The late-night host wasn't satisfied to take the couple at their word, and so he strapped them into a lie detector machine to find the real truth. Each of them was strapped in separately, and they stood by their claims that they had never had sex with one another. He promised to reveal the results on Monday night's "Jimmy Kimmel Live," one night after their wedding.

Viewers got to see both of them strapped into the machine and questioned, where they stood their ground. When it was over, Kimmel asked, "Did they abstain from sex before marriage for a period of 16 months?" He was a little disappointed to find out that they'd been truthful. He also felt strangely proud of them.
It's a very valid question. We've heard that Sean's "born again virgin" claim was all for publicity, and it's not like he was a virgin from the get-go. Maybe they're telling the truth though, this lie detector kind of convinced me. Not that it means their relationship will last by any means. I'll be surprised if they make it past the year mark.
Here's the video where Kimmel asks these two about waiting until marriage. I have basically the same question he has "How do you know you really want to get married? Maybe you're just really horny for each other." He also asked "do you know how to do it?" I couldn't marry someone without giving the tires many hard kicks, but to each their own I guess.
Here are some photos from Sean and Catherine's wedding, thanks to Reality Tea. Other photos are of Sean playing football last week, and with Catherine in November. Credit: WENN.com and FameFlynet.