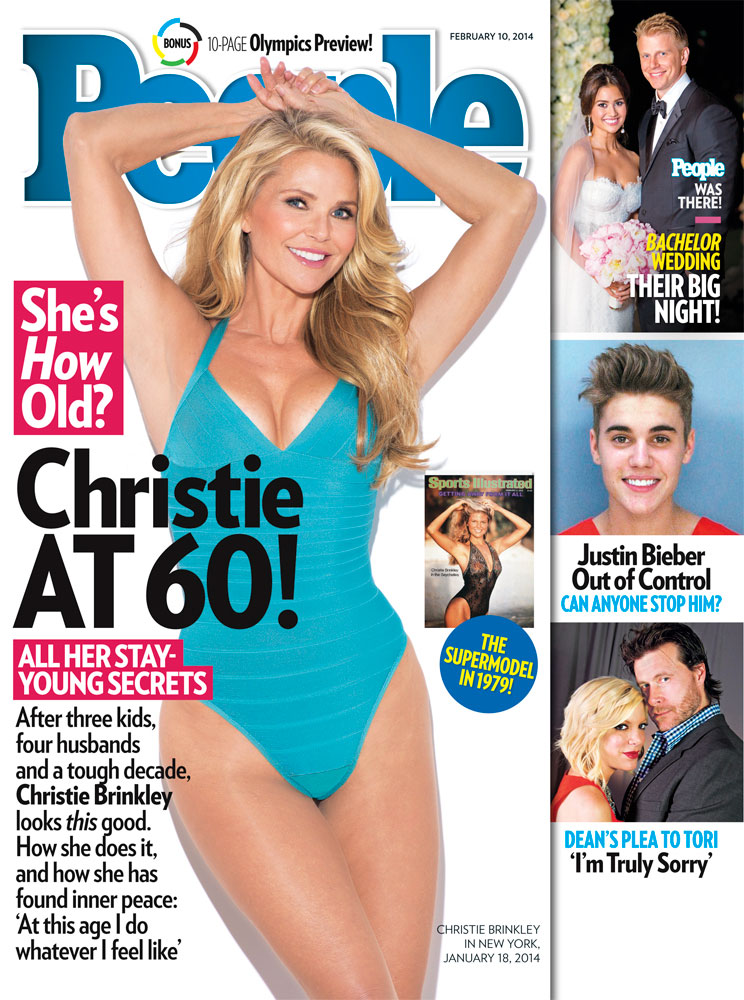 Christie Brinkley is on the cover of the new People Magazine with the lead-in "She's How Old?" and the title "Christie AT 60!" They promise to give "all her stay-young secrets," and I was prepared to roll my eyes at the Botox white lies and "I eat whatever I want" tripe that we hear from so many celebrities, but that didn't happen at all. Christie sounded somewhat honest about all she does to maintain her figure and face, and I came away from the article with more respect for her. It takes a lot of work to look that great, and Christie admits it. Of course it doesn't hurt that she's naturally drop dead gorgeous, but Christie will tell you that she uses hair extensions, gets modern dermatological treatments, eats vegan and works out every day. Here's People's preview of the article and we'll have some more quotes in a moment.
On the eve of hitting the big 6-0 on Feb. 2, Brinkley celebrates her birthday – and her incredible figure! – by posing in a swimsuit on the cover of this week's PEOPLE.

"I'm actually excited about turning 60," Brinkley tells PEOPLE. "I feel on top of my game."

But not game enough to wear a bikini. "My kids would be so embarrassed!" she says. "In private I may wear a bikini, but at the public beach with my kids I would change bathing suits because they do not want to be hanging out with some old broad in a bikini."

Others disagree. "She looks phenomenal," says MJ Day, senior editor for Sports Illustrated's swimsuit issue (Sports Illustrated is a sister publication of PEOPLE). "She has the legs of a 30-year-old and the face of an angel. She's what you aspire to look like at 60. She's mind-blowingly beautiful."

In this week's issue, Brinkley spells out all of her stay-young secrets, from her daily diet to all the beauty tricks to looking half her age.

But after four divorces, including an explosive public divorce trial with architect Peter Cook in 2008, Brinkley credits her three kids – musician Alexa Ray Joel, 28, college freshman Jack Brinkley-Cook, 18, and up-and-coming model Sailor Brinkley-Cook, 15 – as her fountain of youth and her motivation to focus on a healthy lifestyle.

"Because I'm an older mom, I have a responsibility to my kids as well as myself," she says. "I want to be there for them."

For more about Brinkley's diet and fitness regimen, and how she really feels about dating again, pick up this week's issue of PEOPLE, on newsstands now.
There are some quotes from the print edition that are worth mentioning. Christie says she drinks a glass of wine at night, but that she tries to drink red wine on the advice of Dr. Oz, whom she regularly watches. She also says that she'll "never say never" to plastic surgery, and admits that she's had other things done to make her look that great. "I think that there are so many other noninvasive choices that address sagging, winkling and discoloration. I go to my dermatologist about once a month and get special facials. I like modern-technology stuff." So is she talking about laser resurfacing? I would love to know what she does exactly.
The rest of the article is full of somewhat useful tips like filling in your eyebrows (I do that, it makes a big difference!), exfoliating, and fitting workouts into your day. Christie admits that she even uses pantyhose to get "a sense of security." You can see on the inside shots of Christie that she's wearing pantyhose under her bathing suit.
So Christie isn't made of lies. She was looking very Botoxy for a while, but she's not denying it, it seems to have settled for her and she definitely looks amazing. There's even more in People if you're interested. Christie says that she hasn't really dated in the six years since her divorce but that "I don't feel this gaping hole because I don't have a man in my life." That's probably her best advice of all.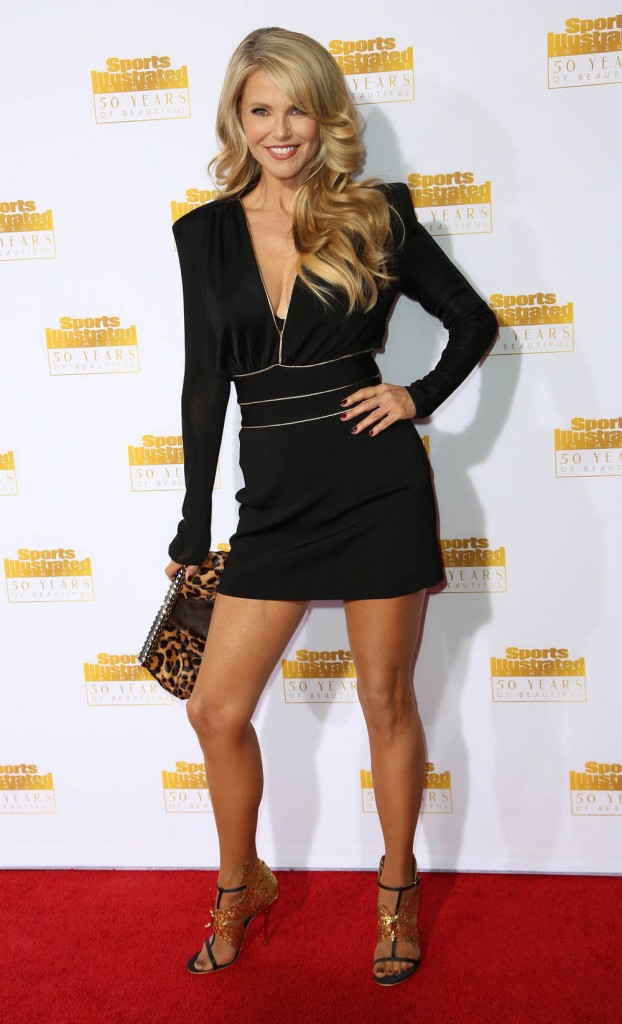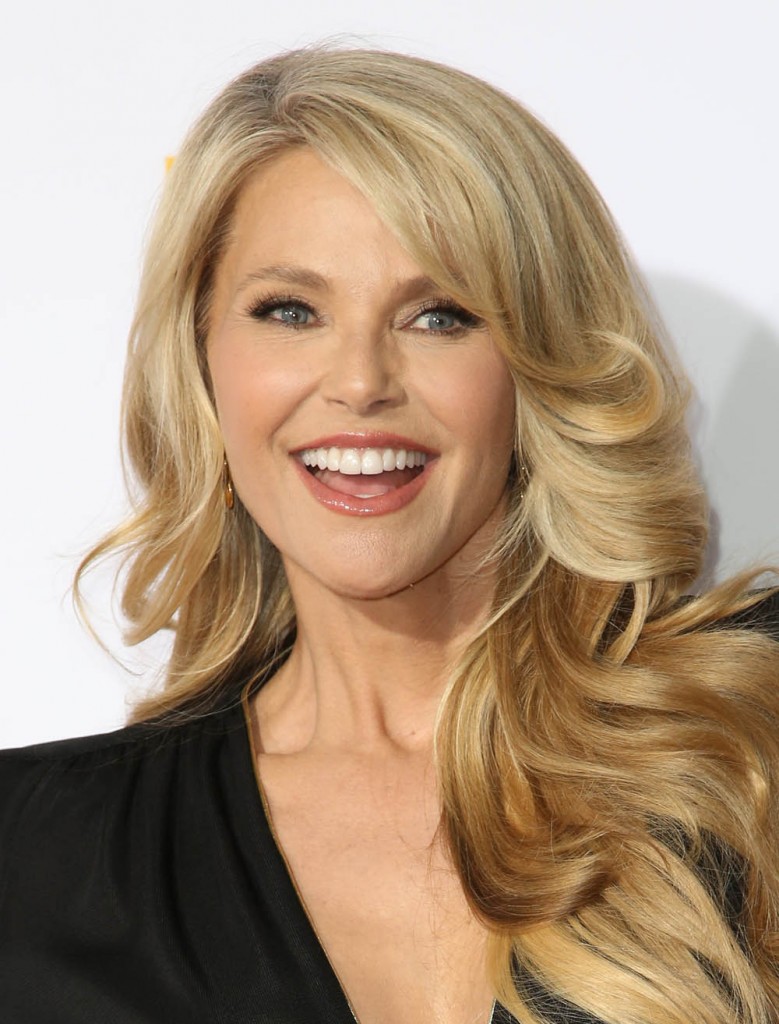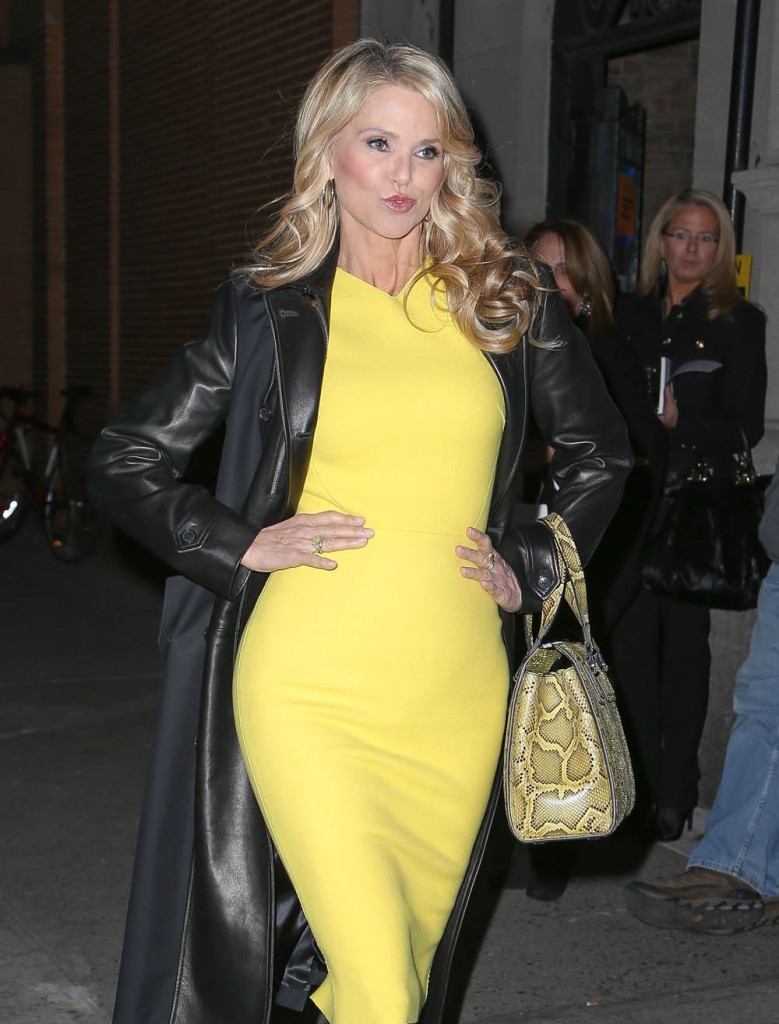 Christie Brinkley is shown in November, 2013 (yellow dress) and on January 14, 2014 (black dress). Credit: WENN.com