Zooey Deschanel covers the new issue of Lucky. This is one of oddest editorials I've ever seen with Zooey. Usually, magazine stylists do her in some variation of her real style: quirky hipster/girlish high schooler. But I guess Lucky decided: "Let's do something with CATS!" And they also chose to mess with her bangs too. Odd. Not unpleasant, but odd. Anyway, Zooey just talks about clothes and stuff in the interview, which is fine because it's Lucky Magazine, a magazine devoted to shopping, not geopolitics. Some highlights from the piece:
Judging people by their clothes: "Fashion is a way of communicating. You're saying, 'Hi, world! How are you? This is me today. Take me or leave me!' "

Typecast as the quirky hipster/twee girl: "The funny thing is, people think I never break out of this one box. I like what I like. It has nothing to do with trends or being a slave to fashion. Sometimes things will be in style and they're classic and look great, and sometimes …" She trails off, before resuming in a voice solemn enough to deliver the nightly news, "I think it's important to recognize when fashion has gone to a place that isn't cute."

She's always loved dresses: "I remember playing in the dirt when I was two years old. My mom took me back to the car to change me into a clean outfit, and I started crying because I had to put on jeans. I knew I liked dresses. I was always very aware of clothes."

Learning to shop at thrift stores: "I realized that you can actually spend very little money and put something together that looks great and sets you apart. Being able to express myself through fashion made me confident."

Teenage years: "There's a picture of me I wish I could find. I would buy these big, cheap, fluffy '50s prom dresses from thrift stores and just put them on with a tiara and sit and type at my computer. My room was a total messy-teenager disaster area, but I'd have on a vintage dress and my hair would be perfect."

She wears men's-style PJ's with piping: "I want to look cute while I'm sleeping."

Dressing for your body: "If you look at anyone with great style—Jackie Onassis, Audrey Hepburn—they have certain silhouettes that they don't really stray from. It's not like Audrey Hepburn was running around in a bunch of giant shoulder-padded dresses. I have narrow shoulders and a small rib cage, so some things just swallow me up and make me look frumpy."

Fashion don'ts: You won't catch her in blousy '80s cuts ("not flattering, in my opinion") or certain colors. "I hate to say it, but chartreuse is an ugly color—it just is," she says, appearing momentarily concerned that she might alienate some militant faction of chartreuse constituents. And forget about anything too revealing. "Daisy Dukes are not for people over 30. I'm just going to go out on a limb and say that right now."

Her new partnership with Tommy Hilfiger: "I've always wanted to design my own clothes, and it was important that they'd be affordable. I didn't want to exclude anyone. The dresses are really fun."

Follow your gut: "If you feel unhappy putting on your clothes, that's not the way it should be. Sometimes the fashion world can get overly serious. The whole point is that it should make you feel good about yourself. If it doesn't, walk away."
See? I told you it was just about clothes. My favorite line: "I think it's important to recognize when fashion has gone to a place that isn't cute." TRUTH. There are some especially awful trends happening in fashion these days that are as bad – if not worse – than a lot of the worst fads from the 1980s. I'm sorry, but very few women really look good in skinny jeans. And peplums are actually terrible. Satin shoes should be reserved for bridesmaids. Mullet dresses should be shunned, always. Cutouts are usually awkward. And you should rethink your thick, blunt bangs. There. I recognized when fashion has gone to a place that isn't cute.
Also – I love her burn on chartreuse. YES. There's only one charteuse gown that ever worked, and that's the exception to the rule.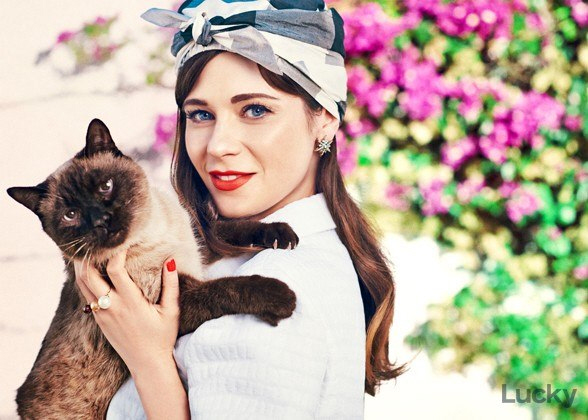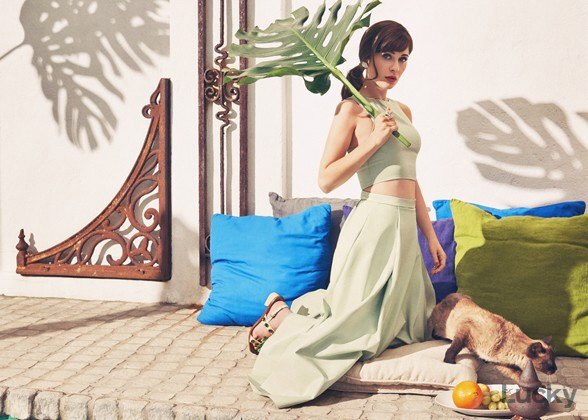 Photos courtesy of Lucky.