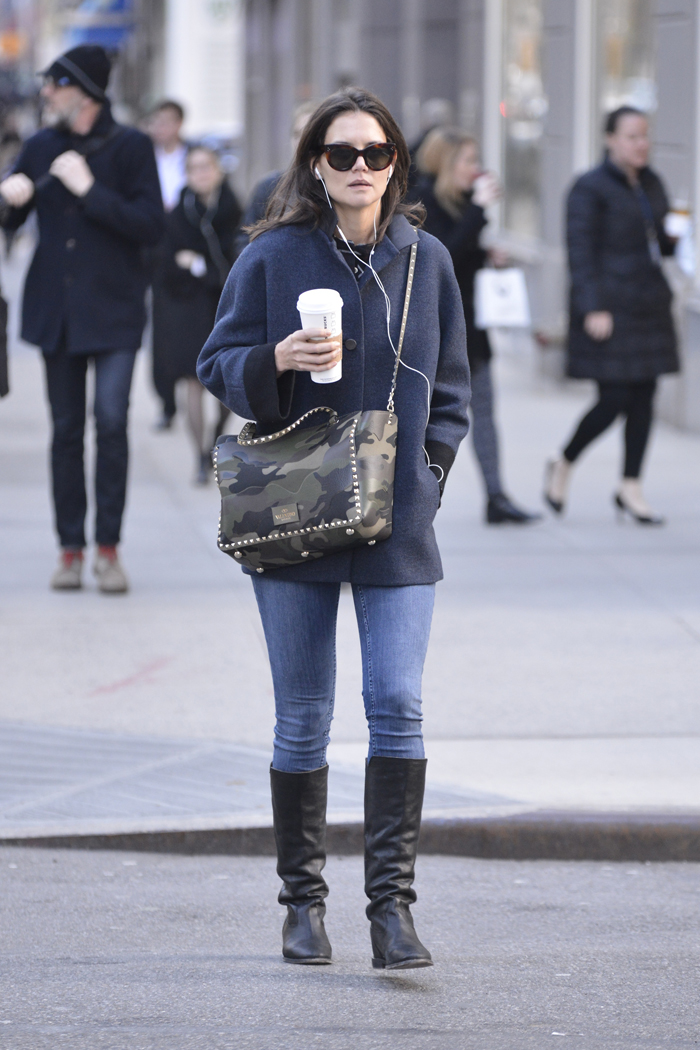 These are photos of Katie Holmes in NYC last week. She looks like a typical New Yorker with questionable taste in boots. Let's move on to brighter pastures.
I knew there was something to the story of Katie and Jamie Foxx getting their freak on together. If this latest update from Page Six is true, then they've been carrying on in all sorts of places. In various hotels. Rowrr. Let's briefly go back to last summer when Katie and Jamie both attended a Hamptons shindig where they danced near each other to Robin Thicke's "Blurred Lines." Rumors kept buzzing for months, and then sources said they were "keeping it quiet" for discreet NYC hookups while Jamie was shooting Annie.
Us Weekly followed up with a cover story about how Jamie rocked Katie's world in the bedroom. He "put a smile on her face" with his "extraordinary powers of seduction," "smooth game," and anti-Scientology jokes. All of that sounds like heaven compared to Katie's experience with Tom Cruise. Now Page Six has an amazing update. Amazing because Katie and Jamie have been in many places at the same time. Multiple sources say they're totally doing it but keeping things private because Jamie still "has a lot of respect for Tom." The list of hookups include Super Bowl and Grammy weekend as well as the New Year's holiday:
Rumors of a secret romance between Katie Holmes and Jamie Foxx continue to swirl after the pair spent time together in New York during Super Bowl weekend.

We are told Holmes, 35, and Foxx, 46, have been seeing each other since last summer and recently spent time together at his mansion in California. But they're keeping their relationship under wraps out of respect for her ex­husband Tom Cruise, sources add.

One source said, "Katie flew private to California to stay with Jamie at his home around the Grammys [which took place Jan. 26].

"Foxx's beautiful daughter Corinne was his date for the Grammys. But he and Holmes also spent time together during Super Bowl weekend, although they attended the game separately," the insider noted.

But the source added they are treading carefully because Cruise is a friend of Foxx. The two actors appeared together in 2004 crime thriller Collateral. Cruise and Holmes split in July 2012 after just less than six years of marriage. "Jamie is being careful because he has a lot of respect for Tom," our insider added.

Holmes and Foxx were first linked after they were spotted dancing together at Ron Perelman's Apollo in the Hamptons gala last August. At the time, both strongly denied rumors of a romance.

Oscar winner Foxx said last summer, "[The rumors] are 100 percent not true. In fact, it's quite hilarious because we simply danced at a charity event along with a lot of other people."

Foxx also joked to ABC News at the time, "I had Colin Powell onstage dancing [too], so they could have said me and Colin Powell were dating," and branded the buzz about Holmes "absurd."

But we are told the couple have remained close and also quietly met in Miami over the New Year's holiday.

Holmes' rep denies the story, saying her trip to California was to meet a director about a new movie project. Foxx's rep declined to comment.
[From Page Six]
What do you think? It's not a huge deal that Katie and Jamie both attended the Super Bowl, but if she visited him during Grammys weekend, that's kind of hot. Do we really believe the reaction from Katie's rep? C'mon, she probably wasn't there for work reasons. Even if that claim is true, she still had time to hook up with Jamie after hours. That's what I would do.
Here's the part that convinces me there might be something going on for real. Katie and Jamie were both in Miami to ring in the New Year. She was papped on the beach with Suri, and he was snapped at a Miami Heat game. Here is photographic proof that both Katie and Jamie were in Miami on Jan. 3. That's not a mere coincidence, right?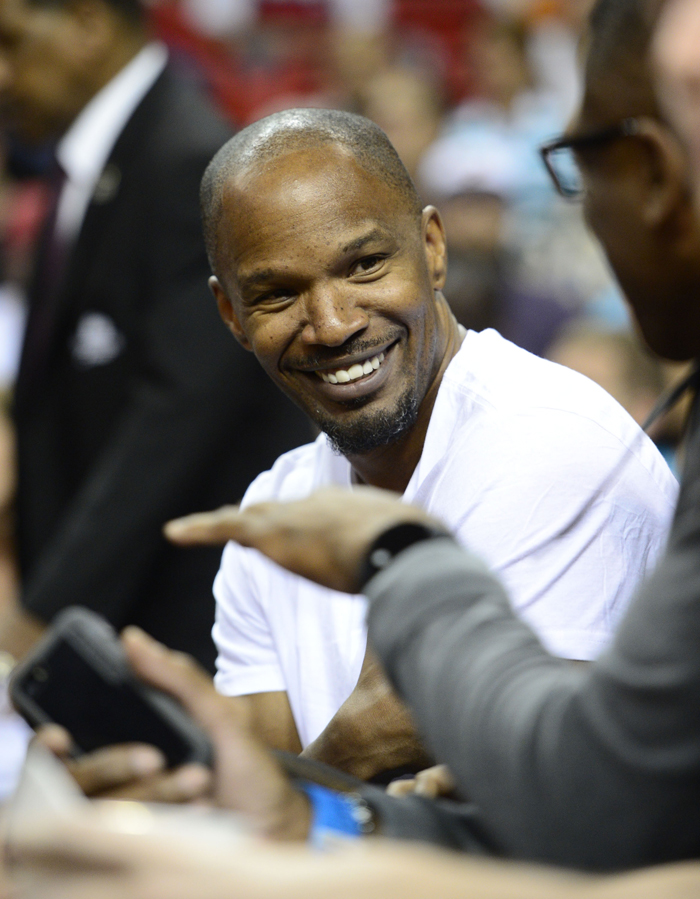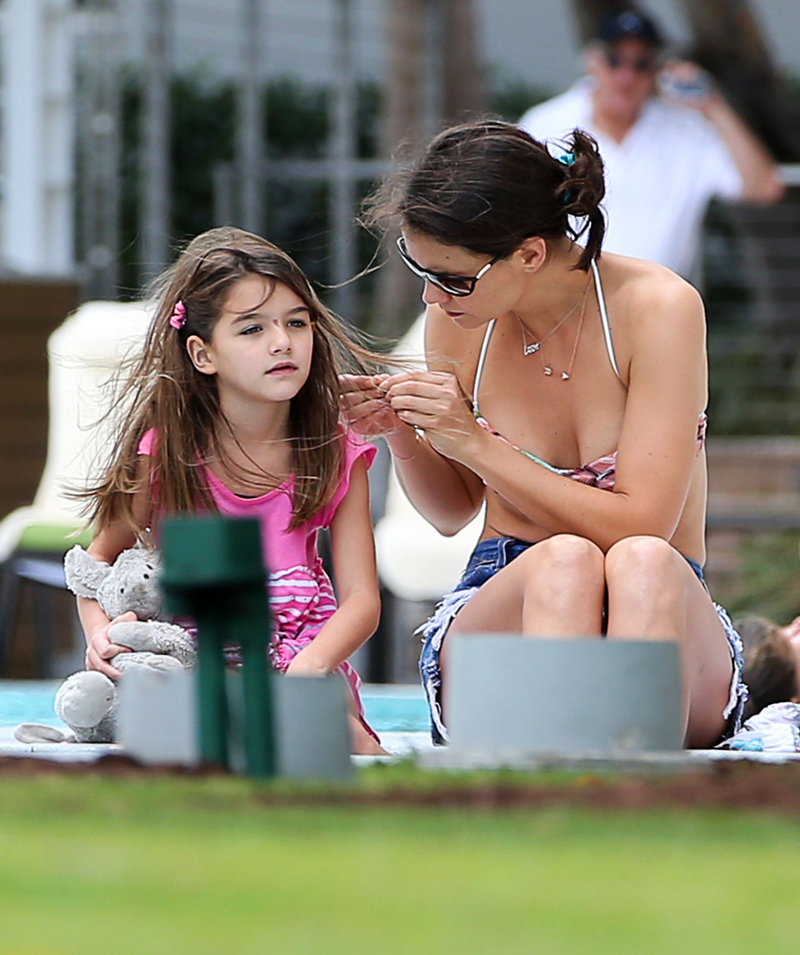 Photos courtesy of Fame/Flynet & WENN