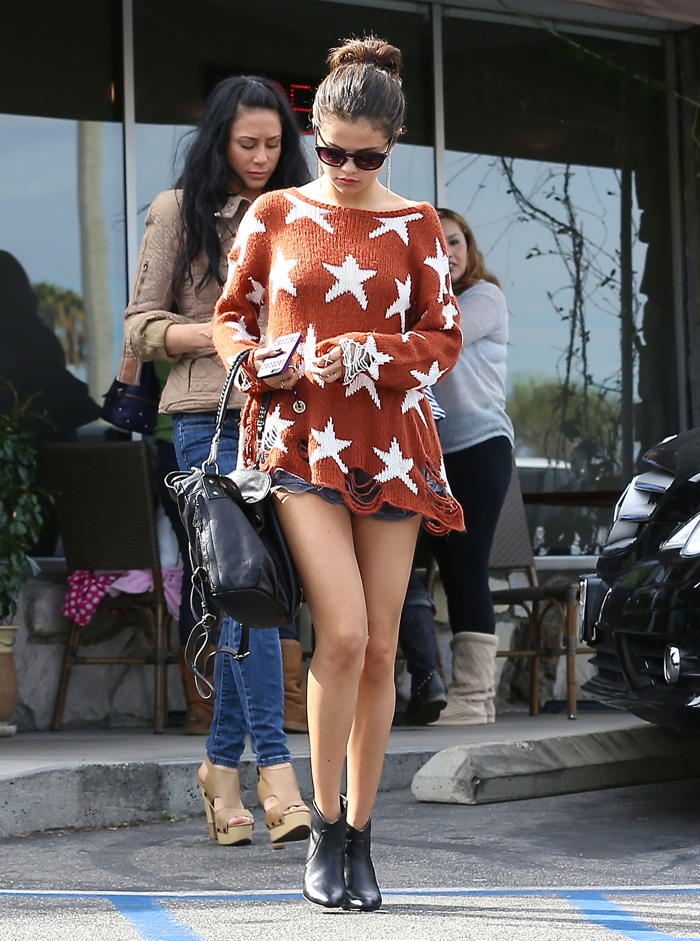 These are photos of Selena Gomez yesterday in LA. At first, I was all, "What a great sweater!" But then I was like, "Ugh, she ate at Cici's Pizza." That place gave me the worst food 24-hour poisoning attack I've ever experienced. Never again will I eat at a Cici's Pizza. Anyway. Kaiser says that sweater is actually something Taylor Swift wore right before the Grammys. Not too surprising.
I have to admit to also not being surprised by this latest Selena news even if I am disappointed. She was supposed to be the good girl — the one Disney starlet who wasn't completely going off the rails. When Selena cancelled her tour for "exhaustion," it seemed suspicious. Then she got back with Justin Bieber in early January as rumors of her Molly consumption swirled. Well I guess "exhaustion" was really a two-week rehab stint. Dang:
An "exhausted" and "broken hearted" Selena Gomez has been hiding a secret from her legions of adoring fans: RadarOnline.com has exclusively learned that emotional issues sent her to an Arizona rehab facility in January for a hush-hush emergency two-week stay.

The "Come & Get It" singer was admitted to Dawn at The Meadows recovery facility in Wickenburg, Ariz., on Jan. 5. And while a rep for Gomez confirmed the treatment to Radar – "Selena voluntarily spent time at Meadows but not for substance abuse," a spokesperson revealed – a source close to Gomez has revealed that in the months before her stint in rehab, she had been "partying very hard."

Indeed, Radar has learned that Gomez, 21, had been leading a life very different from the carefully created squeaky-clean public persona: one troubled by drug and alcohol use. "With fame came a partying lifestyle," confirmed one insider.

The former Disney princess – who first made her debut appearing as Gianna in Barney & Friends and starred in Wizards of Waverly Place – had been experimenting with marijuana and prescription drugs, including Xanax and Ambien.

Ambien, prescribed as a sleep aid, has become a drug of choice for many in Hollywood because it is similar to drinking a large amount of alcohol where one feels completely relaxed and loses control of their body.

"Her friends and family became increasingly worried that there might be a serious problem with Selena," said another source. "Particularly, her parents. The partying was, at times, wild. They wanted to help her – and they very much encouraged her to go to rehab. Others very close to her also urged her to seek professional help."

"It's important to remember that Selena had worked in Hollywood non-stop for six years," another insider told Radar. "She was exhausted. Selena was smart enough to understand that she needed to take control of her life.

"It just got to a point where she needed to get out of Los Angeles, get away from 'the scene' and the pressures of Hollywood, to also get away from those who had, admittedly, become a bad influence on her.

"Selena needed to take the opportunity to work on herself. She realized she needed help. Selena came to understand just what a bad influence Justin had been on her life," said one source. "Their relationship left her broken-hearted."

"I don't know whether Justin pushed her to drug use, but amongst their close knit group of friends, smoking was common place," said another insider. "Justin and Selena would smoke marijuana together regularly."

Indeed, in one binge session, Gomez and Bieber together with a bunch of pals "hot-boxed" inside the "Baby" hit-maker's custom built van on a trip to a theme park, a source revealed. Hot-boxing is the practice of smoking marijuana in an enclosed space in order to maximize the narcotic effect.

The shocking news of Gomez's rehabilitation, revealed today for the first time in a joint Radar and STAR magazine investigation, explains why she chose to make the decision to cut off her Australian tour, citing personal reasons.

Gomez had been slated to kick off a 13-concert tour leg on Feb. 1 in Perth, Australia, but issued a statement on Dec. 20 announcing she was canceling it.

At the time, the singer said in a statement, "My fans are so important to me to me and I would never want to disappoint them. But it has become clear to me and those close to me that after many years of putting my work first, I need to spend some time on myself in order to be the best person I can be."

So far, it seems to be working: As one source told Radar, "Selena is now happy and very healthy and already getting back to work."
[From Radar Online]
This is such bad news. Thank goodness her family was there for her and gave her a push to get help. I do find it fitting that Bieber is getting the blame in Radar's piece because he's usually so busy blaming everyone else. Selena should never have ended up with Bieber where she was surrounded by the drug lifestyle. She may have have fallen for it elsewhere though, and who knows? Selena might have been hiding bad behavior for years. She IS besties with Demi Lovato, who smoked pot with Joe Jonas.
Whatever caused Selena to fall down the spiral of drug use (and TMZ says it IS Bieber), I'm glad she's getting help. Hopefully she will stay on the straight and narrow, and that includes staying away from the swaggy one.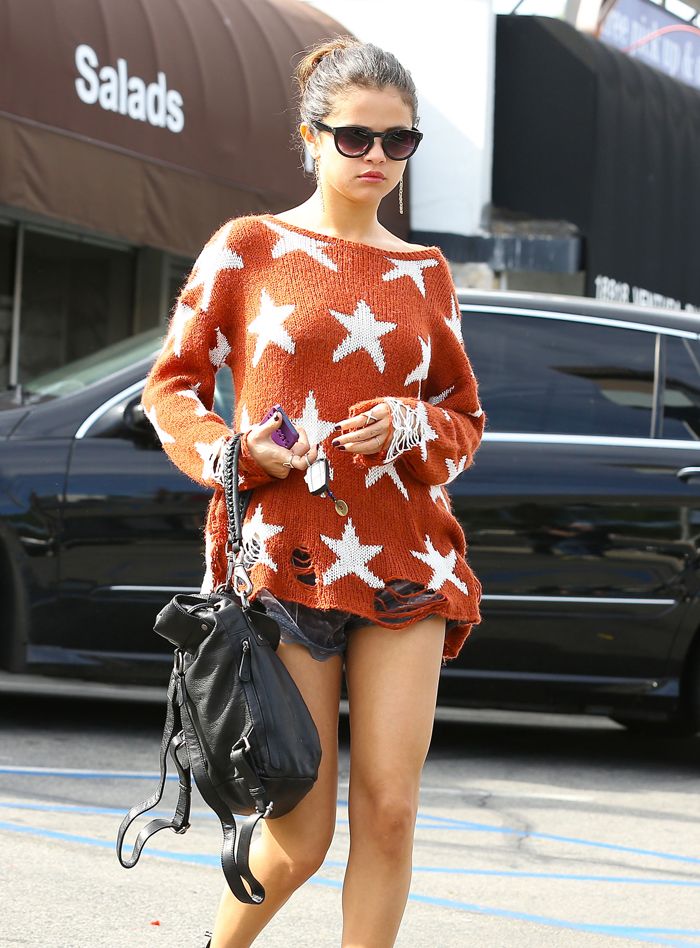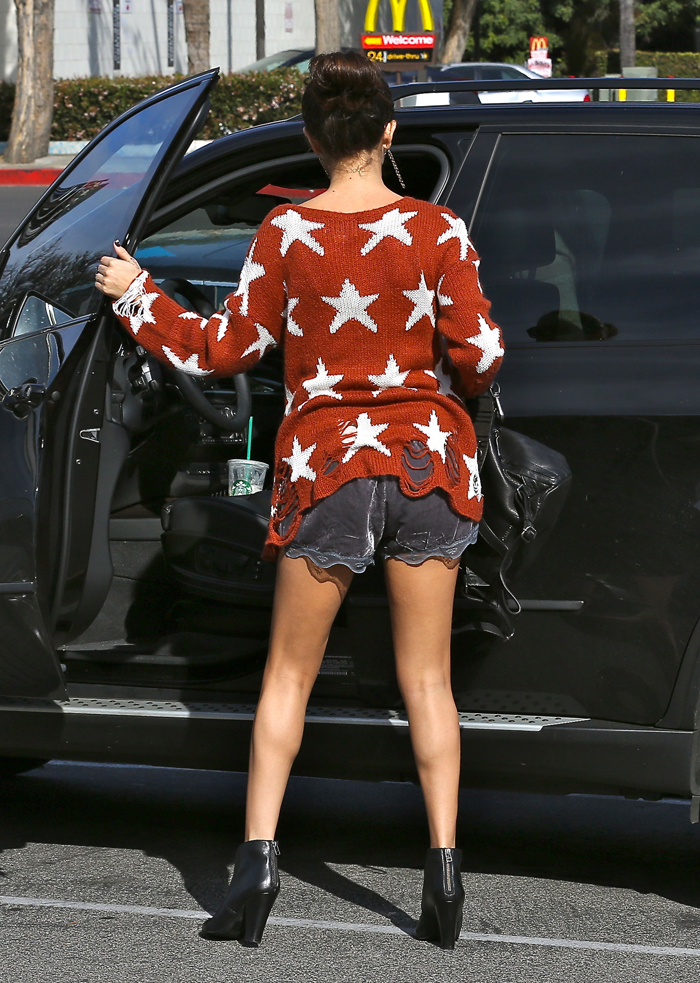 Photos courtesy of Fame/Flynet