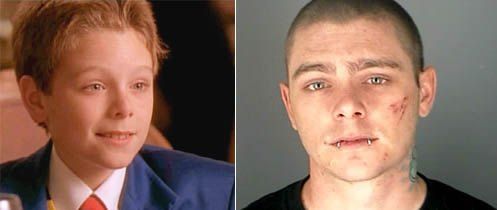 Brian Bonsall was the cute little kid that "Family Ties" resorted to in an attempt to boost ratings its last three seasons. His career didn't really take off although he did get starring roles as that annoying kid in the Disney movie Blank Check in 1994 and in 1992's Mikey. He was also seen in seven episodes of "Star Trek: The Next Generation" from 1992 to 1994.
Now 25, he lives in Boulder Colorado, where he plays the drums in a punk band called Thruster. He never quite recovered from serving as the Scrappy Doo of "Family Ties" and has been busted at least twice for DUI.
The latest on the troubled child actor is a domestic violence charge. His girlfriend says he poured a drink on her while she was sleeping and put her in a choke hold. Bonsall claims she tried to knife him and he was just defending himself:

Bonsall, 25, was being held in the Boulder County jail Friday on charges of second-degree assault and false imprisonment. It was not immediately clear whether he had an attorney, and a listing for an agent could not be found.

Bonsall was arrested Wednesday after his girlfriend told police he poured an alcoholic drink on her face while she slept, put her in a choke hold and threw her onto a bed when she tried to leave, authorities said.

Bonsall told investigators he pushed the woman down in self-defense after she cut his arm and face with a steak knife, but she denied that, police said.

The woman was initially taken into custody but then released, police said.
It sounds like someone is overcompensating for being typecast as a cute child actor. Why does it seem like all the kiddie stars get into trouble? I guess we just don't hear about the ones that go on to careers in engineering or teaching.
Here are pictures of Bonsall before and after, courtesy of TeenIdols4You and his band's myspace. He's the shirtless blonde one. You can tell by the twin piercings he has in his lip. Header image of Brian's mugshot is from his Wikipedia page.
I should have followed I Don't Like You in That Way's lead and just added unrelated bikini pics to this post.