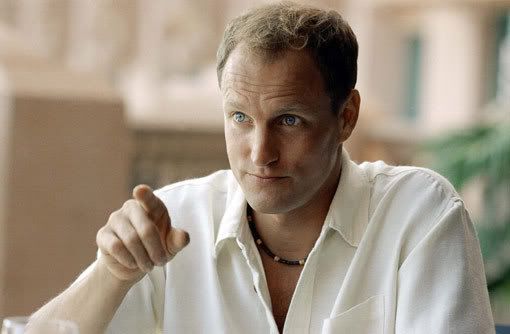 Woody Harrelson's dad recently died in federal prison at the age of 68. He was serving two life sentences for the 1979 murder of a Federal judge.
Woody's dad, who went to jail when Woody was seven, was a high paid hitman who raked in over six figures for murder for hire. He may have had a hand in over 50 unsolved murders:
Woody Harrelson's father took a dark secret to his grave – the convicted hit man may have pulled the trigger in as many as 50 unsolved murders…

"He would only kill for money," said Jack Dean, a retired Texas Ranger and U.S. Marshall.

"He wasn't a homicidal maniac – he just had no qualms about killing people."

Despite the evidence, Woody… never believed his 68-year-old father was guilty. But organized crime historian Kenny Gallo told The Enquirer: "Everyone in the underworld knew who Charles Harrelson was.

"Charles was paid $250,000 by a drug dealer after the judge was killed – but no one believes that the money was simply for the murder of one judge.

By 1982, Charles had reportedly taken credit for at least a dozen contract killings, said Gallo.

"And some mob enforcers said he was responsible for more than four times that number!"
[From The National Enquirer print edition, April 9, 2007]
The article goes on to say that Harrelson's dad was writing a book about his life that remained unpublished at his death. The elder Harrelson said his memoir would provide the truth as to how many people he really killed.
Woody helped his father fund appeals and paid lawyers' fees throughout the years, but the evidence against him must have been too great. He lost his Supreme Court appeal in 2004, with justices declining to hear his case.
Harrelson's dad claimed to have been involved in the Kennedy assassination, and some say he was one of the homeless people photographed on the "grassy knoll" that day.
If all that is true it would make for some interesting reading if his book is every published. The Enquirer's source speculates that Woody will get the unfinished manuscript and says that it would be a fascinating movie.