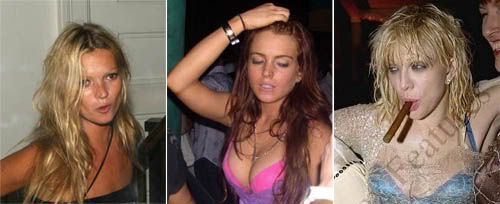 "Ex" drug addicts Lindsay Lohan, Kate Moss, and Courtney Love are going to Hawaii together to give the world's paparrazi some well-deserved time in the sun.
Somehow Moss and Love consider themselves older mentors to Lindsay, who has no public drug scandal or stint in rehab yet:
The wild threesome, all said to be "firm friends", have all recently weathered very public drug scandals and hope a break away will help them overcome their problems.
Supermodel Kate, 32, checked into rehab last year after pictures of her using cocaine use were published, while rocker Courtney spent a month under house arrest for drug charges in early 2006.
Lindsay, 19, admitted to drug abuse and "emotional wreckage" in a frank interview with 'Vanity Fair' in February.
A source close to the 'Mean Girls' star says Kate has "adopted" Lindsay, while Kate in turn seems to be under the watchful eye of the newly clean Courtney, who also recently declared her intention to help Kate's on/off boyfriend Pete Doherty get off drugs.
A source told Britain's Daily Star newspaper: "Courtney is determined to be a calming influence on Lindsay who has had a really tough time of things, and she also adores Kate."
The trio may be celebrating Moss' recent triumph over the drug scandal she suffered when a video was released last year of her snorting cocaine. All criminal charges against Moss are expected to be dropped and she should have no criminal record. Moss wisely did not admit to any wrongdoing when questioned by police.
Moss recently received a £1million advance from Virgin Books to write a tell-all autobiography of her cocaine abuse.