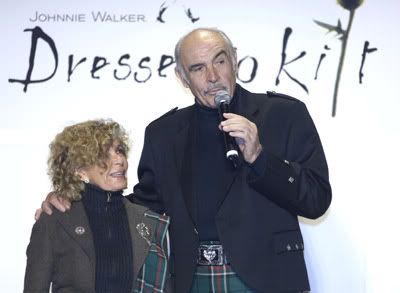 Sean Connery arrived in a tartan-wrapped Mercedes Benz 2007 S Class to "Dress to Kilt" at NY's annual tartan week yesterday. It was Connery's first public appearance since he had a benign kidney tumor removed in early March.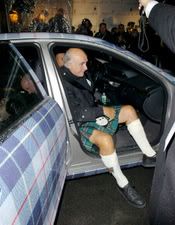 "Dress to Kilt" celebrated Scottish fashion with tartan clothing and kilts modeled by celebrities. Stars on the catwalk included Bebe Neuwirth, Anne Curry, Tatum O'Neal, and Brian and Allan Cox. The Coxes lifted up their kilts to show their white bums in a picture after the jump that's NSFW. Scottish rugby player, Chris Cusiter, Scottish golf star, Sam Torrance, and the reigning miss Scotland, Aisling Friel, also modeled at the show.
Donald Trump was at the event in a bid to publicize his golf course that will soon be opened at Balmedie in Aberdeenshire, Scotland.
Sir Sean Connery was accompanied by his wife of over 30 years, Lady Micheline Connery.
8 more pictures after the jump.