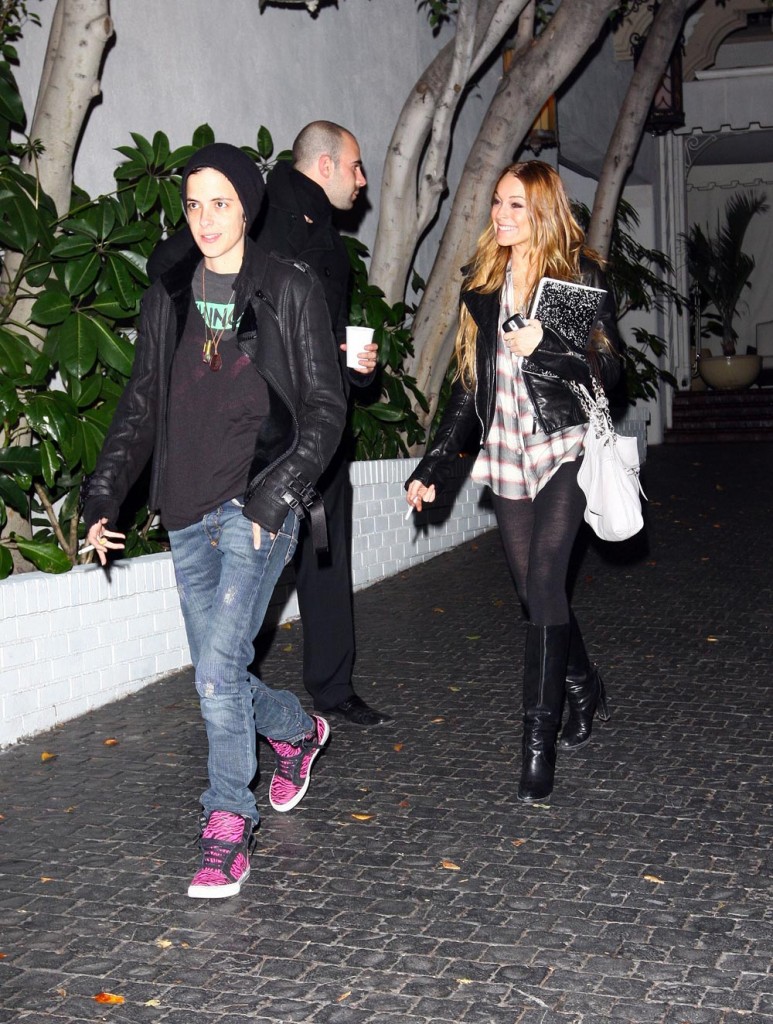 Lindsay Lohan's on again, off again (times 40) relationship with Samantha Ronson might be off again. If nothing else, the pair are putting a little distance between each other. Lindsay has moved out of Samantha's house and found a cozy little $10,000 a month rental nearby. Could this be the first step in their ultimate parting? Lindsay's new place is close to Samantha's, which could mean they're just trying to separate their lives a bit while still having easy access to one another.
from the ever intrepid and always wickedly well informed Lucy Spillerguts that former teen queen turned tabloid train wreck Lindsay Lohan has moved out of the not particularly private house she shared with her painfully thin and sorta sickly looking gal pal, DJ Samantha Ronson.

Although heaps and hordes of rumors and reports have circulated lately that the lesbian lovers have been fussing and fighting in public places and are possibly headed towards a high drama bust up, young Miss Lohan recently took to her MySpace page and vehemently declared that she and Miss Ronson are not broken up. And maybe they're not. However, according to Ms. Spillerguts, who nearly never has inaccurate information, Little Lindsay Lohan recently leased a 3 bedroom and 2.5 bathroom Spanish style house on El Contento Drive for nearly ten grand per month.

The property, completely screened by very tall hedges, should provide the poor pap magnet with all the privacy she wants and requires. Other amenities include a secret garden off the master suite and a free standing cabana where she can quietly sit and think about how to get her once promising career back on track.

What it does not offer is any real distance between her and her DJ girly friend as the house is just a short distance from Miss Ronson's rental on Beachwood Canyon Drive, a proximity that pretty much guarantees the two frequently feuding lovebirds will run into each other in the aisles of the Beachwood Market where they shop for food that it doesn't look to Your Mama like they eat.
[From the Real Estalker via WeSmirch]
Yes we all know how much Lohan craves her privacy and detests the paparazzi. No actress goes to such great lengths to outrun them. And by "outrun them," I mean beg them to take her picture while she buys socks at the drugstore.
Something tells me Samantha wants some distance from Lindsay, and Lindsay wants to still be near her. Their relationship seems very enmeshed, codependent, and overdramatic. I'm guessing if nothing else, this is the first baby step towards a breakup.
Lohan does have one thing to cheer about: she's finally getting her driver's license back. After multiple driving offenses, including stealing a car and chasing her former assistant's mother through the streets of L.A., Lohan has finally proven herself worthy of getting behind the wheel. Or, more likely, enough time's gone by that no one had a choice but to give Lindsay her license back.
No wonder Lindsay Lohan was so excited yesterday afternoon! A rep for the actress confirms exclusively to X17online that the actress did in fact earn her California drivers license back, so congrats Lilo!

We spotted our fav rehabber (in a totally awesome outfit, natch) behind the wheel of her brand spankin' new black Mercedes SL550. Yup, this model is almost identical to the black SL65 that she crashed back in 2007, and she looks absolutely delighted to be back in the driver's seat of her fav ride.
[From X17]
Little Lindsay Lohan is all grown up and independent at the tender age of 22. She's got her own house. She can even drive herself to the grocery store. What more could she possibly want? Probably someone to cling to, but this is Lohan we're talking about. She'll find someone new in under a week. Hell, that's conservative. I'm sure she's got a few people lined up on the back burner. And now she has not only a car, but privacy hedges! One can only imagine the trouble she can now get into.
Lindsay Lohan and Samantha Ronson were seen out at the Chateau Marmot last night, so they're still hanging out even if they're not living together. Credit: SplashNews.