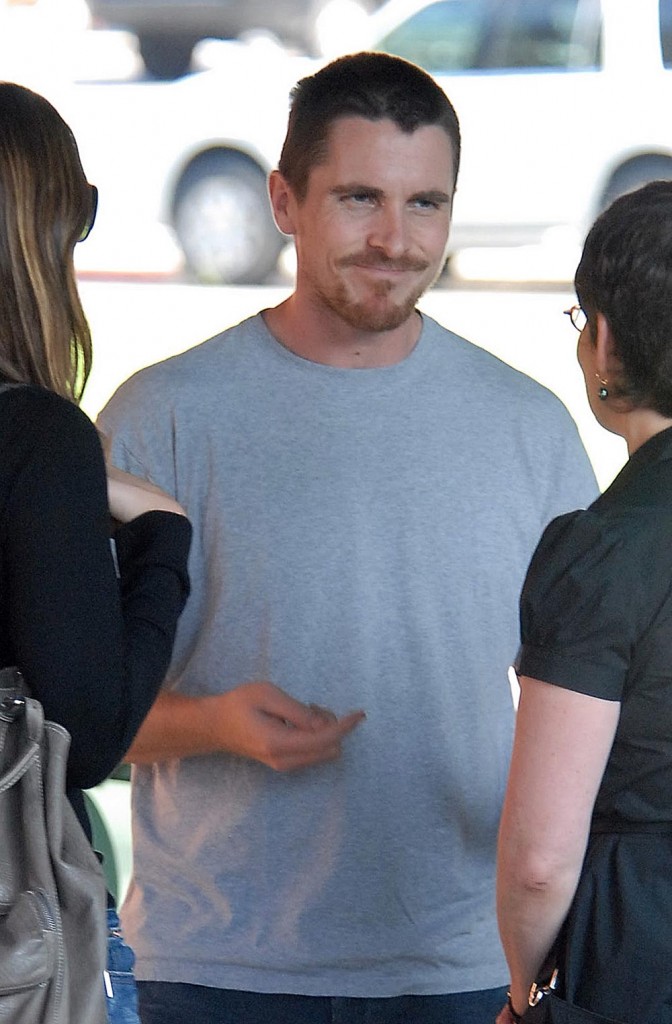 People are still talking about Christian Bale expletive-ridden rant on the set of Terminator: Salvation. The audio was recorded off of Christian's mic during last year's production, but only released this week. A producer stepped up to defend Christian, but other than that, most of the feedback has been condemnation for Bale.
Now Christian's mom is speaking up. She says that she understands why Christian was angry that the lighting guy messed up Christian's scene, but "not the length of the tirade." She makes a few pointed remarks about the timeline of the incident – Christian's on-set rant was around the same time he was in the incident with his mother and sister at a London hotel. The Daily Telegraph has more:
The actor lost his temper with a lighting engineer and let rip on the set of the Terminator film, admonishing the crew member with a foul mouthed tirade.

His mother Jenny Bale, 61, said that she now hopes this will help the public understand the incident last summer when she reported her son after he allegedly assaulted her.

The 35-year-old heart-throb was arrested after the incident at London's Dorchester Hotel, but no action was taken.

After hearing her son's recently broadcast outburst she said she understood why he was angry, but was unhappy that he had been so "fierce".

Speaking from her home in Bournemouth, Dorset, Mrs Bale said: "I haven't spoken to Christian about it, but I have listened to most of it and he was clearly very angry. He is a perfectionist and if you are doing an intense scene and someone is spoiling a shot, it takes time to get it back."

"It sounds as if a lighting engineer got in the shot so I can understand his anger but not the length of the tirade. It happened in July when he was filming the Terminator and was before the incident with him and myself at the Batman premiere with all the publicity."

"People might now realise that that is his temper, they might understand a bit more. I wish he hadn't carried this on so long or so fiercely, it was upsetting to hear him."

The rant, which has been defended by the film's assistant editor Bruce Franklin, has now been turned into a dance tune by DJ Revolution and can be heard on the internet.

Bale began his career at the age of 12 when he took the lead in Steven Spielberg's Empire of the Sun

His parents, Jenny and David, split up when he was 13. Four years later, Bale joined his father in America.

His mother, and sisters Sharon and Louise, remained in the UK. His mother works as a therapist and lives in the Southbourne area of Bournemouth.
From The Daily Telegraph
Oh, Lord, his mother is a therapist? That does not bode well for either Christian's anger issues or his mother's quality as a therapist. If his mother is taking the long view, I suppose she has been vindicated. Now everyone knows exactly how intemperate Bale is, and people are going back to last year's incident with new eyes. There's a rumor that the audio was released to pre-emptively take down Terminator: Salvation in the hopes of boosting up Transformers 2, but I doubt it. Someone was probably saving it just to publicly shame Christian Bale, no matter the timing.
Christian Bale is shown outside a restaurant on 7/29/08. Credit: WENN