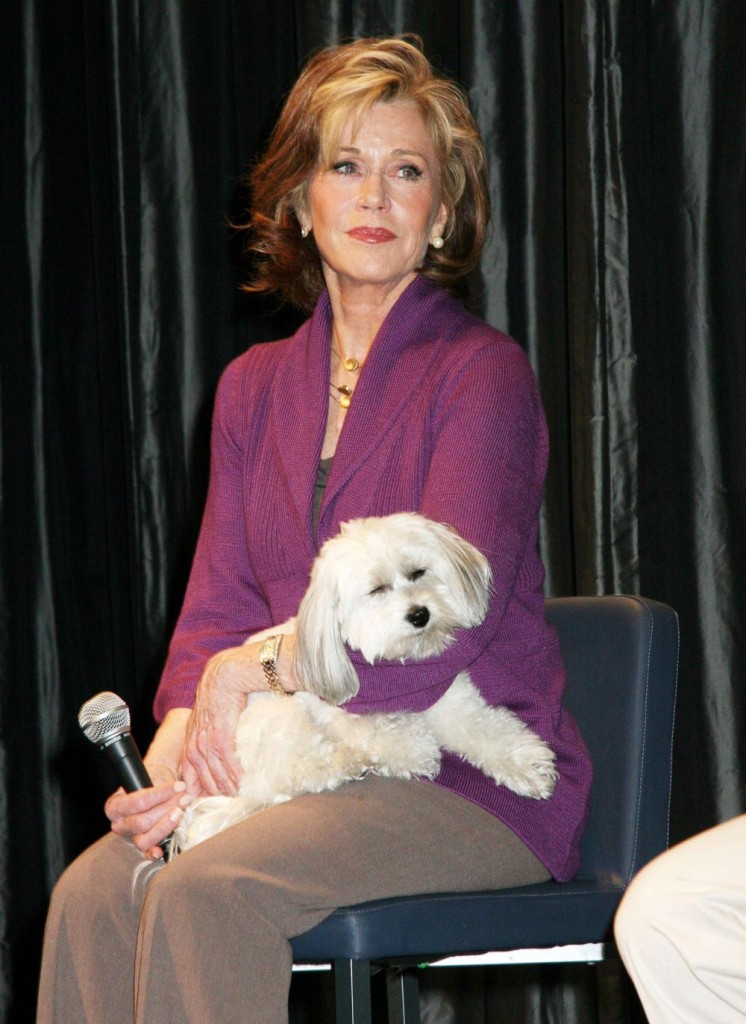 Jane Fonda, 71, has gotten in a great deal of hot water for her visit to Hanoi in the summer of 1972. And the rumors about her supposed pro-Vietnam activities have only increased as the Internet has grown. It's a quick and easy way to pass information – and to distort information and pass that along too. In 1999, several emails started making the rounds claiming that Fonda gave the names of American POWs to the North Vietnamese. The highly-circulated email also claimed American POWs passed crumpled bits of paper to her, which is also untrue.
Jane says she will address all these rumors in her blog, which she recently started in advance of her return to Broadway in "33 Variations" in March.
Yesterday my blog went up online although I've been writing blogs almost daily since January 5th. Blogging just to record what's happening day to day feels different than blogging when there's starting to be a buzz about the very fact of my blog and people are beginning to actually visit my site.

I haven't had a chance to read all the feedback and comments that have come in this far but I will over time. As I expected, there are a few people who want to know whether the things that have been said about me over the years, the things that I have been accused of — the Hanoi Jane stuff– are true. There are also those who need to believe they are true and, as a consequence, have nasty things to say. I intend to answer these questions. I would like nothing better than to put these lies and myths to rest once and for all. I will try to do this as soon as possible but these tech rehearsals are really exhausting and I can't imagine being able to get to it until Sunday. But then, my daughter, Vanessa will be in New York this weekend doing a media training with the Women's Media Center and Sunday is the day we'll get to spend some time together, so even getting to it then isn't a sure thing.

I encourage those folks who want to know about my activities during the Vietnam years to read my book, "My Life So Far." The chapters entitled 'Hanoi,' 'Bamboo' and 'Framed' deal with all this. There is also an excellent and exceedingly well researched book, "Jane Fonda's War," by Mary Hershberger that answers all these questions in great detail.
[From Jane Fonda's Blog]
Fox News has written several articles on Jane's Vietnam trip, all of which refute the internet rumors. And it's important to note that they don't have any agenda or reason to side with her – she's very liberal (they're… not), and her ex-husband (with whom she's still on good terms) is Ted Turner, the owner and founder of CNN – and Fox's competition. They acknowledge that she shouldn't have gone to Vietnam, made a radio address, or posed for pictures. But they clearly point out that the Internet has been a breeding ground for all sorts of urban legends, and Fonda is a great example of that.
It's also important to note that Jane did apologize over 20 years ago for going to Vietnam. Nonetheless, it'll be interesting to hear what new things she has to say about the fiasco. Her blog is very well-written and honest, without being completely soul-baring. As time has passed I'm sure her thoughts have changed a bit, and she'll hopefully expand on her previous statements, and also address the Internet rumors herself.
Jane Fonda is shown on 2/2/09 in NY with her dog Tulea "talking on a panel for the re-released film 'FTA'. A documentary made in 1972 of the Anti-War Touring group 'Free Theatre Association'." Credit: WENN