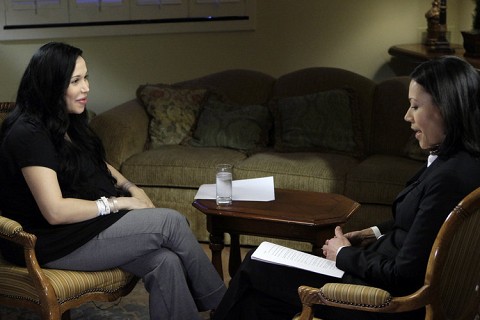 Nadya Suleman, the mother of 14 children under eight and the second woman in known history to have eight babies at once, arranged an interview with NBC's Ann Curry on Thursday, the very day she was released from the hospital. Earlier stories had her setting up interviews with Diane Sawyer and Oprah for the hefty fee of $2 million a pop. It's unknown if those accounts were false or if her plans fell through and she ended up with Curry. A preview of Suleman's interview will air on Friday, with the full segment to be shown on the Today Show and Dateline on Monday.
Suleman has been on disability for six years; NBC claims it didn't pay her for interview
Many of you have expressed skepticism about this woman and wondered if she was going to be using taxpayer money to help pay for her daycare full of children. We know she's not adverse to getting help from the government. The AP revealed that she received $165,000 in disability from 2002-2008 for an unknown injury. That's a little under $24,000 a year and is not excessive if she needed it, but how did this woman think she could raise 14 children on disability while living with her parents? Maybe she knew that if she had enough of them at once she could go talk to the media and get a much bigger handout. NBC claims it didn't pay her for the interview, though.
People Magazine has the details of the injury that resulted in Suleman's disability claim, and she suffered lower back pain after she was hit with a desk during a riot at a mental hospital where she worked in 1999. She later got rear ended in a car accident in 2001, and filed a second disability claim for the injury to her neck, back and shoulders.
Nadya Suleman says she tried for seven years to get pregnant before she successfully conceived with in-vitro fertilization at a facility – "and then I just kept going in."

In an interview for the Today show, the recent mother of octuplets – who has six other children at home – tells NBC's Ann Curry: "That was always a dream of mine, to have a large family, a huge family."

The desire, she says, stemmed from a dysfunctional childhood, according to the interview, with airs Monday with a sneak peek on Friday. (Dateline also will air a portion on Tuesday.)

"I just longed for certain connections and attachments with another person that I really lacked, I believe, growing up," she says.

Asked what she felt she lacked, she says, "Feeling of self and identity. I didn't feel as though, when I was a child, I had much control of my environment. I felt powerless. And that gave me a sense of predictability. Reflecting back on my childhood, I know it wasn't functional. It was pretty, pretty dysfunctional, and whose isn't?"

Suleman, 33, was interviewed shortly after she was discharged from Kaiser Permanente's hospital in Bellflower, Calif. Her babies – six boys and two girls – remain in the hospital all in good condition.

Disability Benefits
Meanwhile, PEOPLE uncovered new details about Suleman's medical and financial history, with documents showing she received nearly $168,000 in disability benefits.

Suleman got the payments because of injuries she suffered during a 1999 riot at a California mental hospital where she worked, leaving her with chronic back pain.

She was still receiving disability payments at about the time she was inseminated with octuplets, and doctors had precluded her from taking any job that involved "prolonged sitting, standing and walking," according to workers' comp documents.

While working as a psychiatric technician at Metropolitan State Hospital in Norwalk, Calif., she responded on Sept. 18, 1999, to an emergency alert called when 20 patients rioted.

Psychiatric Hospital Riot
"While she attempted to hold down a female patient, she was struck on her back by a desk that was thrown by another patient in the ward," says a document submitted last year to a state claims examiner. "She experienced the onset of immediate pain in her low back."

The State Compensation Insurance Fund stopped being liable to Suleman on Aug. 28, 2008, shortly after she got pregnant. As of that point, the documents say, she had been paid $168,000 in disability benefits since August 2001.

Doctors had concluded she had some permanent damage to the lumbar area of her spine that could become more painful "with heavy lifting, repetitive bending, prolonged sitting, standing or walking."

Doctors at the time noted that Suleman was already pregnant – and that her pregnancy might have been contributing at that time to any back pain. Doctors estimated that 10 percent of her pain at the time was due to her pregnancy, and 90 percent was due to the injuries from the riot and the car accident.

A Second Claim
The document goes on to say that in 2001, while she was leaving a doctor's office for treatment of the injury, Suleman's car was was rear-ended.

Suleman hurt her neck, back and shoulders, and filed a separate, additional claim for workers' compensation, arguing that the car accident would not have occurred had she not been going for medical treatment for the earlier injury. It was unclear if she received funds from that claim.
[From People.com]
How are her kids going to feel when they're old enough to google and read that their mom had them to fulfill some aching need for human connection that could only be met through ever-increasing numbers of babies? A lot of people want to have large families and there's nothing psychologically abnormal about that, but when you're doing it on your own, living on government assistance and relying on your parents to take care of your kids people are naturally going to question your motives. The woman herself admits that she did it due to issues from her childhood. Does that make it sound like she's going to be a devoted, caring mother to those 14 young kids? Therapy would have been a lot cheaper and fairer for those little ones, and maybe she would have stopped when she realized that four or five kids were stretching her under $24k a year budget. She also supposedly had awful back pain but continued to get pregnant through IVF. She even has an autistic son.
Interestingly enough, CBS and ABC are going to air an interview with the hero pilot Chelsy "Sully" Sullenberger at the exact same time that NBC is airing this Suleman show, Monday at 10pm. I hope Sullenberger gets much higher ratings.