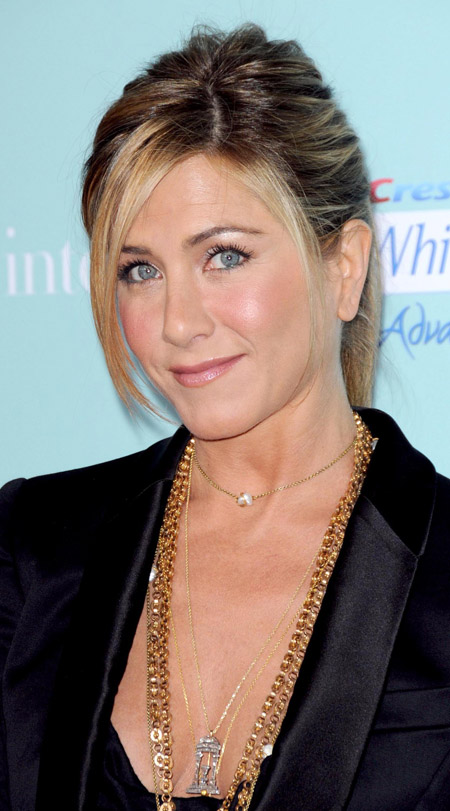 Jennifer Aniston was on the Tonight Show last night and she was both relaxed and funny. It reminded me of her last Oprah appearance in that she seemed comfortable and in her element, unlike on The Late Show with Letterman six weeks ago when she had a weird rapport with Dave and there were awkward moments. She did have on too many layered gold necklaces that she kind of touched throughout the show, but she didn't look nervous, as OK! suggests.
Aniston didn't reveal anything incredibly quotable. She confirmed that she saved a lost dog she found wandering in the street as the tabloids reported last week, and said that the story that she turned down an offer to pose in Playboy wasn't true. She also said she hasn't read the self-help dating book her new film is based on He's Just Not That Into You. When Leno read a list of rules from the book, Aniston disagreed with several of them.
Aniston: I did not read the book…

Leno: These are the titles of some of the chapters. Number one "He's just not that into you if he's not asking you out. True or false?"

Aniston: I don't agree with that. I mean if he never does, but aren't men shy sometimes?

Leno: Number two, "He's just not that into you if he's not calling you."

Aniston: Again, for how long? I don't know. I'm going to say I disagree with that one too.

Leno: This one, "He's just not that into you if he's not dating you," that seems obvious.

Aniston: That's pretty clear cut. If he's dating somebody else, I'd say that's clear…

Leno: In the movie, so much of it takes place in a bar. That's like the worst place to meet people.

Aniston: They're loud.

Leno: Supermarkets.

Aniston: My mom used to always say "don't leave the house without putting your eyes on." I was ten.

Leno: If she's in the snack food aisle, you're going to have trouble later. [audience groans]. Ok, if the guy is in the liquor tobacco aisle, you're in trouble.
[Transcribed from Jennifer Aniston's appearance on The Late Show, aired 2/5/09]
Leno can be kind of a sexist jerk sometimes and his comment about the snack food reminds when he asked Ryan Phillippe to make his "gayest look."
JayBird swears by the book "He's Just Not That Into You" and says she's recommended it to some of her friends. I've never read it as it came out after I was already engaged, but I used to read a lot of self help relationship books for women and they're usually similar. They recommend that we get busy with our own lives, friends, and hobbies and not see men as somehow justifying our existence or making our lives worthwhile. There's also the issue of qualifying guys and picking ones that are "into you" and good people. Aniston would do well to read that book, and several more, considering her dating history after her divorce. It's not like the rules are all fast and true, but they can help you make informed, smart decisions when you're dating, and think logically about the men you're choosing instead of leading with your emotions. It's surprising that she hasn't read the book considering that she was in the movie and she's pretty open about self actualization and getting therapy.